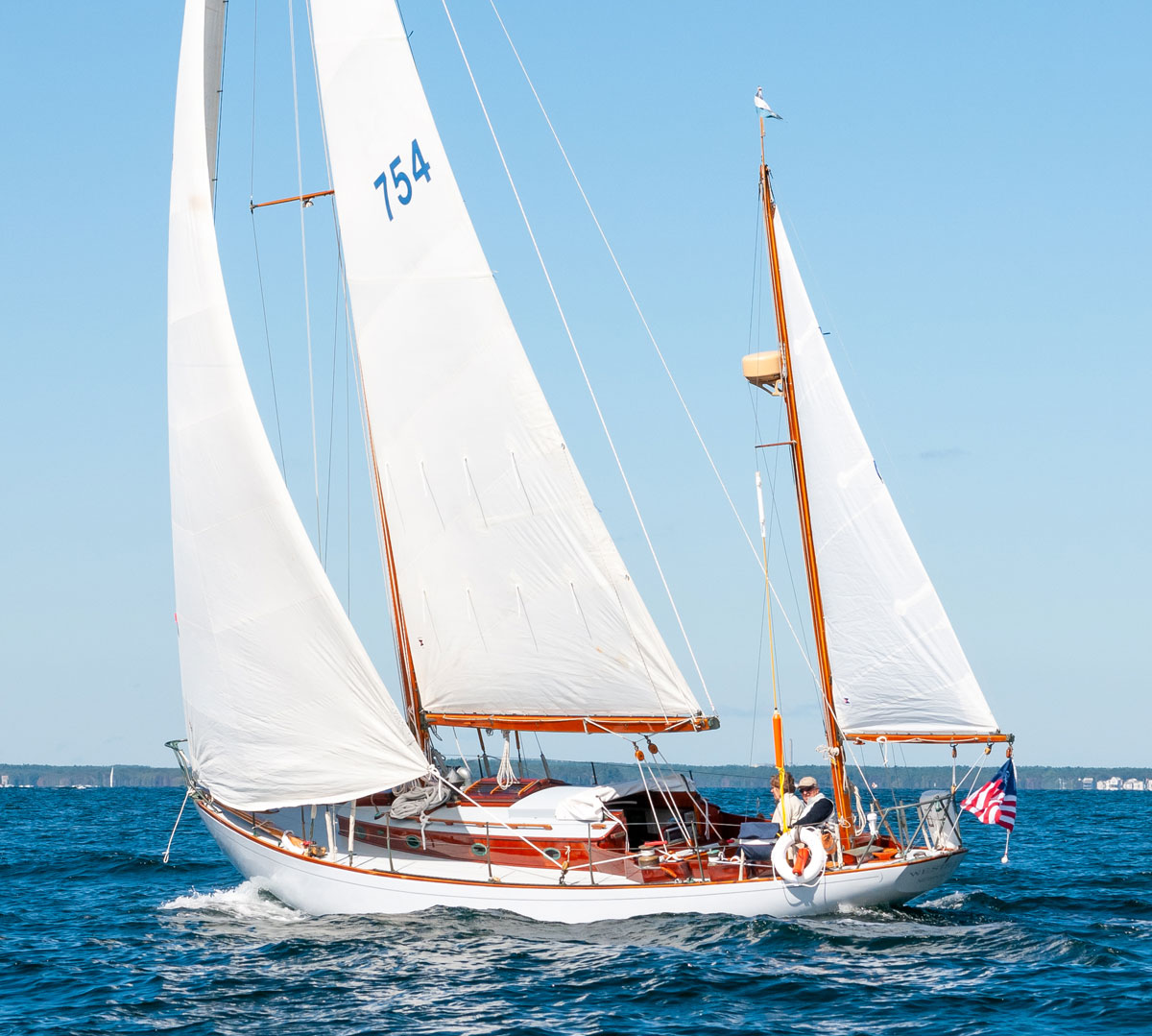 When we left PIRATE, the Sparkman & Stephens–designed Swan 38 we had owned for 22 years, in Finland in 2010, I asked myself "why?" My wife, Christina, asked the same question. We had a boat made for a lifetime. How can you be both determined and puzzled at the same time? I knew it was the right thing to do, but had not managed to articulate the reasons. When people questioned me, my only answer was a shrug. Now I think I can provide something resembling a rationale.
I had the feeling that our years on the boat, given the many miles we had sailed and the oceans we had crossed, had arrived at a point of completion. The Swan had given us all we wished from her, and then some more. Completion in this sense meant accomplishment, reaching a sort of existential destination—in short, a fulfillment. The time had come to let her go, but not in just any way, to anyone, in any place.
Completion, or closure, meant also homecoming for the boat herself. We had her restored in Finland, where she was born, in a place where classic Swans were produced, and surrounded by people who had shaped her hull and built her spars in 1974.
And so it happened. After a small interlude in the Mediterranean under her new owner, PIRATE returned to Finland, where she was destined to stay. She changed hands once more, to another Finnish sailor, as if looking for a more perfect master, which she found.
Christina and I went back to the United States. As sailors, we were bereft. As opposed to PIRATE's, our own homecoming was incomplete. Our old boat had attained completion, but how about us? It's one thing to end one's voyage on this earth, like Abraham, "sated with life," but a very different thing to survive completion. I felt the dread of having to lead an afterlife that, to many people, is what retirement means. How would we keep sailing, and in what? But all ends are new beginnings, and so a search began.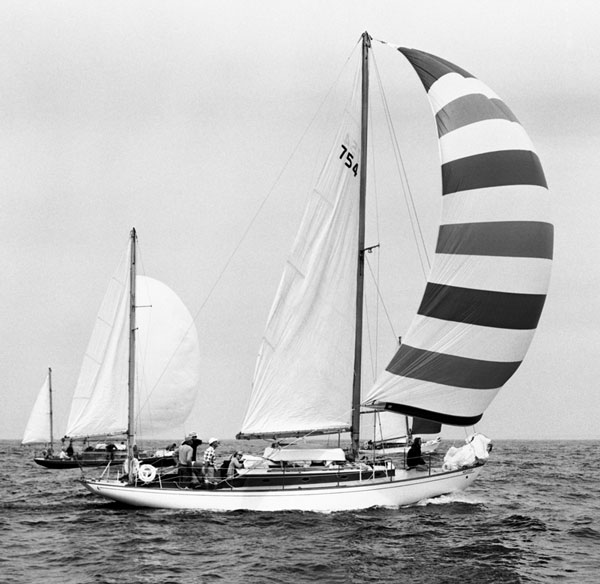 This time, instead of searching forward we searched back. We longed for completion with a type of boat that was traditional and proven, something that L. Francis Herreshoff called "compleat." For Herreshoff, the words "classic" and "compleat" meant "romantic," and I think that is what we wanted: a boat beautiful and old-fashioned, a boat in which we could have peace and freedom away from gadgets and easy comforts, relying mostly on the old arts of seamanship. In his book The Compleat Cruiser, Herreshoff wrote: "When a thing is out of the usual and pleasing to contemplate, it is romantic. When an object is nicely proportioned and has retained some well-proven ancient quality, it is romantic looking. I suppose to a sailor a romantic vessel is one that looks like a good sea boat, one which has good sheer and nicely proportioned ends: in short, a vessel that he falls in love with at first sight." Late in life, we were looking for romance in a new old boat.
From our PIRATE experience, we brought this viewpoint to the search: A classic boat has to be "right," especially when she is going to be used as she was intended to be and sailed a lot, as well as occasionally raced. She would be sailed daily, especially in the evenings on Buzzards and Narragansett bays, and from time to time raced offshore and inshore, from Eggemoggin Reach in Maine to Halifax in Nova Scotia, and to Bermuda as well. That was the idea, and nothing fitted the program better than a Concordia yawl. We had found our target. The Swan was consigned to recollection. A future Concordia meant intrigue.
When PIRATE was first launched in 1974, she was a modern, competitive racer-cruiser, and very much state-of-the-art. When we acquired her, she was 16 years old, but as we sailed her year after year, and before our very eyes, she did not get old. Instead, she became a classic. The distinction is crucial. A classic—painting, music composition, car, book, or boat—is an object that is more than an object, because it has a soul. In other words, a classic establishes the very norms by which it must be judged. It proposes a game for us to play—a game at which the classic creature is unsurpassed. It never ceases to express what it really means.
Some classic objects are born classic; others become so, the way a chrysalis turns into a butterfly. The latter is a metamorphosis that happened with the Sparkman & Stephens Swans, a transformation that we witnessed with our PIRATE. Our new search was for the former type of classic yacht: a boat born classic, and designed for completion, not competition, from the very start. Both types of classic boats have fulfilled the cycle of their existence, beyond which they do not reach. If well maintained, they remain in that state of completion, in principle, forever. They have attained in their own manner an inner completion within their watery life, as they followed the (today naïve) clarity of their simple purpose.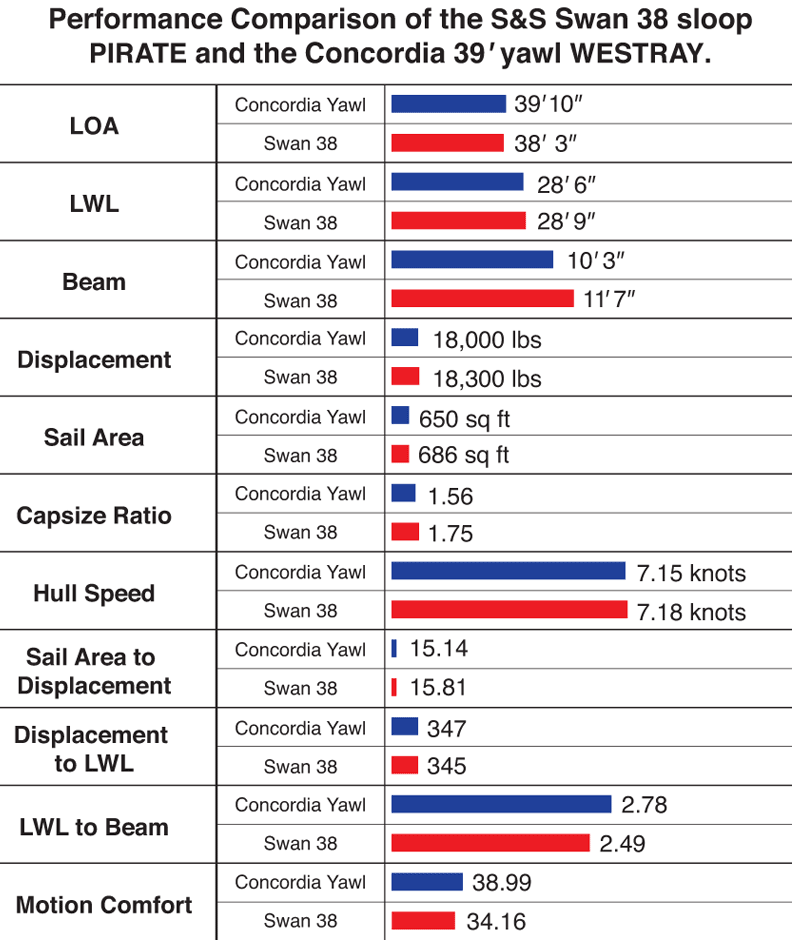 That is not the case for those who strive for a different kind of self-perfection in the acquisition of new objects, new records of performance, and new forms of competition. They could indeed be tired of life but not sated with life, in the sense of the completion of the course of life. For them perfectibility is limitless. The more objects are invented, differentiated, and diversified, the more trivial becomes the fraction that an individual—as a passive recipient or an active creator—could encompass in the course of a life. You can be certain that after you are gone, a better model of car will hit the market, ever-faster boats will race, and artificial intelligence will make life ever more perfectible. But there is no guarantee that by the end point of an individual's life, which is always "accidental" in its term, this was a meaningful conclusion. The end is just an accident for a trivial individual caught in the perpetual race of perfection. These are words that I recall from the German philosopher Max Weber's indictment of modernity. Our search for a classic boat born "compleat" was meant as an antidote to the rat race—a way to graciously complete our own lives. She would be a boat that came already "sated" and that would be in turn the site of our own satiety.
In both the case of a "born classic" or an "evolved classic," the passage of time, and the struggle against the passage of time, is perhaps the most important factor. Time is change, and change is irreversible. Nevertheless, a classic resists the inexorable, unavoidable, and irreversible passage of time in various and interesting ways. One has to maintain the object, and especially the practices around the object, in their integrity, albeit with concessions—big and small—to the new contexts in which time throws them. Classic regattas are a case in point. In them, both the boats and the venue appear in a present that is also the past. The modes of this nearly impossible quest to balance present and past are several, and they range from the sublime to the ridiculous. Classic boats, like old properties, are historic objects, but they are also alive—a condition that is more difficult to attain with other historic objects, such as mansions and houses, that seem to be almost irremediably condemned to sheer museology, or the axe. With classic boats, as with historic properties, there are several paths to follow in their treatment and their use. I will list the four principal ones:
Conservation focuses on the maintenance and repair of existing historic materials and on the retention of the boat's form as she has evolved over time.
Rehabilitation acknowledges the need to alter or add to a classic boat to meet continuing or changing uses while retaining her historic character.
Restoration presents a boat at a particular period of time in her history, while removing evidence of other periods. This comes closest to museology.
Reconstruction re-creates vanished or non-surviving portions or the entire structure of a boat—sometimes starting from a few original parts or just the drawings. It may be done for interpretive purposes but also to use the vessel in many ways. One example is the contemporary building of an Oselvar, a small wooden rowing boat traditionally built and used along the west coast of Norway. The Oselvar is a lapstrake boat with thin, very wide planks. Almost all parts of an Oselvar are made of pine, with only the keel of oak. A newly minted Oselvar is as genuine as an old one. The Chinese would call these boats "authentic reproductions." Another interesting example is the new boats built in the "spirit of tradition." In fact, these boats are simulacra of the historic past, with modern performance in mind.
The first three treatments of classics are sometimes kissing cousins, sometimes fighting cousins. The fourth, especially the often-spectacular boats built in the spirit of tradition, is a different species altogether.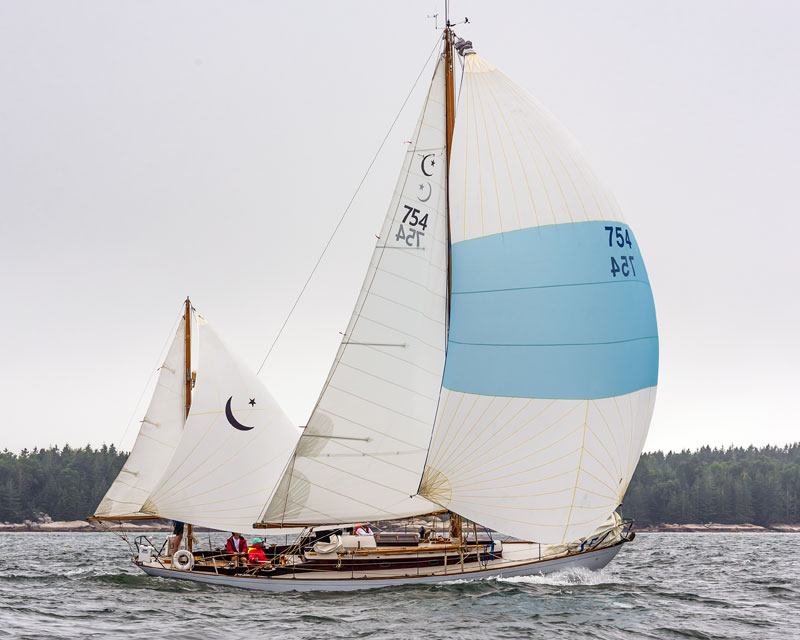 Our search became more focused. We wanted a classic, born a classic or at least with a longer classic pedigree than good old PIRATE, and also something that at first blush seemed impossible: a boat very different from PIRATE and yet very similar, too. Different in materials, shape, looks belowdecks and above. Similar in being ocean capable, a boat as comfortable inshore as offshore, a cruiser that could race (in the proper context), similar in size, and similar in the ability to spring a surprise. Just as PIRATE won three Bermuda Races when she was considered a small old boat, wooden Concordia yawls won the Newport Bermuda Race twice, the Maryland-based Annapolis Race, Cowes Week, the Marblehead to Halifax Race, and many others, racing under Cruising Club of America, International Offshore Rule (IOR), and International Measurement System ratings. And they were designed regardless of the rating rules!
In the 21st century, the Swan 38 would be considered superannuated in most races. Likewise, a wooden sloop or yawl such as a Concordia, pretty as she may be, in the eyes of a modern designer looking at her displacement-to-length ratio, the low-aspect sail plan, and a full keel, would be dismissed as a dog. And yet, two modern designers of world renown whom I know, German Frers and Juan Kouyoumdjian, own, restore, and lovingly sail wooden boats.
These facts intrigued me, and with the strong endorsement of Christina, I started exploring the Concordia yawls that were on the market in 2011. We looked at seven such yachts, and in the end chose the one that seemed best tested, best maintained, and most robust. Her third owner, John Melvin, had put her through her paces, taken her offshore, and done very well in modern races, with podium finishes in several. In the Newport Bermuda Race, she placed second in class in 2006 and fourth in class in 2008. In 2006 she also won her class in the Block Island Race. Under her first and second owners, she was first in class in the Newport Bermuda Race in 1968 and sailed all the way to Norway in 1969. At the other end of the spectrum, in 2009 she won the venerable Cooks Plate for longest elapsed time in the Marblehead to Halifax Race, and a similar award in the 2010 Newport Bermuda Race. Her name was WESTRAY, and she is our present magic carpet, a watery home away from home, and a direct connection to a tradition of seamanship that is wondrous but fading.
As Amy Ballentine, of the Ballentine Boat Shop (where the boat has wintered for 30 years and where she has been refitted several times and conserved shipshape) said of WESTRAY, "She is petite and appears delicate upon first introduction, but don't let her good looks, fine lines, and slender beam fool you. She is a fierce competitor, a veteran of blue water."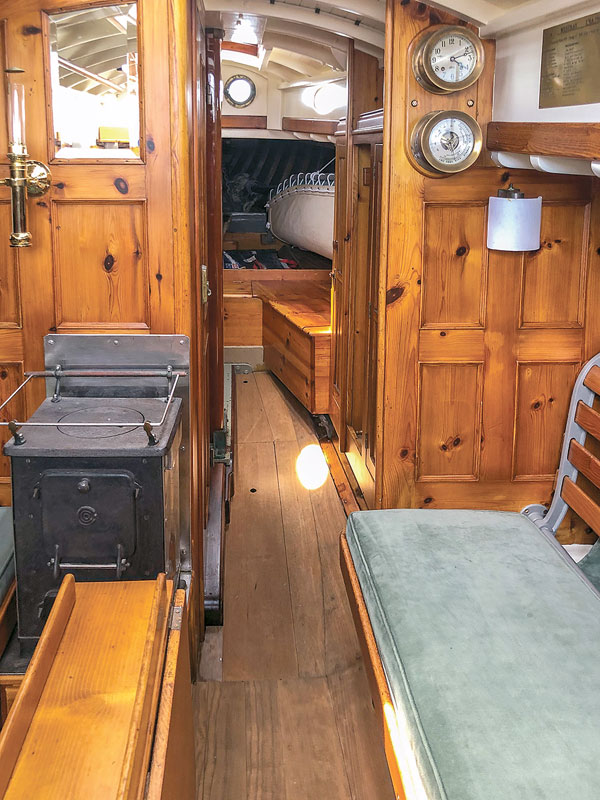 If you look at the numbers, and on paper, the Swan 38 and the Concordia 39 are almost twins. If you experience them in real life, they are enormously different. So are their underbodies. The Swan is driven by the genoa, as influenced by IOR specifications. A large, low-aspect mainsail drives the Concordia. One is a sloop; the other a yawl whose mizzen seems a mere afterthought, or a stick on which to hang the laundry, until you learn her tricks in picking up a mooring without engine power, backing the boat without the help of a propeller, or adding speed in a race, not to speak of the spectacular deployment of a mizzen staysail on a broad reach. That is one of the intrigues of the mizzenmast in a yawl. The staysail adds both speed and stability on a specific point of sail, and adds beauty to the sight of the wooden boat on the water. On the other hand, back at the mooring, putting the sail cover on the mizzenmast requires some gymnastics and a tall person in the crew. In a fresh breeze or near gale, you can forget the mainsail and cruise under jib and jigger alone, as if it were a balmy afternoon.
Fiberglass, aluminum, and steel sound and feel different than the various woods that compose a traditional boat: mahogany, oak, pine, and locust. When these different elements "speak," you listen and you know. The feeling of wood is something special: there is a contrast between the organic nature of wood and the plastic and rigid nature of fiberglass and of metal spars. The pace, the tracking, the momentum, are all different, each requiring different skills at sea.
Belowdecks, the space is more restricted in our wooden yawl than in the Swan. However, after our "pre-modern" experiences in the Swan (twice we crossed the Atlantic without refrigeration) we have accommodated to the more "primitive" features of the Concordia. We have kept the two-burner alcohol stove and take it into consideration when we provision for a cruise or a race (precooked meals are a must). We appreciate the way stowing stove boards was so carefully thought out. And there are singular compensations to the cozy-cabin feel of the Concordia, notably the Pullman berths, the settees with triangular pillows, and the generously sized head, to say nothing of the wood-burning heating stove.
As for performance, on our Concordia we experienced the full range, just as we did on our Swan, from slow to fast, winning and losing races, but always having fun. My captain's burgee has embroidered on it the image of a dolphin wrapped around an anchor. It is the emblem of the old Roman motto Festina Lente, which means "Hasten slowly and you shall soon arrive." For WESTRAY, it was an apt legend for the 2014 Newport Bermuda Race. The race was slow, in light air, and it was a small-boat race. It all depended on whether you were trapped in a hole or not. A venerable Bermuda 40, ACTAEA, won the St. David's Light Trophy, and WESTRAY once again took the cook's award.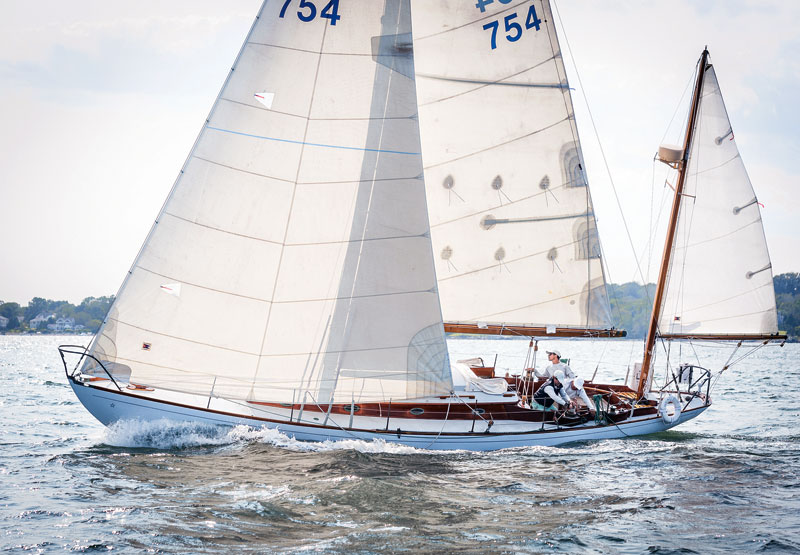 The winds were disappointing, but boat and crew were superb. WESTRAY sailed to her polars, and the crew used every little breath of wind to keep her moving. We tried every sail combination but twice fell into the doldrums. On the rare day when winds were good, WESTRAY moved at hull speed without anyone touching the tiller for many hours.
We sailed west to meet the prevailing breeze, but it came late and weak, so by the time we tacked to Bermuda the race became for us a test of forbearance. Supplies and drinking water were stretched, but we reached the finish line smiling and determined not to give up. WESTRAY was a happy ship, after all, and the beautiful island beckoned us. WESTRAY lost in style, placing 40th in a fleet of 99, and was the subject of two nice articles: one on our travails, and the other on introducing a 24-year-old Snipe racer to the joys and tribulations of offshore sailing in a classic yawl.
That was one experience. Four years later, in 2018, WESTRAY's fortunes changed again. We sailed the 58-year-old Concordia yawl to a number of podium finishes in August, including first in the spinnaker division in the Padanaram 80th Concordia Rendezvous and first in the Concordia class at the Marblehead Corinthian Classic Yacht Regatta. WESTRAY was awarded the Concordian Trophy for the best racing record in 2018. Win or lose in the races, or whether taking her on a long leisurely cruise or a simple daysail, she does exactly what she was designed to do: sail in confidence and comfort, giving pleasure to the crew. Both the Swan and the Concordia have cult-like followings. The Concordia has been welcomed in every harbor and often given pride of place.
In the differences between our Swan and our Concordia, we also found a sameness: The yachts were designed by geniuses at their trade who loved to sail the boats they drew, and they sailed them to perfection. They were attentive to every little detail—never superfluous, always simple and just essential: Olin and Rod Stephens, Ray Hunt, and Waldo Howland. These are boats designed by maestros and built by artisans, and meant to be sailed by all-round sailors.
Juan E. Corradi is chairman emeritus of the Seamanship Committee at the New York Yacht Club. He is also professor emeritus of sociology at New York University. Born and raised in Buenos Aires, in his youth he aspired to become the ideal Argentine: an Italian who speaks Spanish, dresses like an Englishman, and lives in Paris. An American citizen, he now lives with his wife, Christina Spellman, in Newport and Manhattan. 

This article is excerpted and adapted from Corradi's book, The Voyages of PIRATE, which was recently released by Seapoint Books + Media (www.seapointbooks.com). Seapoint Books are available through all bookstores including The WoodenBoat Store (www.woodenboatstore.com) and internet book sites.