A 15′2″ (4.62m) winter utility boat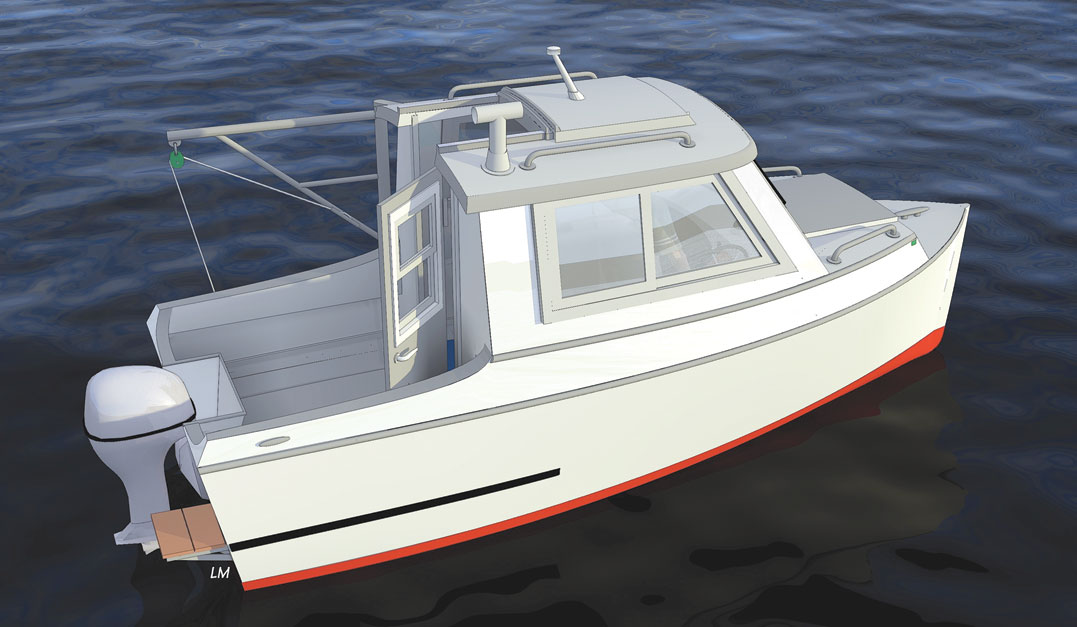 WB No. 255, March/April 2017: Featured in Design Sketchbook from WoodenBoat Magazine: The diminutive powerboat UKPIK is meant for all-season exploration on Maine's bays and rivers. Designer Laurie McGowan began sketching the UKPIK concept at 22′ LOA, but to keep the displacement under control he shrank the boat to a mere 15′.
Design Sketchbook appears in every issue of WoodenBoat. McGowan takes readers' ideas of their ideal boats and designs a vessel to those specifications. This is 3-D concept drawing to supplement the installment found in WoodenBoat issue 255, March/April 2017. See the article for lines drawings and more details.
UKPIK Particulars:
LOA 15′2″ (4.62m)
LWL 14′4″ (4.37m)
Beam 5′5″ (1.65m)
Draft 7″ (18 cm)
Displacement:

in salt water, half-load 1,100 lbs (500 kg)
light vessel 750 lbs (340 kg)

D/L ratio160
Outboard15-hp long-shaft 4-stroke gas
---
Laurie McGowan is a Nova Scotia–based boat designer with a diverse on- and below-water work history. He specializes in energy-efficient commercial and pleasure boats. More of his work may be found at mcgowanmarinedesign.com.
Do you have a boat concept you'd like to see Laurie McGowan develop on these pages? If so, send it to Sketchbook, WoodenBoat Publications, P.O. Box 78, Brooklin, ME 04616, or email it to sketchbook@woodenboat.com. Your letter should be no longer than 500 words.