The schooners of W. Starling Burgess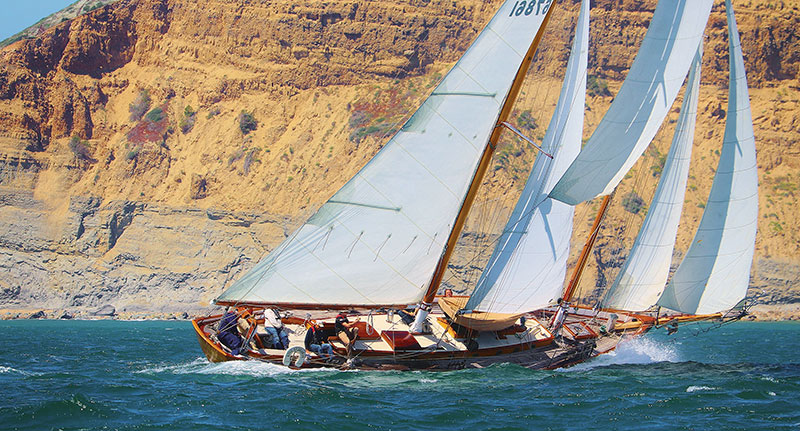 The Southern California sun is baking salt spray to a crusty film on my sunglasses. I'm down on my knees in the scuppers, soaked in a torrent of seawater rushing over the leeward rail, cranking on a winch to sheet in an immense genoa.
This, I think, is possibly a form of madness, considering I'm 70 years old and my ride, the W. Starling Burgess–designed racing schooner ROSE OF SHARON, is on the cusp of 90. It's as if something's causing my lizard brain to take over, urging me to throw all caution to the wind. It's really hard to muster the common sense that says I need to be throttling down both my body and this boat.
I'm one of the skippers who sails ROSE for the nonprofit Maritime Preservation Trust in Los Angeles. Today, ROSE OF SHARON and I are in San Diego at the America Schooner's Cup regatta with a crew of a couple of seasoned schooner vets and a cadre of young, post-college mariners and shipwrights who are looking to up their seafaring skills by learning how to sail an old-school staysail racing schooner.
Designed by Burgess in the late 1920s, this schooner is a thoroughbred from that bygone era. She is a relatively small boat at 51′ LOD and 25 tons displacement, but ROSE can carry an immense amount of sail. She has about 2,000 sq ft of canvas aloft at the moment. And, one by one, she's ticking off her competitors, smoking to windward at over 9 knots. She loves it. The young mariners who are sailing with me love it. I love it.
But just because ROSE always jumps at the chance to sail so fast, so powered up, doesn't mean she should. When she's storming along like this, it's easy to forget that this schooner has never had a total rebuild in her 90 years. Still, almost every time our crew sails her, she defies the odds for a boat her age. The older she gets, the faster she seems to want to go.
ROSE OF SHARON is a very rare bird. So this is our mission for today: Sail ROSE. Learn good seamanship from ROSE. Preserve ROSE so that future generations can bear witness to Burgess's virtuosity. And, of course, feel the magic.
The Burgess Legend
Years ago, an old schooner hand summed up the genius of Burgess's designs for me. "Nat Herreshoff was a great engineer, and John G. Alden was an artist," he said of the celebrated yacht designers of the early 20th century. "But Starling Burgess was a poet."
No kidding. The man actually wrote serious poetry, and many of his designs show poetic flights of fancy. They are love songs to that most indigenous and characteristically American sailing type, the New England fishing schooner, and its yacht derivatives.
At the time my friend made his comment about poetry, my own David Stevens–designed schooner SARAH ABBOT was being overtaken and passed by NIÑA, another famous Burgess staysail schooner, in a classic yacht regatta.
After that race, Hans Van Ness, who owned NIÑA at the time, confessed something I've never forgotten. He said that the experience of sailing a Burgess schooner was simply "intoxicating." It's as if these boats have the ability to drain a person of all rational thought, he said, the power to transport you to places long ago and far away.
In his masterful 2015 biography of Burgess, No Ordinary Being, the late Llewellyn Howland III put it this way: For yachtsmen heeding the siren call of the Grand Banks, Burgess-designed schooners "exercised a fatal fascination. They do so to this day."
ROSE OF SHARON is the keeper of that legacy. In many ways, she represents a high point in Burgess's career as a naval architect and is the clear descendant of more than a dozen memorable Burgess schooners that preceded her between 1905 and 1930.
Born in 1878, the son of Boston naval architect Edward Burgess, William Starling Burgess came by his affinity for Grand Banks–type fishing schooners naturally. His father designed the clipper-bowed schooner FREDONIA, and the elder Burgess also designed swift AMERICA's Cup defenders: PURITAN, MAYFLOWER, and VOLUNTEER. The younger Burgess's own talent for crafting racing yachts took flight with class racers and three victorious AMERICA's Cup defenders of his own in the 1930s.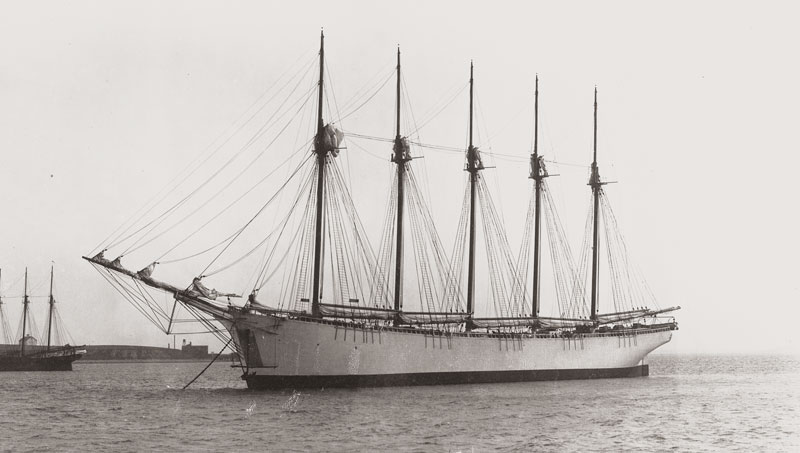 As a young Harvard College dropout and naval veteran of the Spanish American War, he began innovating with traditional schooner designs early in his career. In 1904 he drafted the five-masted coasting schooner JANE PALMER for the coal trade. At 308′ LOD, she was the largest Burgess design ever built. According to naval architect B.B. Crowninshield, she was "too fine for a coal ship" and "one of the fastest." Even as a mere 26-year-old, Burgess was taking risks with his schooner designs in pursuit of speed.
A year later, he changed the trajectory of American fishing schooner design forever with the launching of his ELIZABETH SILSBEE, the first Gloucester "salt-banker" to go to sea with an auxiliary engine. The 300-hp Standard gasoline power plant could drive the SILSBEE at 12 knots. The engine gave her an obvious advantage over other schooners that needed tugs to get in and out of harbor and required a fair and steady breeze to bring home their catch in a timely fashion.
The Fishermen Years
Always a restless soul, Burgess took a long break from naval architecture, starting in about 1909, to design and build aircraft. But by 1920 he was thoroughly back into designing boats, and once again he heard the call to draw schooners. Big schooners. Racing schooners.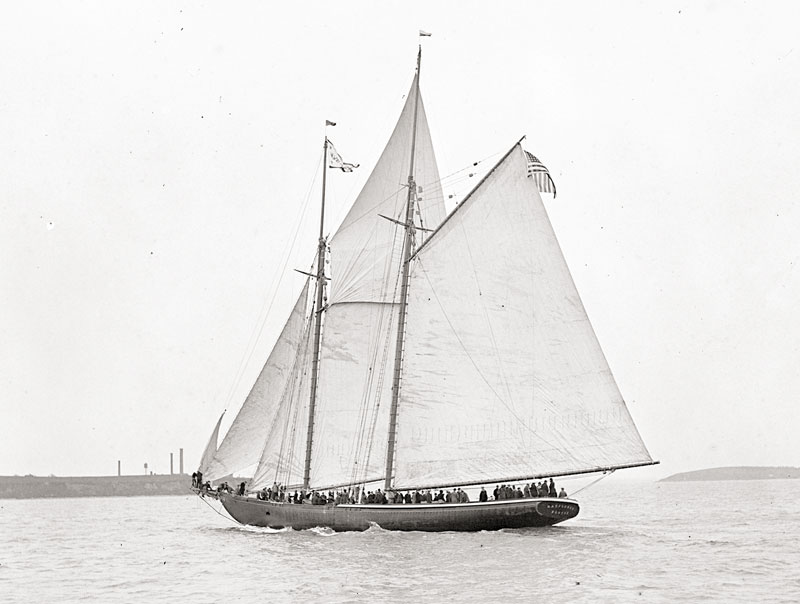 During the spring of 1921, the J.F. James & Sons shipyard in Essex, Massachusetts, launched the 143′ Burgess schooner MAYFLOWER after an amazingly short 60-day build. The new boat quickly left coastal New England for a cod-fishing trip to the Grand Banks to legitimize her existence as a bona fide fisherman. But, in truth, Burgess had designed MAYFLOWER primarily as a racing machine that could win the celebrated International Fisherman's Cup offered by The Halifax Herald newspaper in Nova Scotia to promote the rivalry between the Canadian province and the New England states.
According to Howland, "She was a distinct departure from the then prevailing Grand Banks…fishing schooner model. Her high firm bilges; her long flat run; and, in particular, her extreme cutaway forefoot, and very long, fine, slightly hooked bow (the distinctive Starling Burgess profile) were unquestionably yacht-like." In this design, Burgess cropped off the transom perpendicular to the waterline (as he would in many of his future yacht designs) to reduce weight in the stern, and he also took measures to dampen the vessel's tendency to pound in heavy weather.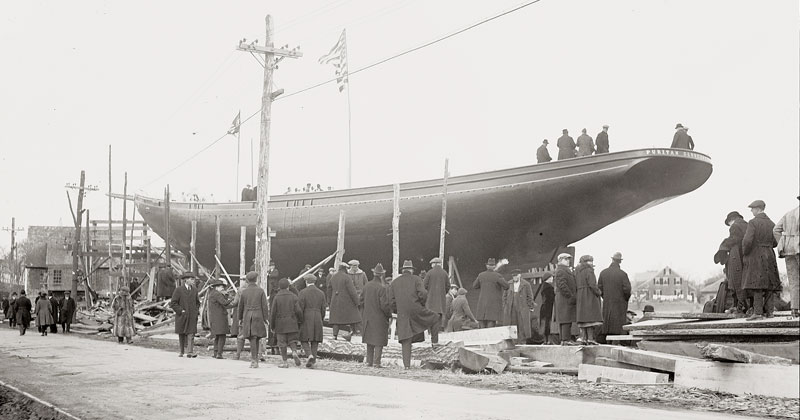 The Nova Scotians spotted a wolf in sheep's clothing and refused to let MAYFLOWER compete for the Fishermen's Cup. So in October 1921, it was the small and slower American schooner ELSIE, not MAYFLOWER, that raced the new Canadian schooner BLUENOSE and got trounced. The loss caused a wave of Yankee money to flow into building a contender to take back the cup. Once again a syndicate turned to Burgess, and this time he came up with PURITAN.
With this schooner, Burgess brought back the winsome, long, overhanging stern and elliptical transom of a typical fishing schooner and gave the hull a somewhat fuller entry and a finer exit than MAYFLOWER. To the unschooled eye, she "looked" more like a fisherman. But her lines were finer below the waterline, and she displaced 24 tons less than MAYFLOWER. This meant speed. A few sparring matches between MAYFLOWER and PURITAN proved the new boat's superiority.
And she could catch fish. In spring 1922 she was a "highliner," making two profitable trips to the Grand Banks for cod, so she looked like a safe bet to rival BLUENOSE in a fall duel for the cup. But then her speed killed her. On her third trip to the Banks in summer fog, she over-ran her skipper's dead-reckoning plot and ended up aground on a bar off Sable Island east of Nova Scotia, where she broke up.
Once again that fall BLUENOSE defeated an American rival for the cup. And yet again an American syndicate sought out Burgess to design a third racing fisherman they hoped would take the swagger out of Capt. Angus Walters, BLUENOSE's master. This time, Burgess designed COLUMBIA. She was a bit finer forward than her sisters and a little shorter than MAYFLOWER. But she had the same waterline as PURITAN, and her displacement fell squarely between that of her two older sisters. Many observers of her day, and maritime historians in subsequent decades, have remarked that COLUMBIA had the sweetest bow profile of any Grand Banks fishing schooner. As Howland wrote, "COLUMBIA was a distillation of all that Burgess had learned and observed about achieving exceptional all-around performance in a Banks racing schooner."
At nearly the same time that Burgess designed COLUMBIA, he also drew a series of smaller but similar-looking schooner-yachts. Both because of their natural beauty and the media attention that surrounded the Fisherman's Cup races, fisherman-style schooner-yachts became all the rage during the Roaring Twenties, and Burgess drew a lot of them. They were all built at the same Essex yards that built the fishing schooners.
The A.D. Story yard launched the first of these fisherman-yachts, the 107′ MARINER, for L.A. Norris of San Francisco. And while COLUMBIA was busy during the spring of 1923 establishing her credentials as a working vessel on the Grand Banks, MARINER made her way through the Panama Canal to the U.S. West Coast to be the scratch boat in the 2,230-mile Transpacific Race to Hawaii. She was first to finish, second on corrected time. The yacht soon ended up in the hands of the actor John Barrymore of swashbuckling pirate-movie fame and won the same race again in 1926.
In the mid-1920s, the arts flourished in America. And in the same years in which Hemingway wrote The Sun Also Rises, F. Scott Fitzgerald published The Great Gatsby, and George Gershwin released Rhapsody In Blue, Burgess collaborated with the Essex builders to launch large, lovely schooner-yachts as fast as they could build them: 78′ NAVIGATOR, 93′ ARGYLL, 85′ PHILOSOPHER, and 87′ MEGILDIS slid down the ways. And then came one final Burgess working girl. She was the 121′ auxiliary schooner PILOT, which would serve the Boston Harbor Pilots Association for the next five decades. She survives to this day as a floating restaurant on the Hudson River in Brooklyn, New York.
COLUMBIA had harder going. When she met BLUENOSE at Halifax in the fall of 1923, the Canadian whipped her handily due (at least to some degree) to the American's rudderpost having been damaged during her launching into the shallow Essex River. Despite the drubbing, the race judges gave the victory to COLUMBIA because BLUENOSE took one of the buoys on the race course to the wrong side.
Books have been written about the second meeting between these two great schooners, which followed what Burgess remembered as "a week of quite strenuous carousal." The second race was a 50-mile battle of the titans that climaxed during a northeaster gale. Gear and sails carried away; men were injured and nearly swept overboard. And yet the schooners charged ahead. Driving COLUMBIA onward was her skipper, Ben Pine, with a crew of 25 schooner captains and a hung-over Burgess.
In the end, she lost to BLUENOSE by a mere two-and-a-half minutes. With the series tied, the Americans wanted a third race, but Walters, the wily Canadian, refused to sail again. He and his schooner had too much to lose and nothing to gain. To this day, Canada protects the reputation of its famous schooner and prohibits its replica BLUENOSE II from racing. But the challenge remains. In recent years, the Canadian schooner has been dogged more than once by the magnificent steel replica of COLUMBIA launched in 2014 by Brian D'Isernia's Eastern Shipbuilding Group in Panama City, Florida. So, one can always hope for yet another race.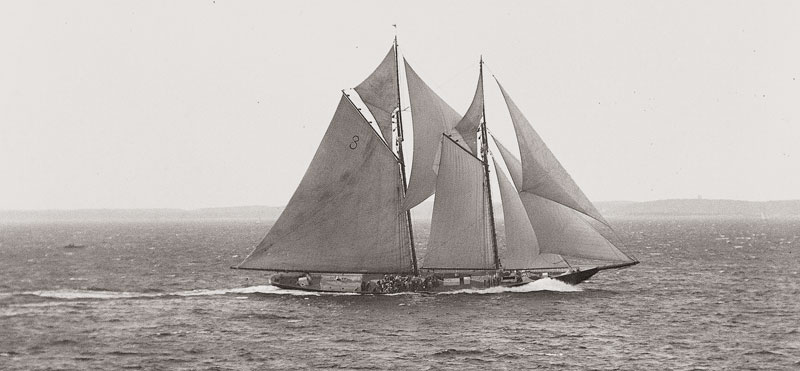 As for the original COLUMBIA? She vanished in a gale with all hands on August 26, 1927, while fishing off Sable Island. It was heartbreaking news for the families of her crew and the legions of fans who had such high hopes for one of Burgess's masterworks. But true to his restless temperament, Burgess had already moved on. He was done with fishing schooners and workboats.
The Glamorous and the Great, ADVANCE and NIÑA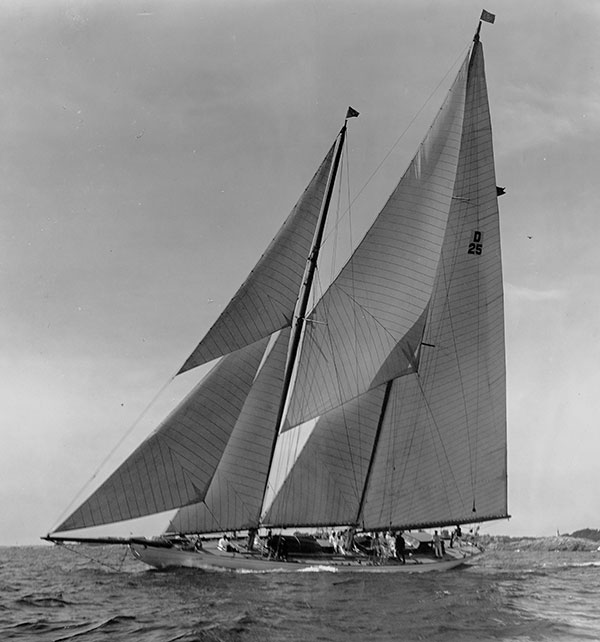 The new game for the poet-architect was no-holds-barred racing yachts. But while he was designing all manner of around-the-buoys racers such as R- and Q-class sloops, Burgess continued to nurture his fascination with the possibilities of the schooner rig. In 1925 he created a revolution in this regard. In collaboration with John S. Lawrence, a former prep-school classmate from Milton Academy in suburban Boston, Burgess designed the 88′ racing schooner ADVANCE (see WB No. 239).
According to Howland, the new schooner was a "game-changer" and "ranks among the most important yacht designs of Burgess's lifetime." In the hull of ADVANCE, Burgess synthesized all he had learned from the evolution of his racing fishermen with their cutaway-forefoot profiles as well as from the success of his lightly built inshore racers. He held onto the seakindly lines that had served COLUMBIA so well in her race through the gale against BLUENOSE, but he gave ADVANCE finer ends to reduce the punishment she would take on a transatlantic passage—a passage she made in 1925 upon delivery from her builder, Anker & Jensen of Norway, to Marblehead, Massachusetts.
But as significant as her hull design was, it was, at least in the eyes of waterfront observers, far from the biggest change that ADVANCE brought to the world of racing schooner-yachts. With ADVANCE, Burgess eliminated the gaff-rigged sails and replaced them with the first staysail schooner rig. It consists of an enormous marconi mainsail (made possible with advances in hollow-spar construction), a main staysail, and a collection of headsails.
To fill in the space between the two masts, Burgess collaborated with sailmaker George Ratsey to design a large, trapezoidal sail that became known as an ADVANCE staysail. It had similarities to the fishermen staysails of PURITAN and COLUMBIA. But those sails were for reaching and running off the wind. The new ADVANCE staysail could be set with a tight luff for windward work.
The resulting combination of the staysail rig and the swift, light hull, along with the traditionally low rating for schooners, made ADVANCE a sea witch when racing under sail. She went to windward far better than the rest of her competition, even though she gave up a bit off the wind. By 1926, schooner-yacht owners were switching their rigs to the new staysail profile. Herreshoff and Alden put staysail rigs on their latest racing-schooner creations such as WILDFIRE and MENIKOE V. Meanwhile, ADVANCE kept up her winning streak, and the yachting press spilled much ink over her innovations and victories.
The success of ADVANCE made Burgess a darling not only among the yachtsmen of Marblehead but also those of Newport, Rhode Island, and Long Island Sound. Soon, he found himself with a New York office, designing the popular Atlantic class one-designs and swift 8-, 10-, and 12-meter racing sloops for importation from the German yard of Abeking & Rasmussen (see WB No. 270).
It was during these heady years that Burgess drew what many consider his Mona Lisa, the staysail schooner NIÑA (see WB Nos. 237–238). Olin Stephen's paid NIÑA his highest compliment when he said that she was the only boat he knew of that looked good from any angle. In 1934, in fact, Stephens briefly became her owner-of-record as the yacht was being sold by Paul Hammond to DeCoursey Fales.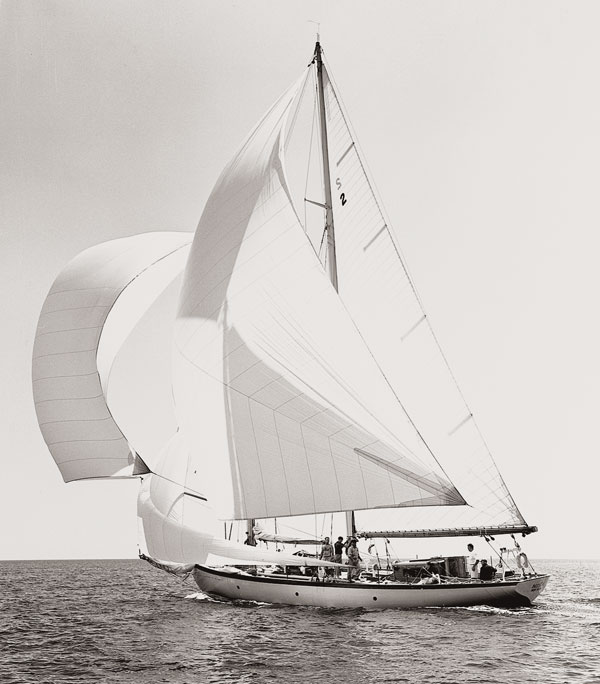 NIÑA was flush-decked, which was a serious break from conventional hull shapes of the time. Built by Reuben Bigelow of Monument Beach, Cape Cod, NIÑA was 70′ LOA, 59′ LOD, with a beam of 14′10″. She drew 9′7″ and displaced 44 tons. She had white oak for her centerline timbers and steam-bent frames. Bigelow double-planked her with ¾″-thick mahogany imported from Mexico. The deck was laid Burma teak. She carried 2,275 sq ft of working sail.
To take advantage of the measurement rules for the 1928 Queen's Cup race from the United States to Santander, Spain, Burgess gave the schooner a comparatively short bow overhang and truncated her stern, as he had on the fishing schooner MAYFLOWER. He designed a staysail schooner rig, but he made her mainmast hollow and tall, at 85′. With a comparatively short foremast and long bowsprit, she was essentially a two-masted cutter. For her 59′ length on deck, NIÑA carried an extraordinary amount of sail.
Lightly built, the new Burgess schooner virtually flew to Spain, much to the consternation of her Alden-designed competitors, the schooners MOHAWK and PINTA. She was first across the finish line, winning the race in 24 days and beating the three-masted, 185′ schooner ATLANTIC, which held the transatlantic record from New York to the Scilly Isles in 1905. King Alfonso saluted the Burgess yacht from his launch, saying, "Well sailed, NIÑA, I congratulate you! I am the King of Spain."
As a sequel, she went on in the same year to be the first American yacht to win the Fastnet Race. Then she turned around to win the westbound race from London to Gibson Island, Maryland. These victories were just the beginning of a matchless career that included winning the New York Yacht Club's Astor Cup in 1939 and 1940. In 1962, 34 years after her launching, she became the oldest yacht to win the Newport Bermuda Race. When she was well into her 60s, NIÑA proved victorious in the 1989 New York Mayor's Cup and the 1994 Antigua Race Week's Schooner Class.
To many, it seemed as if NIÑA would go on forever. Classic-yacht aficionados were therefore stunned when she disappeared in 2013 without a trace in a storm during a passage in the Tasman Sea. The last message from her owner-skipper, David Dyche, who with his family and crew disappeared with the yacht, was that NIÑA's stormsails were in shreds and she was proceeding under bare poles. She was 85.
The NINETTEs
Two years after NIÑA's first spectacular triumphs, the Great Depression began to dampen America's enthusiasm for big racing schooners. But yacht racing continued. And as the 1930 Newport Bermuda Race loomed, Burgess adapted to the changing market. He scaled down NIÑA into a 51′ package, using conventional overhangs. This became known as the Ninette design, named after the first boat built. That spring, Eastern Shipbuilding in Shelburne, Nova Scotia, launched NINETTE and quickly followed with two sisters, CAYUSE and ROSE OF SHARON, all of which were intending to compete in the race. Each schooner was 51′2″ LOD, with a beam of 13′3″, a draft of 8′4″, and a displacement of 25 tons. They had laid teak decks with low trunk cabins. Their centerline timbers and steam-bent frames were of white oak and their hull planking of 1½″-thick Douglas-fir. As built, they carried 1,825 sq ft of working sail.
Burgess drew two sail plans: one, like NIÑA, with a marconi mainsail and the other with gaff rig. He left open the option for his signature staysail rig, which ROSE OF SHARON adopted in 2004. In many respects, these NINETTEs were a coalescence of all the Burgess schooner designs that came before. And they were nearly the last Burgess-designed schooners built before the architect turned his energies during the 1930s to drafting his AMERICA's Cup victors, the J-class giants ENTERPRISE, RAINBOW, and RANGER.
Like their predecessors, the NINETTEs were relatively lightly built and had extremely cut-away underbodies, deep draft, and tall rigs capable of carrying a huge amount of sail for their size. Currently, ROSE OF SHARON's working rig consists of a mainsail, main staysail, ADVANCE fisherman staysail, fore staysail, and various genoa jibs, totaling over 2,000 sq ft. That does not include her spinnakers and gollywobblers. Modern grand prix racing machines of similar size, such as TP-52s, carry a mainsail and jib with only about 1,700 sq ft of working sail.
ROSE OF SHARON, the Survivor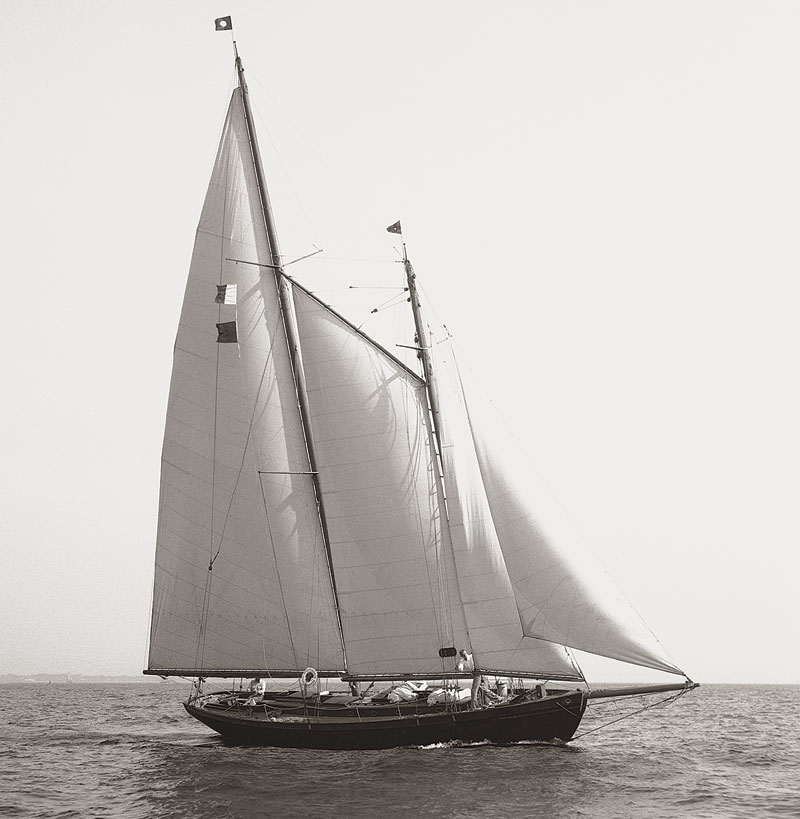 The first two yachts built to the NINETTE design proved uncompetitive, perhaps because they relied on amateur crews. But ROSE OF SHARON, which was built for Thomas J. Lamont, who was the president of the J.P. Morgan Co., attracted experienced crew skippered by the owners' son, Dr. Austin Lamont. The schooner placed third in Class B of the 1930 Newport Bermuda Race. Over the subsequent decades, she won the Mayor's Cup in New York, won her class in the 1980 Ensenada Race, and was, for many years, the elapsed-time record holder in the Ancient Mariners Race from San Diego to Maui. She also placed second in class in the 1983 Swiftsure Race out of Victoria, British Columbia. In 2009, she placed second in the biennial race from Marina del Rey to Puerto Vallarta, Mexico, and she has continued to be victorious in numerous classic yacht regattas in Southern California.
Unlike many magnificent yachts of her vintage, which went into decline as the deepening Great Depression brought an end to the Roaring Twenties, ROSE had a succession of loving owners. Lamont owned and raced her until 1935, when he sold her to Fred Pape, who sailed her as SAN CRISTOBAL II until 1940. The third owner, Charles Stoll of Escanaba, Michigan, gave the schooner back her original name and took her to the Great Lakes. There, she could continue to race and cruise despite World War II and avoided conscription for military service—duty that proved to be punishing to many yachts in those years.
Stoll lavished care on his schooner for more than 30 years, and she made good showings in the Chicago Yacht Club Race to Mackinac. In the late 1960s, he became interested in the revival of class schooner racing occurring in Southern California. So when Stoll began to battle cancer, he reached out to Byron Chamberlain, CEO of Mariners General Insurance Group in Newport Beach, who was a leader in the Southern California schooner fleet. Stoll asked Chamberlain to find a home for ROSE after his death.
Chamberlain kept his promise, enlisting shipwright Roy Wildman in 1970 to take custody of ROSE OF SHARON and sail her to the West Coast. But once the old schooner reached Newport Beach, it was clear she was in rough shape. Wildman moved ROSE to the Costa Mesa boatyard run by Bob Sloan, who built the coasting schooner SPIKE AFRICA, and started restoring her. But as the project grew in time and cost, Wildman went to Chamberlain on December 7, 1976, and admitted he could not sustain the work and would have to destroy the schooner.
"My first thought was of Mr. Stoll, depending on me to maintain ROSE OF SHARON and to keep her sailing and racing," Chamberlain says.
In short order, he traded his 46′ Nick Potter–designed schooner, ANDALE, for ROSE OF SHARON, hired his shipwright friend Dennis Burnett to replank her as necessary, and had the schooner sailing by February 1977. For the next two years, she sailed without an engine, since Chamberlain had sold her power plant to help pay for the replanking. During the following four decades he made her the flagship for his marine insurance business, campaigned and cruised her actively, and spared no expense to keep ROSE OF SHARON looking Bristol.
"To me, it has never been about the money," Chamberlain says. "The value is in the boat and protecting its history."
It was in this spirit that in early 2018 Chamberlain donated ROSE OF SHARON to the Maritime Preservation Trust, based at Los Angeles Harbor. Guided by master shipwright Wayne Ettel, who has worked on ROSE ever since the 1970s, the trust has developed a program for teaching interns and volunteers how to restore, maintain, sail, and campaign the historic watercraft of Southern California.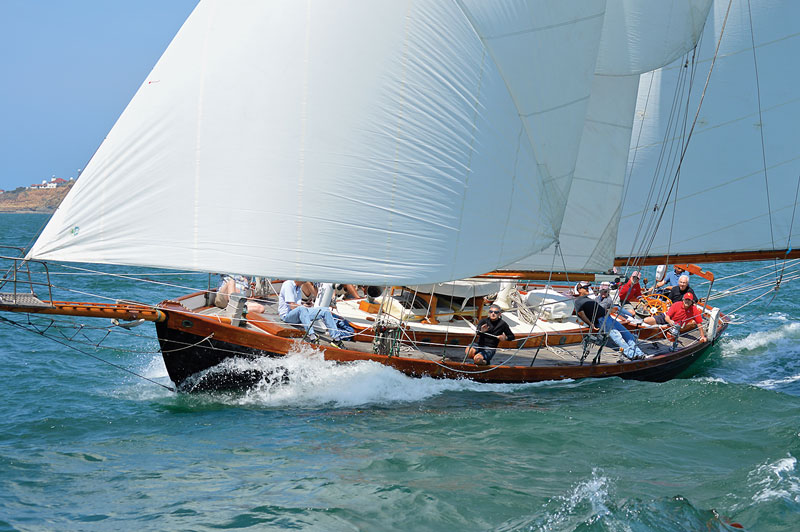 Not the Last Race
With the loss of NIÑA and the conversion of PILOT into a floating restaurant, ROSE is the last original Burgess–designed schooner still sailing. There are later-built replicas of COLUMBIA, NIÑA, and others, but ROSE is the last of the originals.
So, with the wind piping up on the final leg of this America's Schooner Cup race in San Diego, it is definitely time to protect this old girl, and the crew knows it. As if they have been doing this all their lives, a half dozen young mariners leap to an all-hands douse of the ADVANCE fisherman staysail as ROSE blasts along on port tack toward the finish line. Losing the sail leaves her unfazed, and at age 89, she's second across the line on elapsed time. She is first in Class A.
It's a fine thing. ROSE OF SHARON beats on. She is a specter of the Gatsby Era, and as F. Scott Fitzgerald might have put it: she is a boat against the current, borne back ceaselessly into the past. She is a sailing sonnet of a restless dreamer.

A regular contributor to WoodenBoat, Randy Peffer has held a 100-ton master's license for nearly four decades. He's the author of 20 books, including Dangerous Shallows (with Eric Takakjian) from Lyons Press in February 2020.