A 16' 1" (4.90m) open-water, sliding-seat rowboat
Featured in Design Sketchbook from WoodenBoat Magazine: This is the 3-D concept drawing and design profile you can read in WB No. 269, July/August 2019.
SURF SCOTER is an open-water, car-toppable single rowing shell. She uses a kit rowing rig from Angus Rowboats (www.angusrowboats.com). The calmer the conditions, the lower the oarlocks can be set, and the longer the oars can be.
Particulars:
LOA: 16′1″ (490 cm)
LWL: 15′8″ (478 cm)
Beam: 36″ (91 cm)
Beam WL: 25″ (69 cm)
Displacement (one crew): 240 lbs (109 kg)
Boat weight (approximate): 75 lbs (30 kg)
Prismatic coefficient: 0.58
The 36″ beam makes for a stable boat compared to a traditional scull. The transom stern offers longitudinal stability—that is, it limits "hobby-horsing" as the rower's weight shifts forward and aft. This effect, however, must be balanced against having too much volume aft, which would depress the bow excessively when waves get under the stern.
The plywood lifting skeg, which is controlled from the cockpit, is raised for upwind work and lowered for going downwind. The narrow footwell will limit the amount of water the cockpit can hold. The peaked foredeck sheds water, and adds buoyancy where desired if the boat capsizes.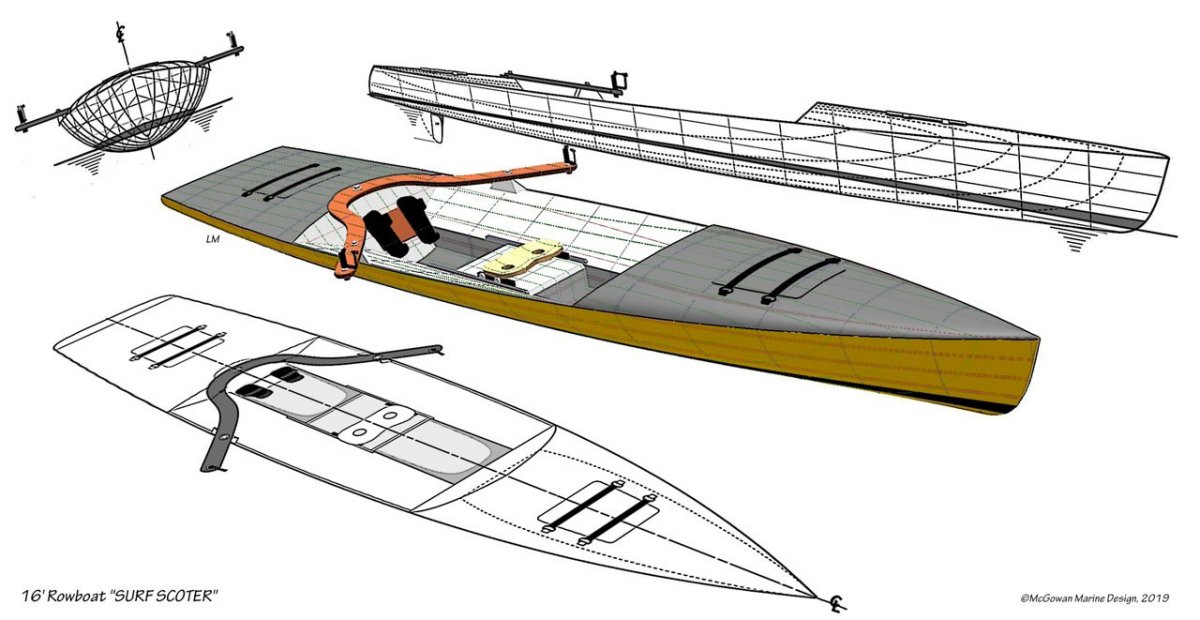 ---
Laurie McGowan (mcgowanmarinedesign.com) is a Nova Scotia–based boat designer with a diverse on- and below-water work history. He specializes in energy-efficient commercial and pleasure boats. More of his work may be found at mcgowanmarinedesign.com.
Do you have a boat concept you'd like to see Laurie McGowan develop on these pages? If so, send it to Sketchbook, WoodenBoat Publications, P.O. Box 78, Brooklin, ME 04616, or email it to sketchbook@woodenboat.com. Your letter should be no longer than 500 words.