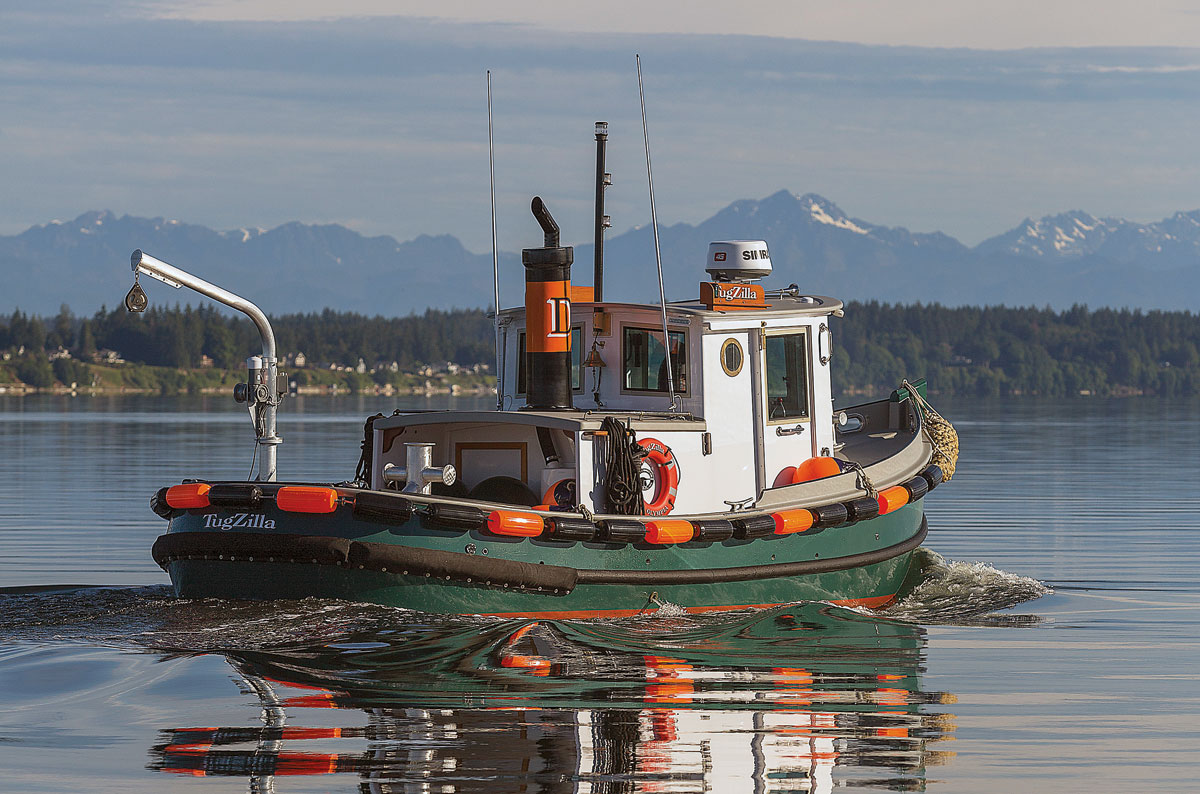 Sam Devlin's boat-design catalog is awash in tugboats—cute little pretend tugs, honest-to-God working tugs, and imposing motor cruisers whose profiles hint strongly of ancestral tug DNA. Although 95 percent of his boatbuilding business in Olympia, Washington, over the past 43 years has involved pleasure boats, it's clear that tugs are somehow lodged in his heart and his inner eye. He swears, in fact, that when he was five years old, he won a kindergarten art competition with a drawing of a tugboat. And he says his vision of a life building boats first occurred while working aboard a wooden tug in Alaska during his college years.
"I've had this theory for a long time that there's an innate wiring that happens with people," Devlin muses. "We have boat shapes, or caricatures of them, lodged in our minds based on what we grew up seeing. Northeast people are always seeing lobsterboats. Catboat people look at all boats through catboat eyes. The kind of boats I like best are the fishing boats and tugs I grew up seeing on the Northwest coast. I think the closer I keep a design shape to these simple caricatures, the more visceral approval it gets."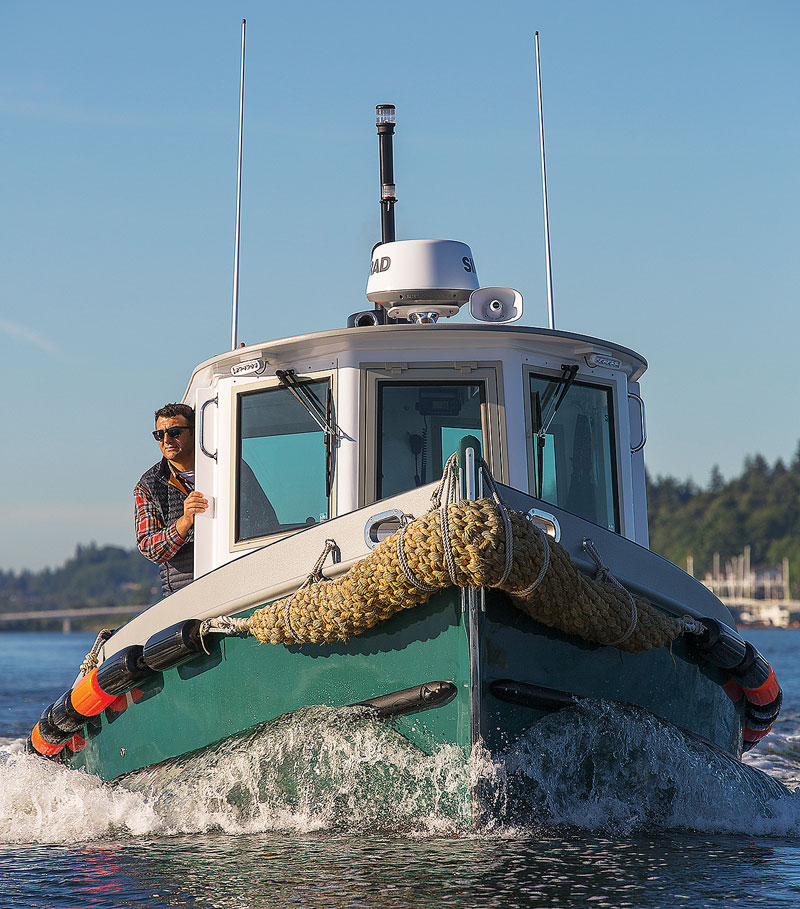 Among the tugs in Devlin's stable of stitch-and-glue designs, available either as plans for amateur builders or custom-built boats from his shop, is the 25′10″ TUGZILLA. It's a real, no-nonsense working tug, though its trajectory from CAD drawings to the first finished iteration, featured here, has been a spasmodic zigzag 10 years long.
It began as a design commission for a capable amateur builder from Portland, Oregon, who wanted a tug-like recreational boat for use on the Columbia and Willamette rivers. Not far into the build, the client began thinking he needed more of an actual cruising boat, with expanded interior space. Devlin undertook conversion drawings, but he wasn't optimistic about it working out, and the awkward new name given the design—"FerryZilla"—hints at the neither-fish-nor-fowl issues. His client tackled the project of building to the revised plans, but after a couple of years the work stalled and, sure enough, one day a half-finished half-tug, half-cruiser popped up on Craigslist.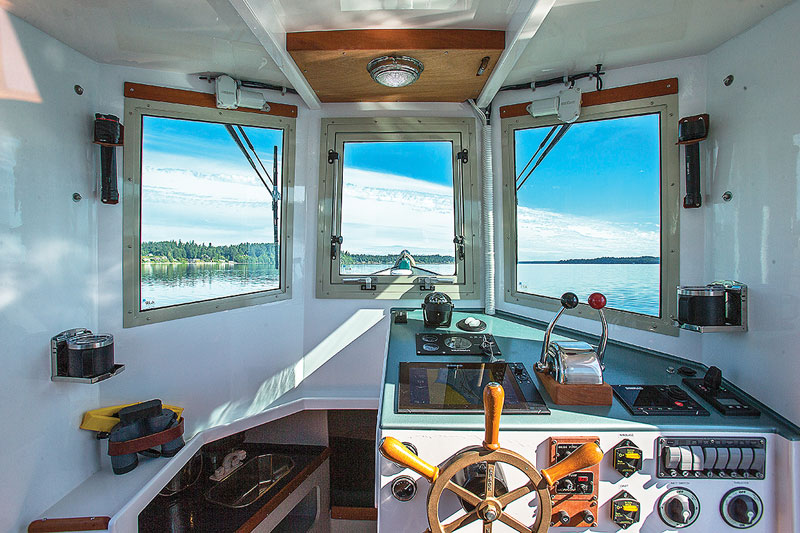 Amateurs building to his designs, Devlin says, give up "less often than you'd think." But he tends to hear about it when they do, because their owners, just as in this case, put their unfinished project boats up for sale, which almost never works, and finally they loft a desperation Hail-Mary phone call to Devlin. "As if I'm the care home for forlorn, lost projects," he says. For obvious reasons, he tries to dodge these entanglements. But he somehow failed to resist this one, and eventually he found himself towing a hull with an engine and some completed interior structure by road back to Olympia from Portland.
"I was pretty excited when I first brought it home, but then I started looking it over, and my jets cooled. I'd been thinking naïvely it would be something I could finish quickly, rough-and-ready, and it would be done. The builder's work was pretty good on the exterior, but the change of configuration inside just made it turn my stomach. I couldn't see a way out of it. I parked it in my upper barn and for a while tried not to worry about it."
Devlin has a Sunday morning ritual of retiring to his office to cogitate and sketch while a weekly "Breakfast with the Beatles" program plays on a Seattle radio station. One such Sunday he concocted an idea—might it have been to the accompaniment of "I Should Have Known Better"?—to slice the tug's hull in half athwartships, plant the two ends upright in the ground, and build a cottage between them for Airbnb guests. He even whipped up models to show Soitza, his wife. She was at least moderately encouraging. Perhaps fortunately, he didn't pull the trigger on the idea just then.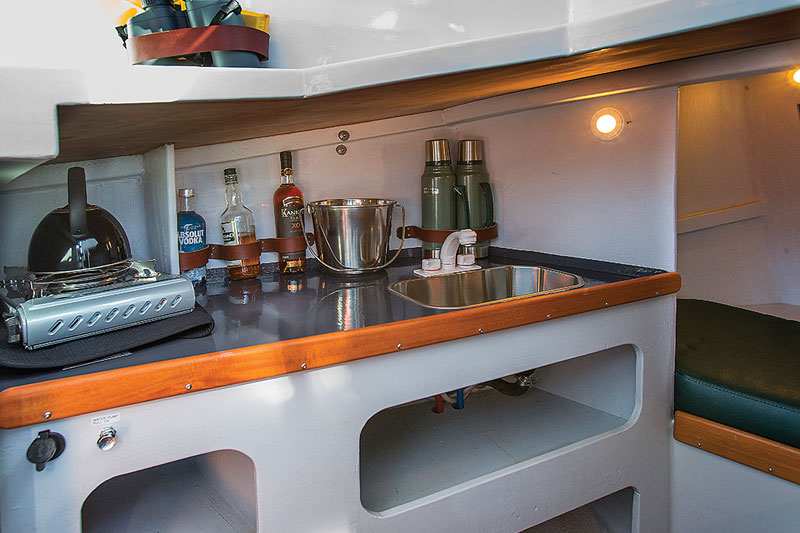 Early last year, as he was shuttling a customer's boat to one of Olympia's marinas for haulout, Devlin saw a small harbor tug towing a half-submerged 45′ motor cruiser with float bags attached. He later heard that the tug operator had collected $6,500 for the day's refloating and towing work. In an inspirational flash that could have been inspired by "Nowhere Man," he thought, "I'm in the wrong business!" And he hatched a new idea to launch a marine towing sideline built around the project boat festering in his barn.
"A little bit of it was me trying to stay on my toes and think out of the box, and a little bit was me wanting to spend more time on the water, and still another bit was the realization that I'm really crappy at taking vacations—so why don't I just make more work? We were in between projects at the shop, so I thought, 'Let's see if we can turn that hull into a real tugboat.'"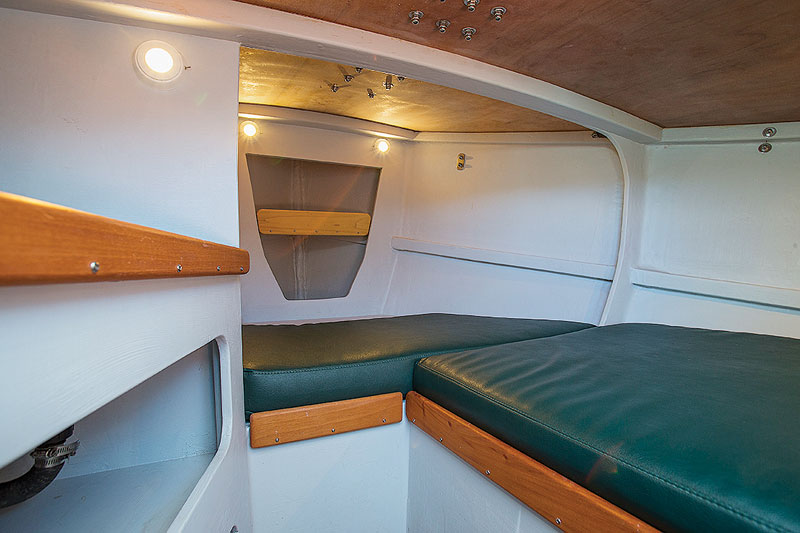 The shop crew spent the first week just cutting unwanted things out, mainly the interior furnishings the client had built. The hull was already burly enough for workboat duty. Devlin has developed a hybrid construction for his large designs, using a combination of stitch-and-glue and cold-molding techniques. TUGZILLA had a beefy bottom of ½″-thick marine plywood with two more layers of ¼″-thick plywood laminated to it. The sides are laminated of ½″ plywood plus one layer of ¼″, and the hull exterior was sheathed first in 6-oz fiberglass cloth followed by an outer skin of Dynel, both set in epoxy. For additional insurance, the bulwarks were laminated to twice the thickness of the topsides, 1½″, and the decks matched that thickness. Devlin says structural stresses on a workboat tend to make themselves known at the sheer, so the crew made sure the hull-to-deck joint was plenty strong. The towing bitt on the afterdeck is mounted on a heavy oak kingplank to distribute its load and is stoutly braced to the base of a bulkhead aft.
Stitch-and-glue plywood construction would seem to defy the use of the fantail stern commonly used for tugboats, but Devlin has devised a method that doesn't compromise the classic tug architecture. The result, when it's executed well, is a perfectly fair ellipse.
As the build was underway, Devlin wrote a business plan for his towing sideline, showed it to a few people, and acquired a surprising partner—a Russian named Temur Rukhaya who had built two of Devlin's large designs in his homeland and then moved to Washington State. Even with Rukhaya's investment, though, Devlin says he's invested a significant sum in the boat. Cute and diminutive it may be, but a toy it's not.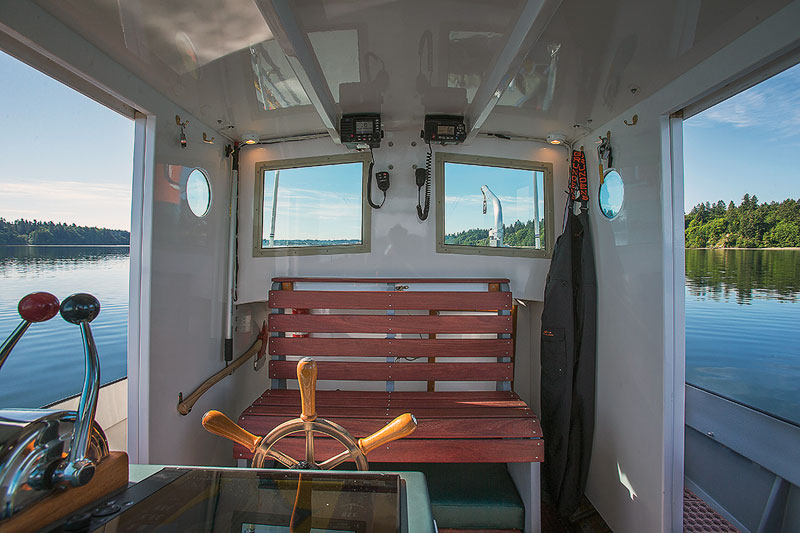 The business plan foresees salvage and towing service around Puget Sound for any kind of boat up to around 45′, setting moorings, and, yes, whale disposal. The Sound is home to four species of whales (orca, minke, humpback, and gray), and dead cetaceans that wash up on public beaches are a fairly common problem. Devlin plans to bid for a state contract to tow them to a disposal area at the wildlife refuge on McNeil Island, largely undeveloped because it formerly was the site of a federal, and later state, prison. Since the tug slips in at just under 26′, its operation doesn't require a Coast Guard–licensed captain.
Devlin launched TUGZILLA in February. Washington State's corona­virus lockdown followed just a few weeks later, so the business hasn't yet made much of a splash. At this writing, he's had one job towing a 30′ boat for servicing. He's still optimistic—and in the meantime, when he has a bit of spare time, just enjoys messing around in it, almost as if it were a pleasure boat. "It's a blast to run," he says.
There's no work for TUGZILLA on this May Sunday, but the gorgeous, blue-sky spring afternoon at a southerly finger of Puget Sound seems to be begging us to hop aboard for a visit and then go out for a romp. Maybe there's something to that brain wiring Devlin talks about. A pint-sized tug somehow seems to exude personality, and it's invariably a friendly, welcoming one. Google "tugboat children's books" and ponder the cover images. Dozens of hard-working TUFFYs and SCUFFYs are all breaking out in great funky anthropomorphic smiles. In cartoonland, tugs are never aloof or indifferent—and certainly not evil—characters.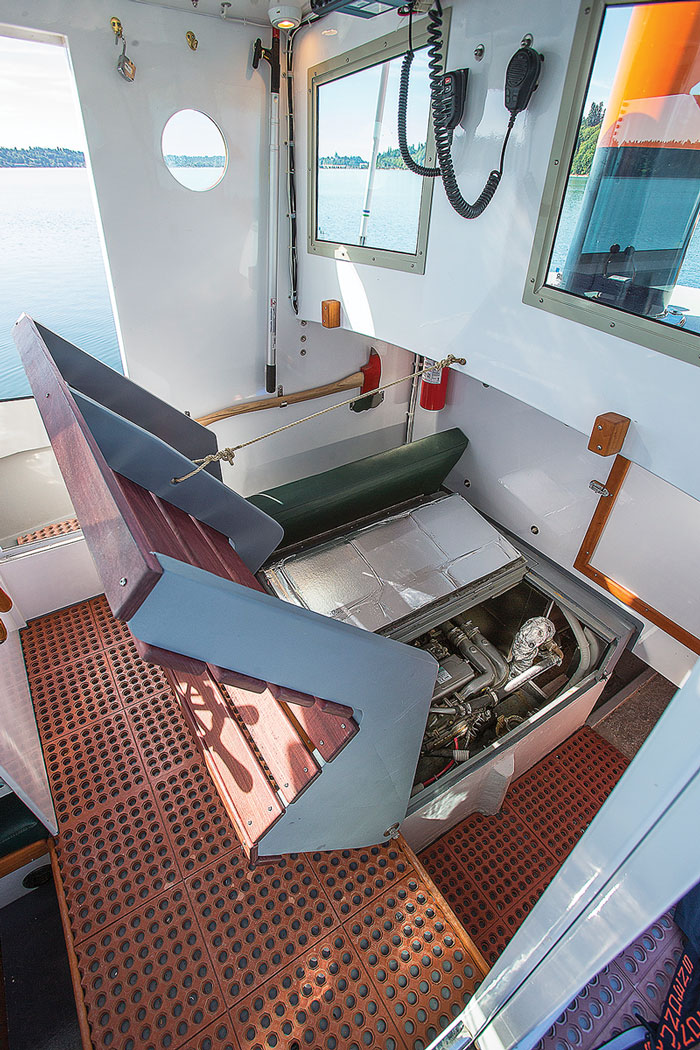 TUGZILLA hasn't had opportunities to get itself scuffed and battered yet, so it might still appear a little overdressed for its job. Devlin's idea of a "workboat finish" doesn't mean flat paint and passable joinery. TUGZILLA is detailed and painted as carefully as his cruising boats, or as your average German sports sedan. It just doesn't show any brightwork or luxury touches.
Once past the full-gloss paint job, the boat doesn't appear to have any conflicted ideas about what it's been put on earth to do. The pilothouse has 6′6″ of standing headroom and a park-bench-like seat for two, but it's relatively narrow so as to provide generous 18″-wide side decks for darting quickly around the boat, which is sometimes necessary on a small working tug. Another clue to its pure working-class status might be the gray truck-bed liner sprayed on all the deck surfaces and even the bulwarks—except Devlin is so enthused about it he often uses it on pure pleasure craft as well. Its beaded hide offers good traction, it's as tough as stegosaurus skin, and needs zero maintenance, which he figures is a good deal on any kind of boat.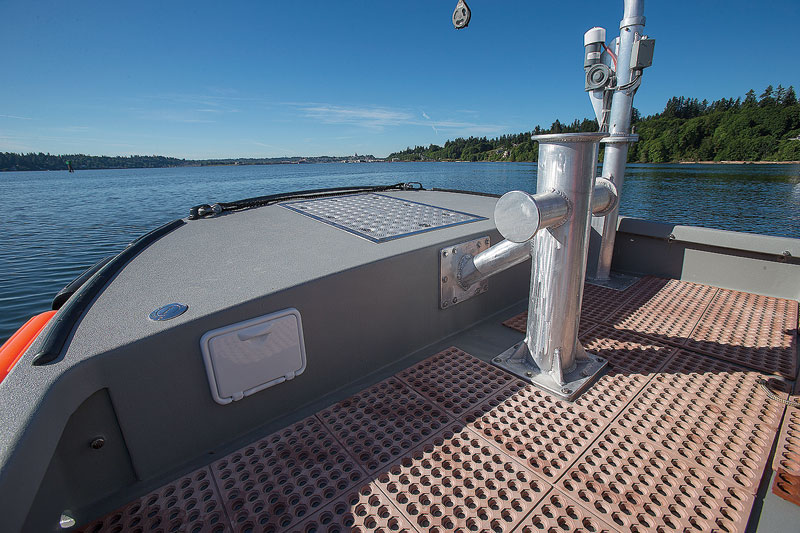 Descend from the pilothouse into the forecastle. There's a single settee berth to starboard and a mini-galley to port, but have a seat and imagine yourself brewing a spot of coffee, and you'll quickly learn that you're not even granted sitting headroom—you're ducking while brewing. At least the berth is nearly 7′ long, which is plenty of space for napping. Devlin says the cabin is intended mainly for the off-watch crew member to enjoy some rest.
Driving the boat is easy. There's an autopilot to take care of long, monotonous runs and bow thrusters to help with fussy maneuvering.
Aft of the pilothouse, a boxy compartment houses a generator, and a fully functional stack for water-cooled diesel exhaust blooms out of it.
The boat's working extremities are a 1,200-lb lifting crane and the custom-fabricated aluminum towing bitt. TUGZILLA's original plans called for an easily home-built hardwood bitt, and Devlin was looking for a length of 6″ × 6″ purpleheart when he started to fret about how to seal it where it would go through the deck. A friend who once fabricated aluminum masts came through with a Schedule 80 aluminum version, which has the additional merit of looking convincingly industrial.
The tug's engine is a 110-hp Yanmar that drives a 24″ × 18″ propeller. With the boat's 24′ waterline, its hull speed predicted by the standard formula for a purely displacement hull (square root of LWL in feet × 1.34 = speed in knots) is about 6.6 knots. But when Devlin cranks up the diesel—not surprisingly raising an almighty racket—the speed over ground inches up to 9 knots. Accounting for the half-knot boost from the ebb current, we had an honest 8.5. If need arises to tow heavy loads, Devlin says there's enough hull clearance to mount a 38″ prop—and probably adequate power to turn it.

Not atypically, being at the helm of his new tug this afternoon has set Devlin's own thinking in motion, spawning visions of still more tugs. "I'd like to do a heavier-duty version of this with a much bigger engine. If we see there's a market, we could take a look at a 32′ or 36′. Or a fast tug. One of the jobs we're bidding on now is towing a boat from Port Townsend to Lake Union [in Seattle]. In this boat, it's a 15-hour run just to get from here to Port Townsend. It would be much better if we had a fast tug. Or a trailerable tug.…"
So the question lingers: why do tugs, real and wishful, occupy such a large space in our thoughts—not just for Devlin, but for all of us? They may play on our subconscious minds as representing virtues we crave to cultivate in ourselves. They do hard and steady work, undaunted by conditions. They're tough and durable. They're unencumbered by trivial fads and frippery. And they help people in trouble.
The tugboat's essential form has changed little over the past century. It's a perfect example of form following function, which stands in sharp relief to so much of our culture's architecture and consumer product design. In a world filled with arguably way too much artifice, the simple honesty of a tug stands out—when it's the real thing and not a yacht dressed in a tug outfit. A tug will not have style imposed on it, which paradoxically makes it one of the most beguilingly styled creations on the water.
Lawrence W. Cheek is an author and boatbuilder who lives on Whidbey Island, Washington.
For information on the TUGZILLA design or other works by Sam Devlin, see www.devlinboat.com or contact Devlin Designing Boat Builders, 2424 Gravelly Beach Loop NW, Olympia, WA 98502; 360–866–0164.