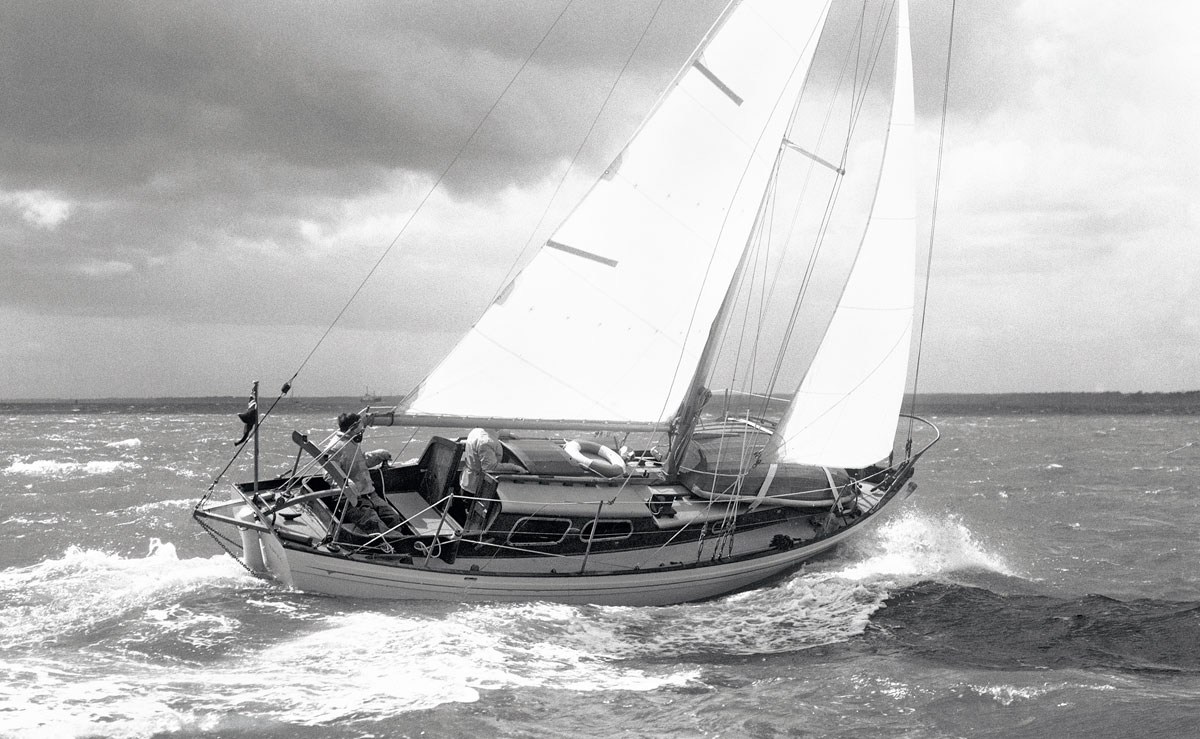 Most cruising sailors have heard of Vertue yachts. Though small in size—only about 25′ LOA—they have an outsized reputation as the most successful design to come from English yacht designer Jack Laurent Giles during his long career. More than 200 of the boats have been built, and many of the exploits that their owners undertook have become legendary among ocean-cruising sailors.
Giles, who was born in Yorkshire, England, in 1901, was brought up on the country's North Sea coast in Scarborough, a town best known for its School of Art where for 35 years yacht designer Albert Strange was the kindly and enthusiastic headmaster. Strange is best remembered for his beautifully proportioned canoe-sterned gaff yawls, such as SHEILA II (see WB No. 64).
Giles was quoted as having "first got the idea of designing yachts at school," in Scarborough, where he probably knew Strange. Giles went on to study engineering at Oxford University and then naval architecture at Durham University, which, being only 75 miles from Scarborough, was closer to home. He must have pored over yachting journals to study designs, and the influences of Strange and other designers of his day more than likely informed his thinking.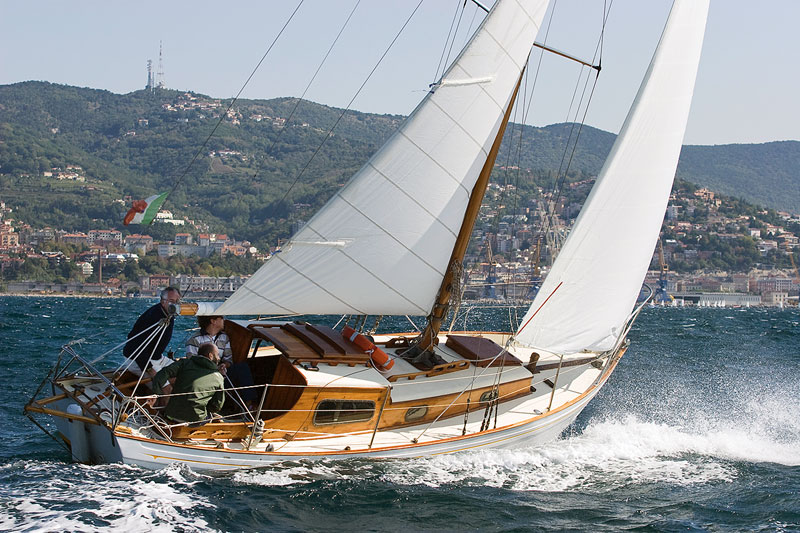 After completing his education, Giles first worked as an engineer with Vickers-Armstrongs, a manufacturing conglomerate with a shipbuilding division on the River Tyne. He didn't stay long; instead, in 1925, at age 24, he moved to Southampton on the south coast of England to follow his dream of designing yachts. There, he started working under the wing of Charles E. Nicholson, the middle son of one of the founders of the Camper & Nicholsons yard.
With his engineering background, Giles must have been fascinated by the yachts designed and built there after World War I. Among the Camper & Nicholsons projects of that era was the conversion of NYRIA, a cutter with a composite hull of steel framing and teak planking, 117′ LOA, which in 1921 was reconfigured as the first really large European yacht to be given a Bermudan rig.
The year that Giles arrived in Southampton was the same year that the converted 1913 French pilot cutter JOLIE BRISE won the Ocean Race, as the Fastnet Race was first known. She would go on to play an important role in Giles's early career. She won that year, 1925, under her owner and skipper, George Martin, and went on to win twice more, in 1929 and 1930, under Bobby Somerset's ownership. Giles sailed as crew aboard JOLIE BRISE in the 1931 Fastnet, the year in which American yacht designer Olin Stephens's innovative yawl DORADE sailed over the horizon ahead of them and went on to change the course of yacht design.
After only two years at Camper & Nicholsons, Giles went out on his own, in 1927, to found Laurent Giles and Partners, Yacht Architects, in Lymington, a small town some 18 miles away, on the eponymous river that flows into The Solent. It must have been an intoxicating time to be a young yacht designer with engineering training combined with a wonderful eye. There wasn't much work at first for the fledgling practice, but before long JOLIE BRISE's owner asked Giles to help illustrate his groundbreaking book, Deep Water Cruising, for which Giles took the lines off JOLIE BRISE in 1928.
Then, in 1929, a design commission came from a young woman—Marjorie Goodson, who later married George Gill, Giles's chief draftsman, partner, and confidant. Her yacht, launched in 1930, was an elegant cutter named ETAIN, 45′ 8½″ LOA, with a beam of 9′ and draft of 6′ 8½″. She was only the second yacht built to a design by Giles's new company—the first having been 52′ LOA yawl CLYMENE of 1928. ETAIN's success advanced the office's reputation, and so did Giles's connections with JOLIE BRISE
In 1933, Giles designed an understated little 23′ weekend cruising boat called ISABELLA, which proved very able. Built by E.F. Elkins Boat Yard in Christchurch, some 12 miles to the west of Lymington, this Bermudan sloop was the first of 17 boats in what became known as the Lymington L class. In hindsight, the design can be seen as a precursor to the Vertue class, many of which would also be built by the Elkins yard.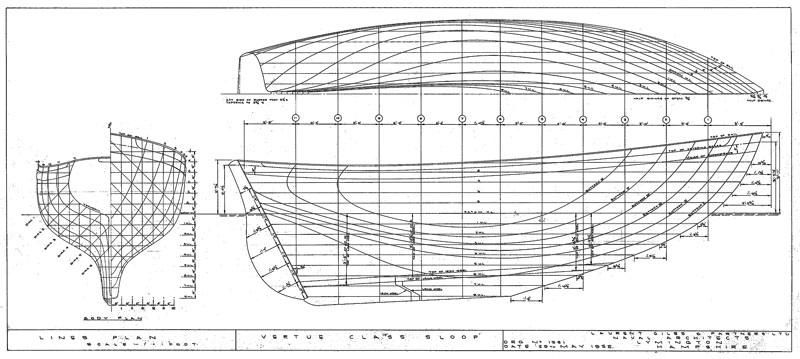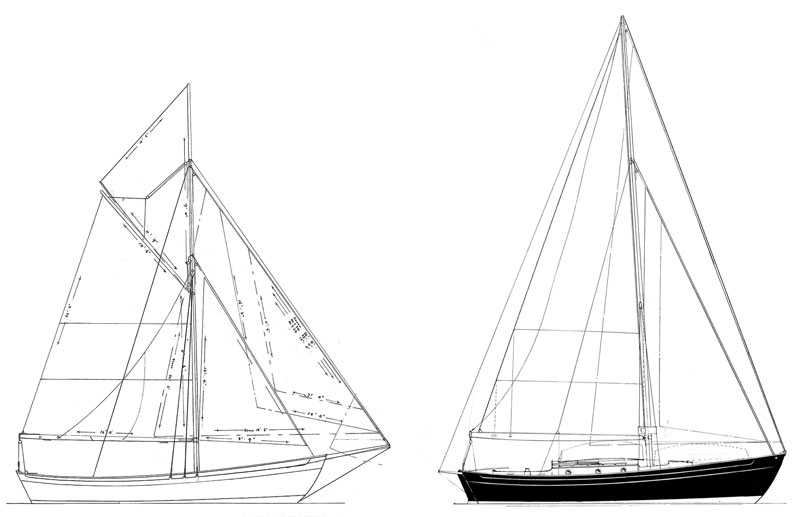 In autumn 1935, the first of the boats came off Giles's drafting board, but they would not be given the name of "Vertue" until after World War II. Dick Kinnersly, a keen yachtsman from the Channel Islands off the north coast of France, approached Giles to design a modest yacht for cruising the challenging waters of the English Channel, the lee shore of the North Atlantic. Kinnersly had sailed with Roger Pinkney aboard his 1901 Bristol Channel pilot cutter, DYARCHY, was impressed by her and wanted something with similar characteristics—only smaller, about 25′ LOA. He also liked the French approach to working boat design—boats such as JOLIE BRISE, for instance. The boat that Giles designed for him, named ANDRILLOT, 25′3″ LOA, was an important commission for Giles. She was built at Moody's Yard in Swanwick.
In autumn that same year, another yachtsman walked up the steps from the cobbled lane and into the design office at No. 4 Quay Hill in Lymington, where Giles was bent over his drawing table in the front room. This young man had also sailed with Pinkney aboard his old pilot cutter and was keen to have a boat of his own. Although he didn't have a lot of money, he had firm ideas about what he wanted. He supposed he could afford a 25′ boat, something like the gaff-rigged pilot cutter type. His name was Eric Hiscock. The boat Giles designed for him was to become his WANDERER II, 24′ LOA, with which he made some extensive singlehanded cruises. Those exploits and his writing about them—together with the voyages he made with his wife, Susan, after World War II—helped advance Giles's reputation even further. After the war, the Hiscocks returned to him to design the larger WANDERER III, 30′ 3½″ LOA, with which the couple completed their first circumnavigation and became legendary in the annals of small-craft ocean voyaging and writing. The yacht is still voyaging far and wide under Thies Matzen and Kicki Ericson (see WB Nos. 101, 182, and 255).
In 1935, Kinnersly and Hiscock had such similar requirements that it must have been an irresistible opportunity for Giles to create two designs with shared characteristics yet some fascinating differences. He must have drawn inspiration from all the designs he had admired since his youth and absorbed during his career, in a kind of osmosis, calling upon all that he had learned from Strange and Nicholson and all he had observed among the work of his illustrious contemporaries, among them Olin Stephens and English designers such as Harrison Butler, Warington Smyth, and John Tew.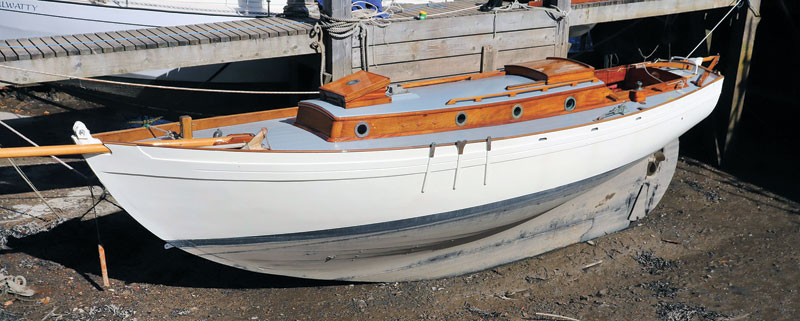 While it might be quite easy to perceive any number of apparent similarities between the shape of ANDRILLOT's hull and those of his contemporary designers, it is clear that Giles managed to distill a universal moderation throughout her design. There was nothing extreme in any of her lines. Her 'midship sections are deep and full, which means that in the cabin the headroom is ample and the sole is wide, which are both important considerations for cruising sailors. Her deadrise is moderate, about 32 degrees; there is neither flare nor tumblehome in the topsides amidships. She has moderate overhangs forward and aft, and her sheer is lively, and her freeboard adequate. The rake of the sternpost is an entirely unremarkable 27.5 degrees off vertical, compared with the more extreme rake of 45 degrees for JOLIE BRISE and 41.5 degrees for DORADE and the more upright sternposts of the old pilot cutters, at 25 degrees, or the later WANDERER III, at 20.5 degrees. Above all, there is a sweeping, sweet fairness about all her waterlines and buttock lines, which are nearly parallel in places and have no hollows or sudden fullness. A delight to the eye, they are reminiscent of those found in JOLIE BRISE, and I think this exquisite, easy fairness is what Giles learned by taking off her lines on that memorable October day in 1928.
ANDRILLOT was launched in spring 1936 and proved herself to be surprisingly fast and able from the start. By then, "The Partners" at No. 4 Quay Hill included the lithe young Humphrey Barton, who was to play such an important part in the Vertue story and founded the Ocean Cruising Club. Often sailing with his wife as crew, Barton demonstrated the abilities of numerous Giles creations at sea, driving the yachts hard but with consummate seamanship. He started that summer with ANDRILLOT. He borrowed the yacht from Kinnersly for a cruise to Brittany but ended up sailing 855 miles in only 23 days, with no engine, mooring every night.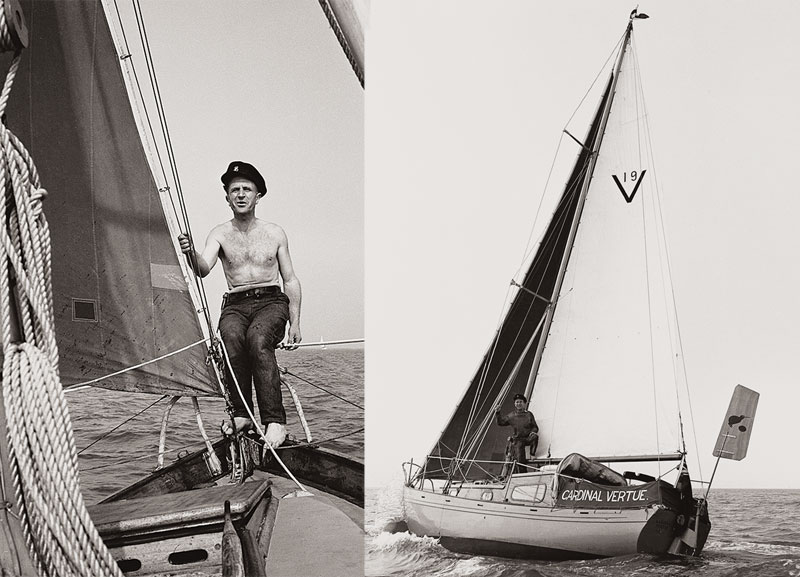 This outstanding performance raised a few eyebrows among the south coast cruising fraternity, who viewed the diminutive ANDRILLOT with some surprise. When they looked closer, they saw a miniature pilot cutter, complete with a thicker-than-usual sheerstrake. While many English working pilot boats had heavy sheerstrakes, DYARCHY among them, it was also there on JOLIE BRISE. Giles picked up on that detail on the Vertues to accentuate their sheerlines and provide extra strength. That element became a signature Giles design feature, as recognizable as the carved dragon scroll at the bow of William Fife III's yachts.
The simplicity and straightforwardness of ANDRILLOT's design is its genius. Even the traditional gaff rig was subtly tweaked and exquisitely proportioned—but that rig wasn't to last long in the class, because in 1937 Giles's engineering background enabled him to produce the revolutionary design of WAPIPI, 38′10″ LOA. She was a Bermudan-rigged, shoal-draft centerboarder built for racing. She had a subtly drawn doghouse similar to ETAIN's, but—amazingly—her mast was stepped on the coach roof, with supporting reinforcement built into the cabin structure beneath it, which allowed a clear passageway amidships. Both the doghouse shape and maststep technique would be incorporated into the next development of the Vertue design. Such revisions have continued until the present day, and it is this continual development of the type that is, perhaps, one of the reasons for the Vertues' outstanding success.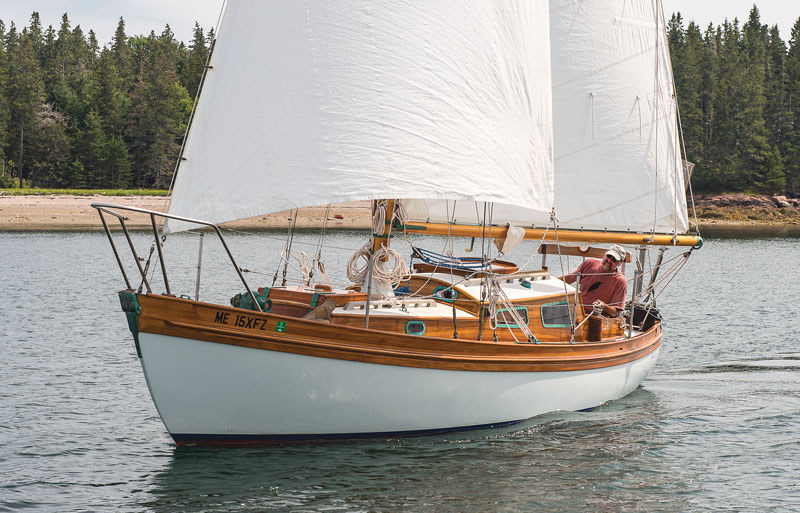 At the same time, Major B.C. Windeler asked for a larger version of ANDRILLOT, and he, too, specified a Bermudan rig. To my eye, the resulting KALLISTE, 28′3″ LOD, is one of Giles's most exquisite designs, and it is surprising that no sisterships were ever built. She has just enough extra volume below to make her really comfortable, as Hiscock was to recognize after World War II when discussions started for the design of WANDERER III. Pictures of KALLISTE flying along under sail in her present home waters off Vancouver, British Columbia, show her to be no slouch even today.
With KALLISTE's success, Giles undertook the first of a number of design revisions based on ANDRILLOT's hull shape. The result was MONIE, 25′3″ LOA. He left the hull lines of ANDRILLOT untouched; in fact, he was quoted as saying that he could not find any way to improve upon them in a yacht of her size and general type.
However, he replaced the gaff rig with the all-inboard masthead Bermudan rig with inner forestay that became another Giles trademark. This earned the rig an awful nickname: "slutter," or a cross between a sloop and a cutter. But this is a misunderstanding, since the rig was never intended to set two headsails simultaneously. As a Vertue owner myself, I can attest to the wonderful practicality of this rig, which is really just a masthead Bermudan sloop. The inner forestay allows for an easy headsail change without the need to reef. Even without furling headsails, handing and replacing the masthead genoa with the working staysail set on the inner forestay is easier than reefing the bigger sail, and the whole rig is brought further inboard. Nowadays, with reliable roller-furling systems, this type of two-headsail rig is becoming increasingly common.
In MONIE, Barton completed another of his outstanding cruises. This time, he and his wife sailed on a 1,058-mile voyage, rounding much of Great Britain in 25 days. He returned utterly convinced about the superiority of her Bermudan rig compared with the gaff rig of ANDRILLOT.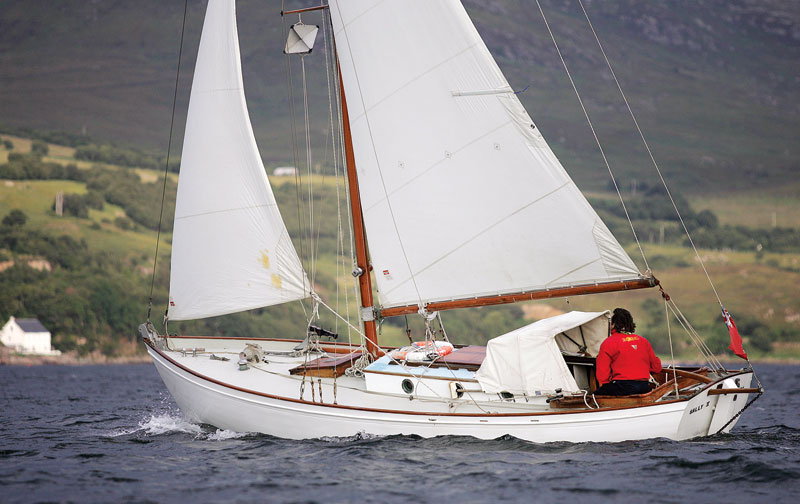 KALLISTE's creation was eclipsed in 1938 by the wondrous "new" DYARCHY, 56′ LOA, which Giles designed for Roger Pinkney. She was built in Karlskrona, Sweden, and wasn't really seen "in the flesh" in British waters until after the end of World War II; nevertheless, her design and conception, as a modern interpretation of the traditional pilot cutter, followed the Giles concepts. Her lines were published and debated in the yachting press from the start. (Sadly, the original workboat DYARCHY sprang a leak and sank under a subsequent owner.)
It was not until the cessation of hostilities in 1945 that "The Partners" decided they had a yacht class on their hands. Nine sisterships to the lines shared by ANDRILLOT and MONIE were launched by the time war had been declared in the autumn of 1939. Just before the war, Lawrence Biddle had cruised 745 miles "down Channel" in only 16 days with the fifth sister ship of the type, EPENETA, and for his adventure he was honored by the Little Ship Club of London. The club awarded the annual Vertue Challenge Cup, named for its sponsor Michael Vertue, who was the club's librarian, for the best log of a cruise of a week or longer by any member. In 1945, Giles and his partners chose "Vertue" as the name for their increasingly popular design.
Although several more boats based on the MONIE drawings were built just before and after the war, Giles produced his second major revision in 1946. This took the doghouse from WAPIPI, with the low coach roof with the mast stepped upon it. He gave it slightly more freeboard and slightly less sheer. The enormous increase in the amount of usable accommodation was one of the most startling advances in small-yacht design for decades. The first boat to this revision was KISHTI, 25′ 3½″ LOA, the 12th Vertue-class yacht. A succession of boats to the same design followed within two years, including CARDINAL VERTUE, carrying sail No. V 19.

By 1950, the 35th Vertue was being built by Elkins, the most prolific yard to build them. The yard was close enough for the design office's periodic inspections. Barton was scheduled to sail aboard a Giles-designed British yacht, the radical aluminum 55-footer GULVAIN, in the forthcoming Newport Bermuda Race that year. To save the steamer fare and earn some valuable dollars into the bargain, he decided to sail his own boat to Newport, Rhode Island. So he bought VERTUE XXXV, recruited a wonderfully reliable shipmate in Kevin O'Riordan, and set off. The passage, against incessant, cruel weather and headwinds, became one of the most celebrated small-boat adventures of modern times. Barton sold the boat, but he also wrote a best-selling book, VERTUE XXXV (published in the United States as Westward Crossing), and put the Vertue class on the map for all time.
Barton's experience with VERTUE XXXV caused a reassessment of some details for serious ocean passages in Vertues. For a further revision of the design, Giles's team retained ANDRILLOT's hull lines and size but drew a cutter rig with its mast stepped on the keel, instead of on the coach roof. They also reconfigured the deck layout with a long, low, stepped trunk cabin. The modified accommodation layout now provided for an enlarged galley aft, opposite a full-sized chart table with drawers below. Barton included the basic plans in his book, describing the "Ocean Vertue" as being suitable for extended ocean cruising. The Hiscocks' WANDERER III of 1951 incorporated many of the same concepts.
The first of these new Ocean Vertues, ICEBIRD and SPEEDWELL OF HONG KONG, were built in two separate yards in Hong Kong in 1952. Dr. Joe Cunningham, a founding member of the Ocean Cruising Club, sailed ICEBIRD on an Atlantic circuit with absolutely no fuss, thereby gaining Eric Hiscock's admiration. Meanwhile, Peter Hamilton, an enthusiastic naval officer, sailed his SPEEDWELL from Hong Kong back to England, again with little fuss, after which he sold the beautiful, teak-built boat and rejoined his ship. Later, Hamilton bought another Vertue, SALMO, which had been built in 1948, and sailed singlehanded across the Atlantic to the United States by the northern route. After laying over for the winter, he married his crew and sailed to the South Pacific the following summer, transiting the Panama Canal and taking the southeast trades down to Tahiti. The Hamiltons ended up reluctantly selling SALMO in San Diego, California, where she remains to this day.
Hamilton's earlier SPEEDWELL has since found a new life with Shirley Carter, who 18 years ago bought her in South Africa. Carter ranged up and down the Atlantic seaboard of both North and South America, then transited the Panama Canal last year, heading west for New Zealand for yet another chapter of her cruising life (see www.speedwelladventures.com). Carter has managed to successfully sheathe the boat in two layers of 16-oz biaxial fiberglass cloth set in epoxy, and she has now rigged the yacht as a junk.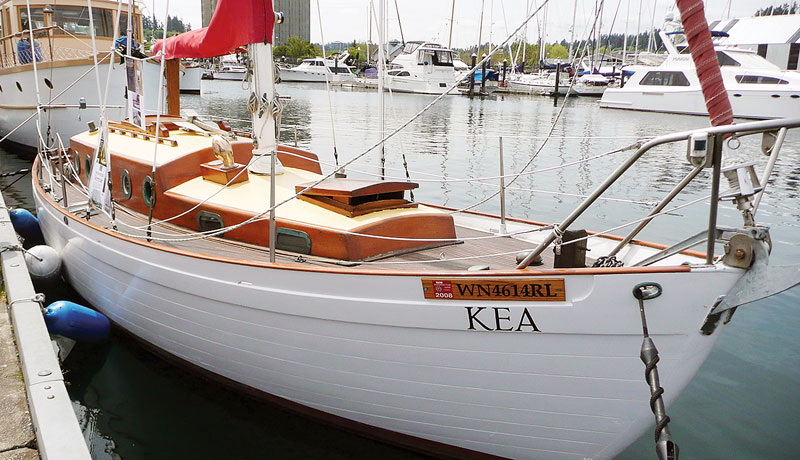 By the end of the 1950s, almost 100 Vertues had been built. They were nearly all constructed conventionally, with larch or mahogany planking copper-riveted over oak frames, floor timbers, and backbone timbers. They had canvas-covered pine or western red cedar decks and mahogany cabin trunks, coamings, and other deck structures. They had either lead or cast-iron ballast keels, with cast bronze or galvanized-steel floors. They mostly had small auxiliary gasoline engines, hanked-on headsails, Baby Blake heads, and Taylor's paraffin galley stoves. Terylene sailcloth was beginning to replace the usual cotton, but nylon spinnakers were quite common.
In the Netherlands, two steel Vertues were commissioned, at least one of which, called VIRTUE, No. 61, can still be followed on her owner's website. Her sistership, SARCELLE, may also still survive. Rather surprisingly, it was not until 1996 that the first aluminum Vertue, LUANA, No. 219, was built, also in Holland. The main difference in the appearance of these metal boats with their wooden sisters is the absence of the signature sheerstrake.
Since many celebrated passages undertaken aboard Vertues have been singlehanded, it is appropriate that a Vertue was entered in the Observer Singlehanded Transatlantic Race, or OSTAR. Dr. David Lewis was just beginning his truly idiosyncratic sailing career at the time of the 1960 race, having recently bought CARDINAL VERTUE. On reaching the finish in New York after 54 days out of Plymouth on England's south coast, he only stayed for a couple of weeks before setting sail again, this time bound north to St. Johns, Newfoundland, with his girlfriend, Fiona. From there, now alone, he experienced one autumn equinoctial gale after another as he surfed his way east toward the Shetland Islands. His book about the crossing, called The Ship Would Not Travel Due West, is an extraordinary saga both of the man and his vessel. The Vertue class now had another incredible adventure to its name.
In Great Britain, the 1960s brought the first real economic boom since the war's end, and the demand for new yachts built to high specifications was good. A yacht broker, Denis Hoolahan of Chichester, arranged for the Cheoy Lee Shipyard in Hong Kong to build a number of teak-built Vertues for import. The first of these, bought by my father, Lionel Robinson, was subsequently shown at the Earls Court Boat Show in London in January 1963. He named her HOITAK, which means "virtue" in the local Hong Kong dialect of Cantonese, and she was followed by over a dozen more in the next two years. These beautifully built boats were much admired, especially for their teak hull planking, and we proudly maintained HOITAK's gleaming varnished topsides for many years. She is the only Cheoy Lee–built Vertue with a single window on each side of her doghouse; the others included the two-window revision that had been made after VERTUE XXXV's transatlantic voyage.
While most of these lovely teak Vertues were pottering about the coasts of northwest Europe, others were venturing farther afield. Peter Kinsey took KAINUI, another Cheoy Lee–built boat, across the Pacific to the northwest coast of the United States. Then her next owner, Russell Heath, sailed back across the Pacific and continued west, almost rounding the globe to arrive at the U.S. East Coast.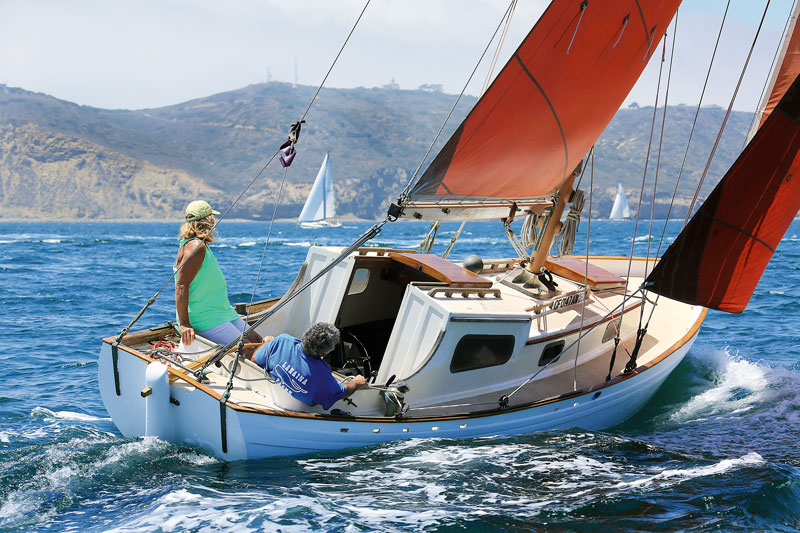 CARDINAL VERTUE was bought by an apparently fearless young Australian, Bill Nance, who had no sailing experience but wanted to sail back home from England. He completed a rapid seagoing apprenticeship aboard the celebrated Thames barge CAMBRIA, ably tutored by her skipper, Bob Roberts. Then he set sail for his homeland via the Cape of Good Hope, learning celestial navigation on the way. His voyage was beyond incredible, but when he got to Australia he was so badly treated by government officials that he vowed to complete his circumnavigation and then find work in the United States, specifically in Florida. After setting off from Tasmania, he doubled Cape Horn on January 7, 1965, over a year before Sir Francis Chichester passed that way in GIPSY MOTH IV. Nance, now living near Vancouver, British Columbia, has only recently been awarded the Order of Australia for his 1961–65 solo high-latitude circumnavigation.
One of the Cheoy Lee–built Vertues to achieve some celebrity status in England was STELDA, owned by Peter Woolass. He had admired my father's boat in Whitby, near Scarborough on the northeast coast of Yorkshire, and he became the most celebrated advocate of the class after his impeccable singlehanded transatlantic passage in 1979. He designed his own wind-vane self-steering gear, which he called George, and he titled his account of the voyage STELDA, George & I. His enthusiasm for the boats eventually resulted in a second book that he called simply Vertue, published in 1973.
After the final flourish of Britain's wooden boat building in the 1960s and Giles's death in 1969, his office continued to provide drawings for new boats. A 1976 revision, the Vertue II, was intended for fiberglass construction. ANDRILLOT's lines were the foundation of this design but were slightly altered to add a few inches of beam and length. The sail plan specified a simplified masthead rig, with aluminum spars and only one set of spreaders. Three years passed before the first of these boats, VERTUE VOYAGER, was launched, with some fanfare, at the Southampton Boat Show. Although I think the simplified rig was a mistake, the fiberglass Vertues have proved to be as workmanlike as their older wooden sisters.
One of the earliest fiberglass hulls was shipped unfinished to David Hays in New York, who with his son, Daniel, completed the boat to exacting standards. He had previously owned a Giles New Channel–class cutter, ROSE OF YORK. They went on to circumnavigate the South American continent in their SPARROW and co-wrote a bestselling book about that adventure, My Old Man and the Sea.
By 1984, the Vertue II molds had been acquired by Bossoms Boatyard Ltd., Oxford, England, which continued to build them, the most recent being the 43rd boat of the type, THE GOOD SHEPHERD, launched in 2000.
In 1989, the Vertue II design was revised yet again, this time for a return to wooden construction, using strip-planking sheathed in fiberglass cloth set in epoxy, which I believe is the likely direction for Vertue construction in the future. OCEAN RAMBLER, one of the first, was built by Consort Yachts in 1994 and is a fine, powerful-looking boat. With topsides proportionately higher than the earlier Vertues, she looks modern and the coach roof and doghouse appear to have lower profiles. OCEAN RAMBLER now has more than a dozen close sisters afloat worldwide.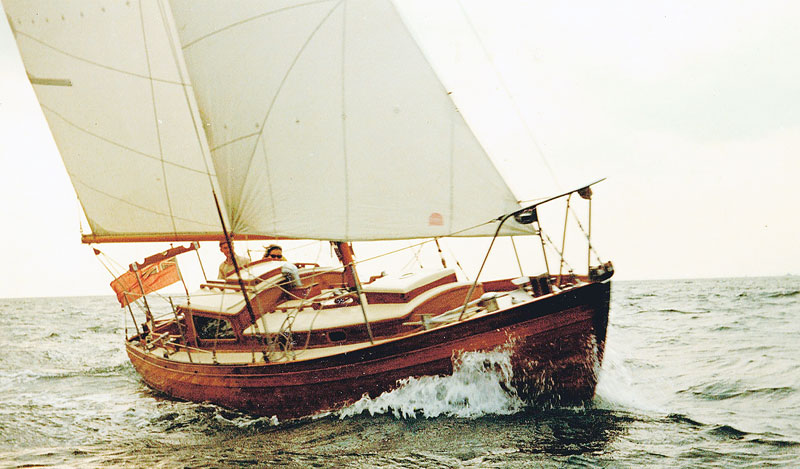 The Vertue story began with Giles's inspired creation of a hull shape that was so harmonious that any alteration would diminish its perfection. According to him, this was simply the result of "concentrated thought," to which should be added "applied by a brilliant mind." This hull shape was so visually robust that changing the rig to a tall, all-inboard, Bermudan rig looked just as "right" as that of the original gaff-cutter arrangement. It was the inherent rightness of the design that attracted seafarers.
In 1951, Giles wrote about the design with endearing wit and modesty:
The Vertues originated in the little gaff cutter ANDRILLOT which was designed in 1936 for a Bristol Channel Pilot Cutter enthusiast, with, I believe, £350 to spend. We thought he would have a lot of fun getting wet on extended cruises in the Solent. So he did, up to a point, but he did not get nearly as wet as we expected, and he thought nothing of going across to the Channel Islands.
There was nothing very special about the first conception, simply a contemporary interpretation of the Pilot Cutter theme with the same sort of displacement and general proportions whittled down suitably to the very small size. Subsequently others were attracted by the design. Bermudan rig was introduced, Humphrey Barton did some extended and not unrecognized cruising in them and they gradually snowballed."
Roger Robinson was first taken sailing aboard his father's Vertue, HOITAK, in the early 1960s. He is lucky to have enjoyed sailing and writing ever since, and he maintains a website, www.VertueYachts.com. He plans to publish a new book about the boats in due course, once he's completed the official joint biography of Eric and Susan Hiscock.