July / August 2020
Rime of the Youthful Mariner
A voyaging dream fulfilled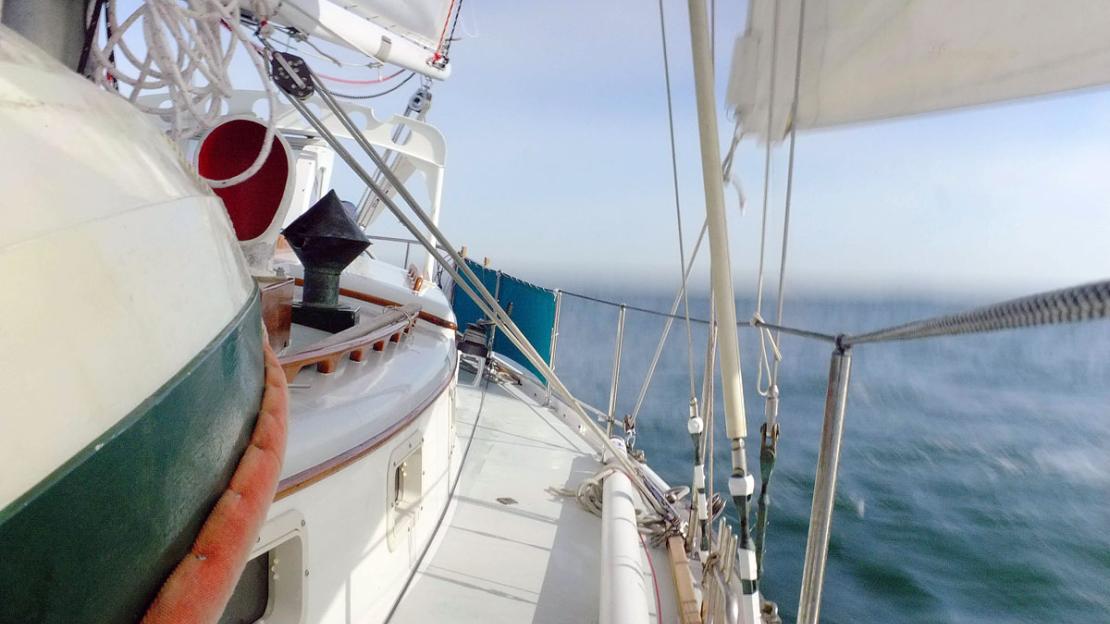 PROMISE, a 36′ Al Mason–designed sloop, working to windward in light airs. Milo Stanley purchased and refit her in 2019, then set out on a voyage to the West Indies and later Europe via the Azores.
Nearly a thousand miles from the European continent and more than twice that from North America lies an archipelago of green, volcanic peaks rising abruptly from the ceaseless blue of the Atlantic Ocean. The Azores are a lonely outpost of Portugal, mostly known these days as a minor European tourist destination—a temperate and quiet paradise. Yet to a few of us who dabble at the edges of the Atlantic in our various craft, with a tendency to stare out toward the empty horizon, they represent a sort of legendary geography, not just in their physical presence—the verdant pastures and blooming azaleas; the red-tiled roofs and narrow cobblestone streets—but in something altogether greater.
To arrive in the Azores is to have crossed an ocean, to have tested your vessel and yourself beyond the confines and comforts of the coast; to have reached beyond that empty horizon and found something on the other side. Columbus stopped by the Azores on his way back from the New World, long enough to stamp an island with the name of one of his ships. Joshua Slocum anchored there after the first leg of his circumnavigation to take on plums and cheese (which would later give him vivid hallucinations when consumed in excess).
The Azores lingered on the fringes of my consciousness throughout my childhood, as I devoured maritime literature and plied the coast of Maine in an odd assortment of sailboats. These boats were for the most part wooden, and characterized as a whole by persistent leaks, yet they were the vehicles of many early adventures, and the catalyst for rampant wanderings of the imagination. It was only a matter of time before I'd drift out past the continental shelf in one of them, and just keep on going.
ACCESS TO EXPERIENCE
Subscribe Today
Subscribe by October 14th and your subscription will start with the November/December 2023 (No. 295) of WoodenBoat.
1 YEAR SUBSCRIPTION (6 ISSUES)
PRINT $39.95
DIGITAL $28.00
PRINT+DIGITAL $42.95
Subscribe
To read articles from previous issues, you can purchase the issue at The WoodenBoat Store link below.