I just read Dudley Dix's excellent analytical account of his capsize in BLACK CAT during the 2014 Cape to Rio Race in the current issue (#149) of Professional Boatbuilder. Dudley Dix is a South African Yacht designer now living in the US (Virginia). BLACK CAT is a 1995 cold-molded plywood/epoxy racer/cruiser, about 38 feet long, sloop-rigged with a fin keel and spade rudder. Her construction uses a laminating method I thought I had "invented" until I learned that Dudley "invented" it first!
In my last blog (#17—Hurricane Preparedness) I described weathering Hurricane Gloria in Mystic, CT in the fall of 1985. I had just launched my new cold-molded wood/epoxy Exuma 44 TERESA and taken her to the Wooden Boat Show in Newport, RI, and Tere Rodriguez and I were en-route to the Mayor's Cup Schooner Race in Manhattan.
In New York City, tied up at the South Street Seaport Museum (where I used to work as a restoration shipwright), we were joined by Eliot Greenspan (who helped build TERESA), Martha Fitzgerald (whom Tere and I kidnapped in Mystic), and Holly Hunter (my first mate on FISHERS HORNPIPE during my last year of cruising in the southern Caribbean).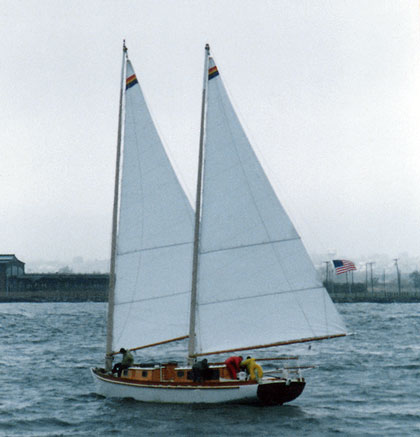 TERESA was a brand new boat—my second complete design to be built—and was not entirely finished. For example: she did not have all her ballast, and what she did have was internal, blocked in place in the lowest parts of her bilges. We built her in my yard in Islamorada, Florida Keys, trucked her to Rhode Island for the boat show, and intended to sail her home via the Bahamas, unless she sold at the show.
Race day was overcast, rainy, and promised worse. Less than half-way through the race, in New York Harbor, we were hit by a black squall just as we were tacking off Brooklyn. The squall initially caused a wind shift which caught us in irons and stalled TERESA to a dead stop. Eliot jumped up to backwind the fores'l (TERESA is a cat schooner with free-standing masts) while I tried to backwind the main to the opposite side to force our tack, when we were hit by a second wind shift and a solid wall of wind! I just had time to shout "HOLD ON!" when TERESA went right over on her starboard side—a full knockdown!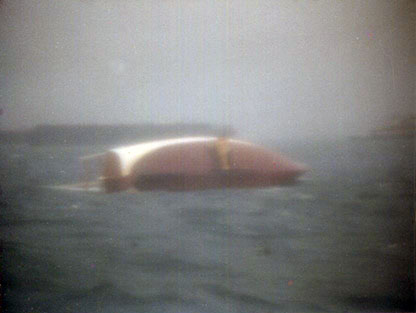 Holly was the only crew to go into the water—I held on to the cockpit somehow (the boat was on her side at an angle of about 95 degrees)—and reached out a foot, which Holly grabbed, allowing me to pull her back to the cockpit, which she was able to climb into.
Eliot and I actually climbed out onto the centerboard to try to right a 44-foot, 24,000 lb schooner! Of course it didn't work. After accounting for my crew, and assessing no injuries, I tried calling for help on the VHF radio, whose antenna was under water. I hailed the museum's beautifully restored wooden working tugboat, the W. O. DECKER, which rapidly came to our rescue. They tossed me a line, which I tied to the base of TERESA's mainmast; they shifted into reverse, and TERESA immediately popped back up onto her feet.
Because TERESA's galley sink and head were both on the starboard side, and because their seacocks had been left open, both cabins (separated by a watertight bulkhead) took on water. The carry-on gas tanks (TERESA was powered by twin 9.9 hp 4-stroke Yamaha outboards) leaked gasoline through their vents, some of which dribbled all over me. There were two 6-gallon tanks mounted on wood cleats under each seat locker.
Once back on her feet, a USCG launch came to our rescue, approaching from our windward side. As we were slowly drifting downwind with the current, they promptly ran over one of TERESA's 5/8" Dacron sheets, which wrapped around their propeller and stalled their engine. This required a diver to untangle, and took 15 or 20 minutes. A NYC Police Boat also came to our rescue, approaching from the downwind, down current side. The police captain pointed out to me that we were drifting down river, and I deployed an anchor. The police boat also handed us a gasoline-powered trash pump, which I used to rapidly pump out TERESA's aft cabin. The forward cabin had very little water, which leaked in through the marine toilet.
It took several minutes to get TERESA's outboards running, and we eventually returned to our slip at the museum. It took many hours to clean up the mess and dry things out after rinsing with fresh water, and we were dismayed to find that two of our cameras were destroyed.
Lessons Learned:
NEVER leave seacocks open when sailing! There would have been no water damage and no down-flooding if the seacocks had been closed.
In dangerous or unpredictable weather conditions, leave your sheets free (un-cleated) while hauling them in or adjusting them when locked in irons. This way, when the boat falls off, her sheets can be allowed to run free as the sails fill, avoiding a potential capsize.
Secure all items that can be thrown loose in a capsize—in this case, cameras. Seat-back cushions fell into the water in the aft cabin, which could have been secured in place by Velcro.
Crew should have safety harnesses on in foul weather conditions. TEREESA has no lifelines or stanchions, so this is particularly applicable. This would have been awkward during a race in an enclosed harbor, and I confess it never even occurred to me.
KNOW YOUR BOAT before committing to a race! TERESA was brand new, we had only sailed her for a week, and she was of a type that I had never sailed previously (centerboard cat schooner).
Have the correct amount and location of ballast in your boat! If there is no hydrostatic data on your design, it is advisable to do a simplified stability test to understand your vessel's righting moments and vanishing point. For smaller vessels, you may attach your masthead (using a halyard) to a fixed object (like a sturdy dock) and heave her down until her mast is parallel to the water. This should tell you if she is self-righting. All inside ballast must be secured such that it will remain in place even if the hull is inverted (TERESA's was).
Cockpit seat lockers, as well as all hatches and skylights, should be secured when racing. TERESA's seat lockers were hinged, but had no latches to secure them.
I admit I was cocky and unprepared to race TERESA, especially in dangerous weather, with a new crew. But I do believe we were winning the race when we capsized! The wind gust that hit us was clocked at 85 knots (hurricane force) by the W. O. Decker's anemometer. Several other schooners in the race had damaged sails, and the museum's sharpie also capsized.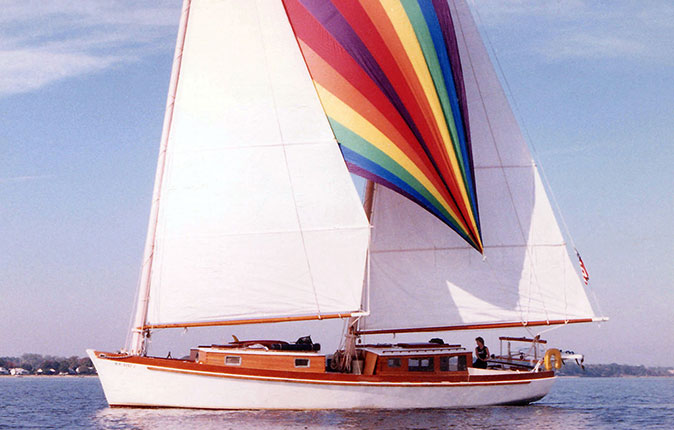 After licking our wounds, we sailed south. TERESA proved to be very stiff under sail, very fast (speeds over 10 knots), and very comfortable—she greatly resisted pitching or rolling. She seemed to be perfectly safe in all conditions shy of being slammed broadside with sails sheeted in flat by hurricane-force winds! Nevertheless, when we arrived in Fort Pierce, Florida, we picked up another 1,000 lbs of lead ballast before sailing to the Bahamas!
When we eventually returned to my yard in Islamorada, I melted half of TERESA's lead in an old cast-iron bathtub, and cast it into a lead shoe, which I lag-bolted beneath her wood keel.
TERESA was my "trial horse"—she was hit by lightning, capsized (only once), hit a coral reef at 8 ½ knots, and cruised extensively, including more races. She taught me a great deal, and I loved her. She was the easiest big boat to sail I have ever known—fast, weatherly, comfortable, and great fun! The simplicity and utility of the cat schooner rig, with free-standing masts, may be the ideal rig for a high-performance cruiser.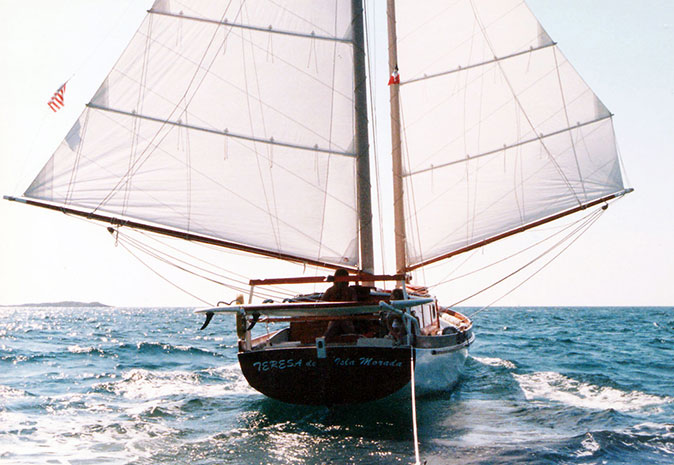 6/10/2014, Appleton, Maine