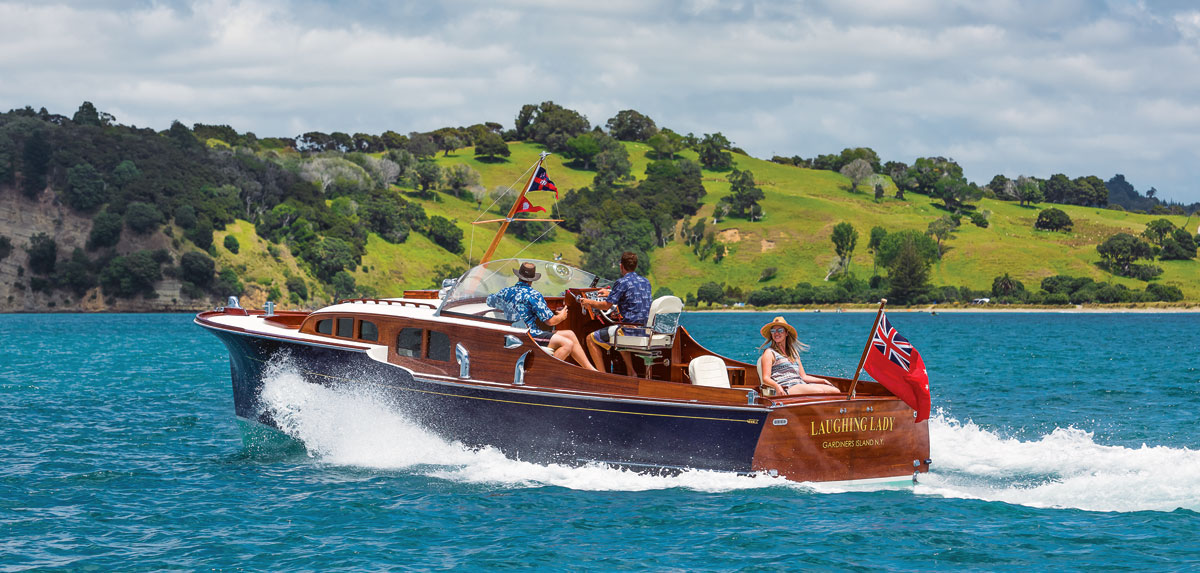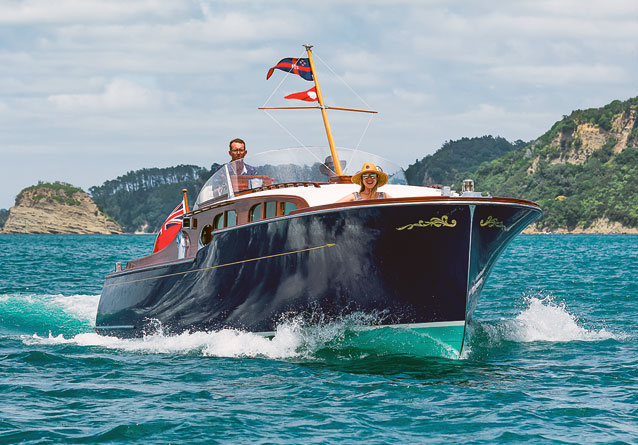 LAUGHING LADY is a 33′ power cruiser built by Luders Marine Construction of Stamford, Connecticut, during that yard's heady post–World War II years of yacht building. Luders, in the previous decade, had been focused exclusively on military contracts—mostly submarine chasers, but also yard tugs, lifeboats, and target boats.
She was built as a sportfishing boat for Mrs. Winthrop Bailey—a wealthy socialite who later sold the boat to a Robert David Lion Gardiner, a New York stockbroker who owned Gardiners Island off the eastern tip of Long Island; he commuted from there in LAUGHING LADY to Greenport, where he would catch the train for a quick trip into midtown Manhattan. He also used LAUGHING LADY to ferry guests between Gardiners Island and the Hamptons.
When Gardiner died in 2004, his estate sold the boat to a distant relative in California. But the cross-country road trip was catastrophic for LAUGHING LADY; she arrived with a broken back and one of her engines hanging from the transom. It fell to Doug Jones, who then was running Traditional Boat Works in San Diego, to rebuild her, and the job progressed steadily until the 2008 global financial crisis put the brakes on it. The yard acquired the boat in lieu of unpaid bills, and there she lay, gathering dust, for many years, until she was spotted by James Dreyer, a classic-boat enthusiast from New Zealand.
Dreyer was then the chief officer of a 302′ (92m) private yacht in the Mediterranean. When off duty, he had been spending time in San Diego restoring a Philip Rhodes–designed cutter. LAUGHING LADY lay abandoned next to his boat, and her Siren call soon became too strong for him to resist. "'I know you love her,' he recalls Jones saying to him as Jones was moving his operation to Port Townsend, Washington. 'Do the right thing.'"
Dreyer acquired her and had her shipped to New Zealand for completion at the Whangateau Boat Yard near Omaha, a town about 50 miles north of Auckland. He was committed to returning LAUGHING LADY to her original condition, but with no plans to work from his vision ran into obstacles. And, as we shall see in the following photographs and captions, he overcame those obstacles in some very unexpected ways.
Cockpit Layout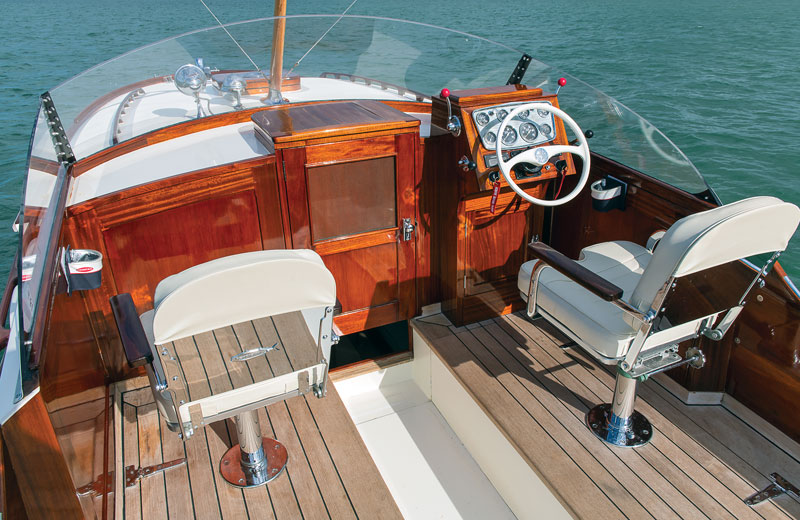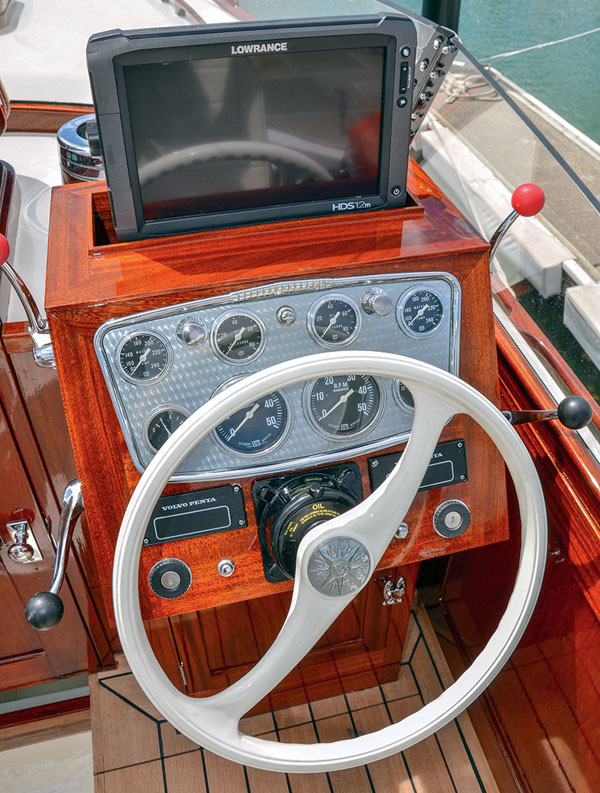 The boat's layout and details would have remained a mystery, save for a couple of serendipitous discoveries. One of them came when Dreyer rented a house on Gardiners Island for a research trip inspired by an early 1960s New York Times article, "The Greatest Picnic the World has ever Seen." It covered a high-society outing to which guests and celebrity chefs were ferried over in LAUGHING LADY, and Dreyer visited the island in search of press photos from that event. The owner of the house he rented turned out to be, quite by chance, the daughter of the man who had been the Times's food critic when the article was published. She had an album with a magnificent selection of photographs from that day, and those images provided new details of LAUGHING LADY—and confirmed some that had already been deduced during the restoration. The cockpit, seen here, adheres to those details, though a few modern accessories, such as a chartplotter, are hidden out of sight until needed.
Hardware Placement and Forward Cockpit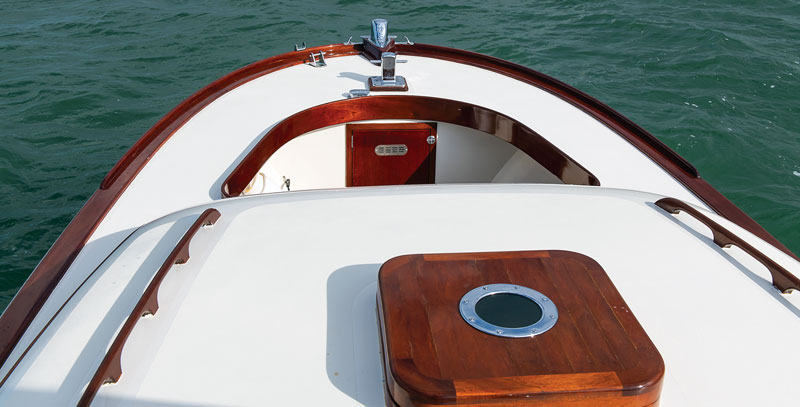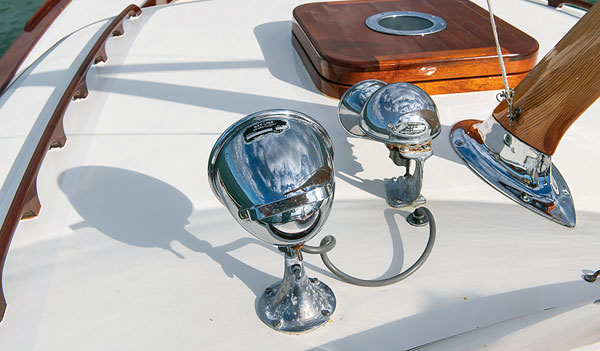 Dreyer, on his trip to Gardiners Island, was also introduced to an elderly mechanic at the local marina. That man unearthed a photo of LAUGHING LADY with mangled propellers—damage suffered after Gardiner had run her aground. But the image also provided valuable deck details (inset). This view looks across the cabintop to the forward passenger cockpit.
Brightwork and Hardware Sourcing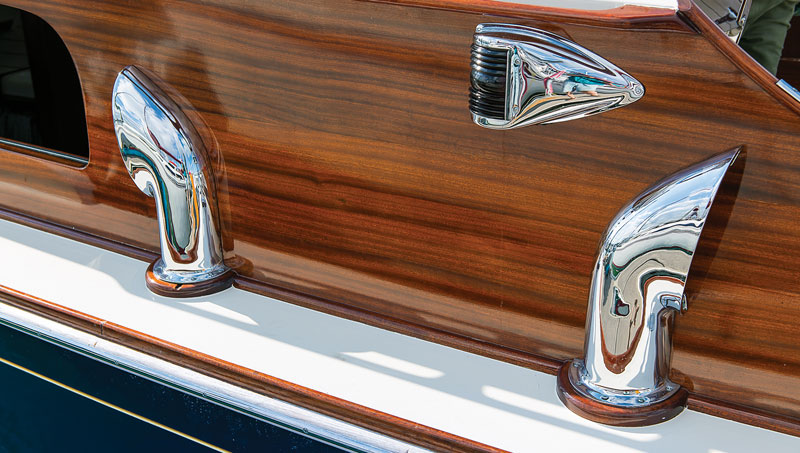 LAUGHING LADY's gleaming brightwork, which was overseen by David Waddingham, is offset by period fittings and fixtures. Only a few of these components are original, and all of them were replated. Most of the hardware, including the compass, horn, mast fittings, and lot of the helm hardware, were found during many months of combing through eBay. It appears Luders used the Chris-Craft and Perko catalogs for many of its boats, and, fortunately, there is plenty of this secondhand gear available on the market.
Interior Layout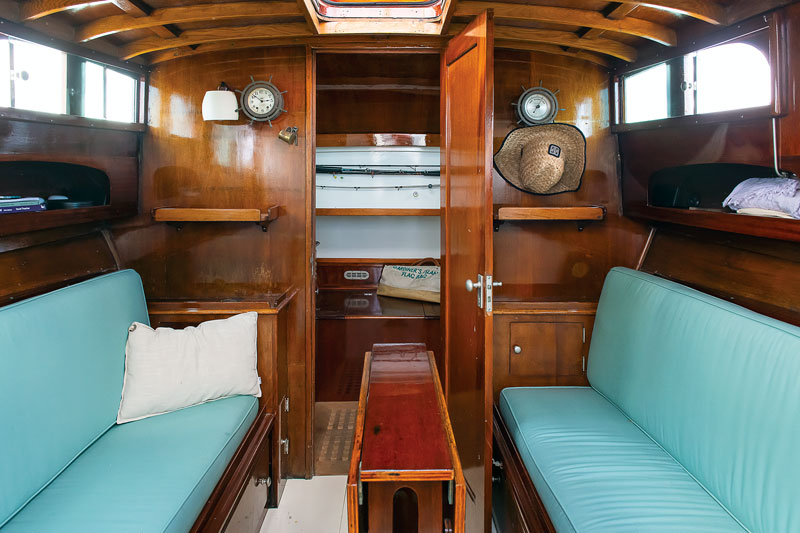 The interior was missing when the boat arrived at Whangateau Boat Yard, and joiner Pam Cundy, working along with George Emtage, rebuilt it. She did this work before Dreyer made his trip to Gardiners Island and discovered that album of photos, and it required some sleuthing and interpretation of clues to arrive at the probable original layout. Cundy worked with fastening holes in the frames, little bits of surviving handrail, and a few surviving fittings. The details eventually revealed in the Times photographs proved her reconstruction to be spot-on.
Original Details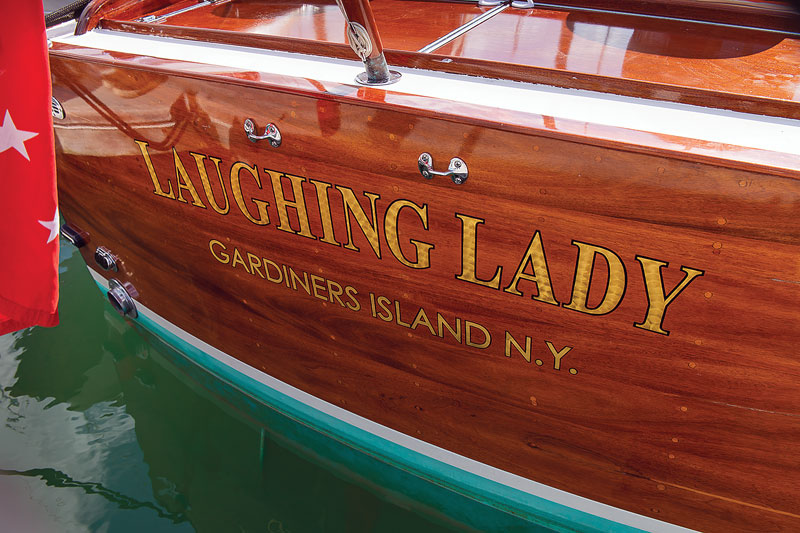 The Luders yard was destroyed by fire in the early 1960s, and along with it went the plans of all its boats. Dreyer searched the Mystic Seaport Museum collections but found only a small folder of Luders material there, and it had nothing about LAUGHING LADY. But then came a surprise from, of all places, Norway: "I received a random email, out of the blue," says Dryer, "from a chap who said he had plans for LAUGHING LADY. I said that's impossible—the plans had gone up in flames. Well, he said, I bought a folder of Luders concept drawings on eBay 10 years ago—and it contained many plans, including those for LAUGHING LADY. And he sent them to me."
Swivel Chairs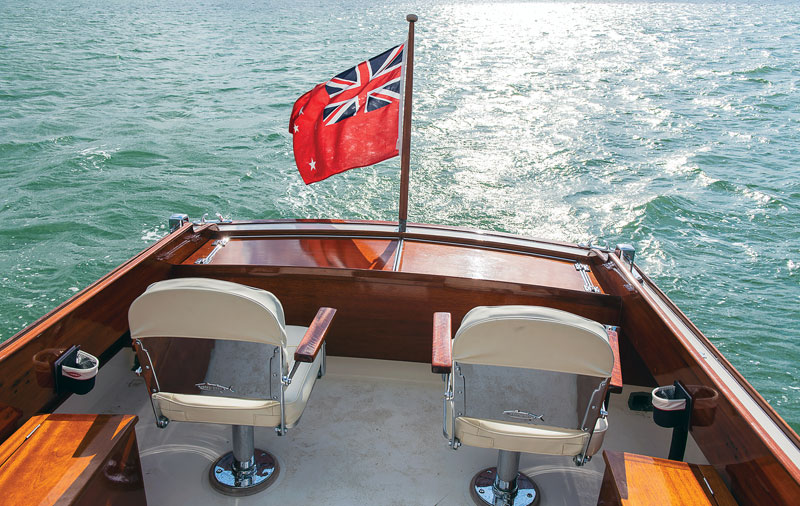 LAUGHING LADY now looks pretty much as she did when first launched. The original bronze fighting chairs have survived and, after rechroming and reupholstering, dominate the cockpit aft. Dreyer plans to use the boat for family outings, and perhaps for some fishing.
Engine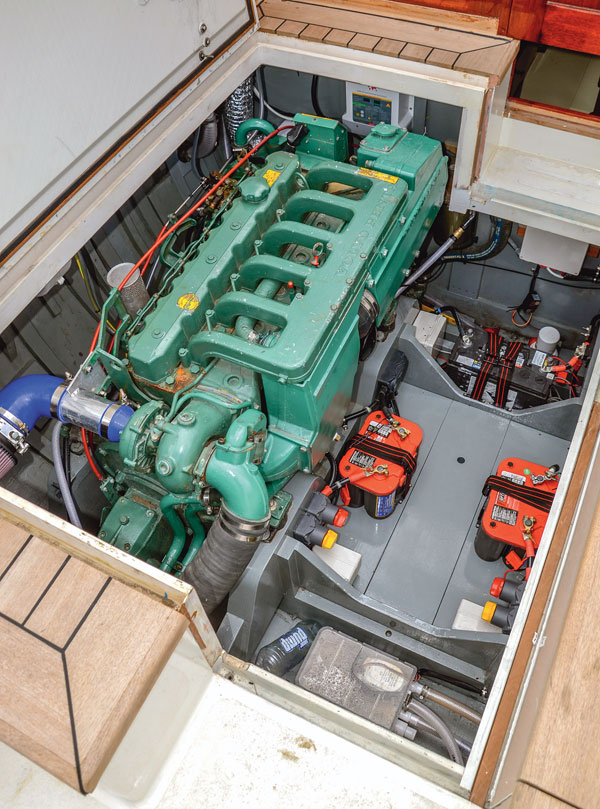 LAUGHING LADY was originally powered by a pair of 150-hp, 356-cu-in, straight-eight Packard gas engines. Gardiner swapped these in the late 1980s for a pair of 165-hp, six-cylinder, turbocharged Volvo diesels, which weigh half as much as the originals. They'd clocked only 150 hours before the boat's unfortunate trip to San Diego. Still, James had the Volvos completely overhauled by a skilled and specialized team.
Underway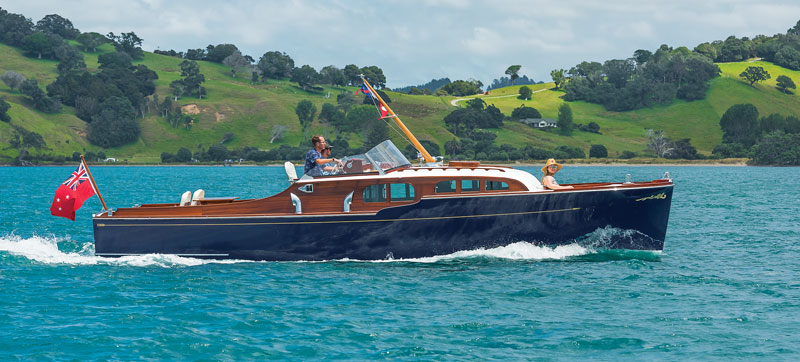 When the day came to crank her engines over for the first time in years, a specialist Volvo mechanic from Matakana Marine hovered nearby for Dreyer's peace of mind—just in case something went wrong. Nothing did. The engines fired after a short crank and ran beautifully. LAUGHING LADY tops out at 28 knots at 3,600 rpm and cruises at 15 knots at 2,200 rpm.
Mahogany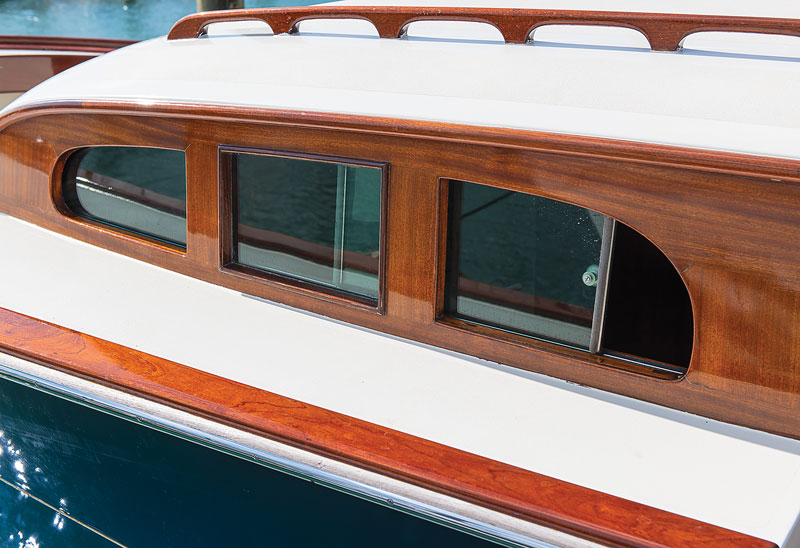 Finding the mahogany to complete the restoration was as challenging as uncovering the details of LAUGHING LADY's original design. The boat was originally trimmed in Honduras mahogany, which is now protected and unobtainable. Dreyer purchased "a few old dining room suites," from which he harvested wood for trim and other brightwork. The hull is planked in cedar on oak frames; much of the new structural timber is sapele. The entire interior, except for the lockers and bulkheads, was rebuilt. The cabin trunk was rebuilt while the boat was in San Diego. In the New Zealand phase of the operation, the boat received a new berth, the head compartment, all of the cockpit trim, helm station, paneling, transom locker, and deck boxes.

Lawrence Schäffler is a New Zealand–based writer and sailor with a particular interest in marine technology and maritime history. He has been writing about boats for some 40 years and for escapism pursues a goal of drawing sweeter tones from his cello.