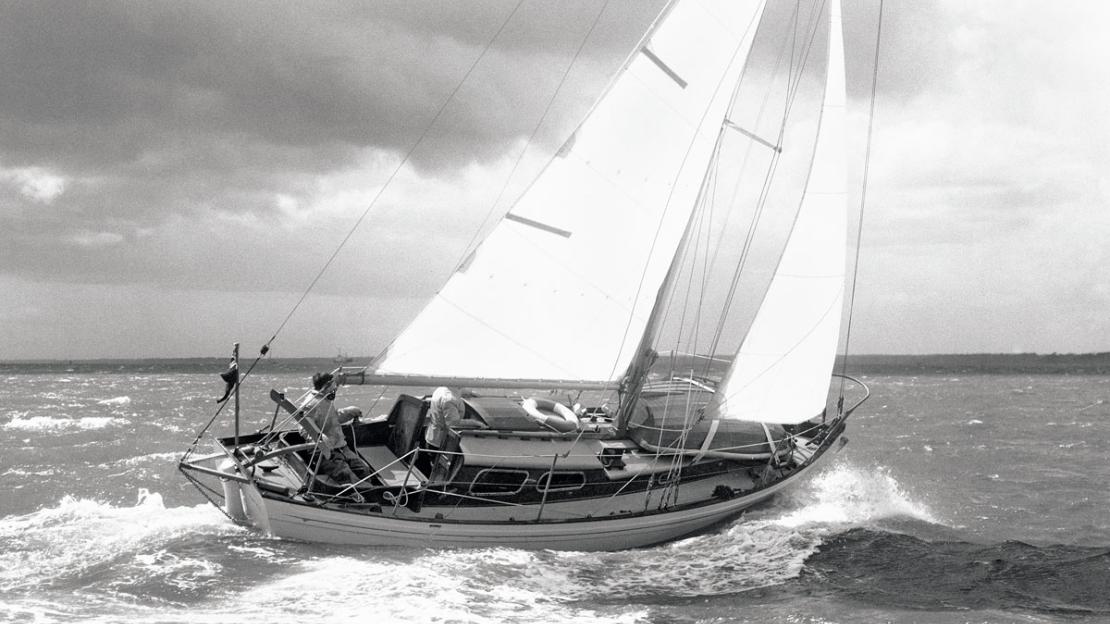 One of the finest Vertues afloat, RAUMATI was built in 1962 by E.F. Elkins Boat Yard in Christchurch, England, the most prolific builder of the type. Her bottom is planked with teak and her topsides of mahogany, over a backbone and framing of English oak, and she has a lead keel, bronze floors, and all-teak deck structures. She represents the final flourish of English classic construction before the first Cheoy Lee–built boats were imported from Hong Kong into the U.K. the following year. She is now owned by Gerry Williams and is based in Cornwall, England.
Most cruising sailors have heard of Vertue yachts. Though small in size—only about 25' LOA—they have an outsized reputation as the  most successful design to come from English yacht designer Jack Laurent Giles during his long career. More than 200 of the boats have been built, and many of the exploits that their owners undertook have become legendary among ocean-cruising sailors.
Giles, who was born in Yorkshire, England, in 1901, was brought up on the country's North Sea coast in Scarborough, a town best known for its School of Art where for 35 years yacht designer Albert Strange was the kindly and enthusiastic headmaster. Strange is best remembered for his beautifully proportioned canoe-sterned gaff yawls, such as SHEILA II (see WB No. 64). Giles was quoted as having "first got the idea of designing yachts at school," in Scarborough, where he probably knew Strange. Giles went on to study engineering at Oxford University and then naval architecture at Durham University, which, being only 75 miles from Scarborough, was closer to home. He must have pored over yachting journals to study designs, and the influences of Strange and other designers of his day more than likely informed his thinking.
fter completing his education, Giles first worked as an engineer with Vickers-Armstrongs, a manufacturing conglomerate with a shipbuilding division on the River Tyne. He didn't stay long; instead, in 1925, at age 24, he moved to Southampton on the south coast of England to follow his dream of designing yachts. There, he started working under the wing of Charles E. Nicholson, the middle son of one of the founders of the Camper & Nicholsons yard.
With his engineering background, Giles must have been fascinated by the yachts designed and built there after World War I. Among the Camper & Nicholsons projects of that era was the conversion of NYRIA, a cutter with a composite hull of steel framing and teak planking, 117' LOA, which in 1921 was reconfigured as the first really large European yacht to be given a Bermudan rig.
ACCESS TO EXPERIENCE
Subscribe Today
Subscribe by October 14th and your subscription will start with the November/December 2023 (No. 295) of WoodenBoat.
1 YEAR SUBSCRIPTION (6 ISSUES)
PRINT $39.95
DIGITAL $28.00
PRINT+DIGITAL $42.95
Subscribe
To read articles from previous issues, you can purchase the issue at The WoodenBoat Store link below.