WoodenBoat 273, March/April 2020
Table of Contents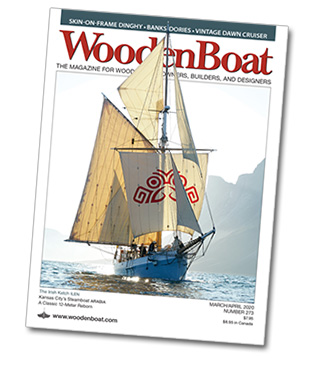 FEATURES
An Eye for Details — Customizing a skin-on-frame dinghy by Steve McMahon
Maintaining WIDGEON — Keeping up with a treasured 48′ 6″ Dawn power cruiser by Anne Bryant
Milford Buchanan and the Shelburne Dory — Carrying on a Nova Scotia tradition by Brad Dimock
A.K. ILEN — Restoring a legendary Irish ketch by Arista Holden
Bringing GO GO GIRL Home — A master builder defers retirement to rescue an iconic McIntosh ghost by Randall Peffer
The Story as Artifact — The discovery, excavation, and display of the steamboat ARABIA by Tom Varner
Welcome Back, JENETTA — A classic Mylne 12-Meter, raised and rebuilt by Sam Fortescue

Cover: The Irish-built cargo ketch ILEN sails in western Greenland in 2019. The vessel spent her working life in the Falkland Islands. She was shipped back to Ireland in the late 1990s and relaunched, in as-new condition, three decades later. Photograph by Gary MacMahon

---

PURCHASE THIS ISSUE from the WoodenBoat Store

Looking for a particular article you saw?