WoodenBoat 263, July/August 2018
Table of Contents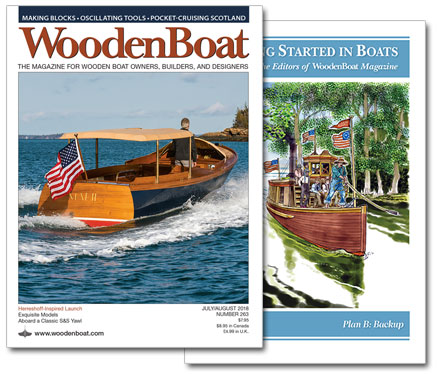 FEATURES
T/T MARIE — A tender balance of function and tradition by Matthew P. Murphy
NATIONAL PRIDE — Richard Stanley's "fully evolved solution" by Stephen Rappaport
SCALLYWAG — Engineered for performance—and versatility by Robert W. Stephens
Malcolm Darch's Exquisite Models — A lifetime of shipbuilding in miniature by Nic Compton
In Caledonia — An Iain Oughtred pocket cruiser for a classic journey by Bruno Cianci
Making Wood-Shelled Blocks — A fitting choice for a traditional boat by Gorden Schweers
Aboard MAH JONG — A 52′ Sparkman & Stephens yawl by Ross M. Gannon
A Boat—and a River—Restored — Bringing back a Corinthian sloop by John Brady
The Marvelous Oscillating Multitool — A growing list of uses for boatbuilding and restoration by Greg Rössel
Getting Started in Boats: Plan B: Backup — Tear-out supplement by Jan Adkins
Cover: The newly launched yacht tender T/T MARIE, designed by Matt Smith and built by Artisan Boatworks in Rockport, Maine, is based on a Herreshoff design from the 1930s. She has some surprising and well-concealed modern features. Photograph by Benjamin Mendlowitz.
---
PURCHASE THIS ISSUE from the WoodenBoat Store
Looking for a particular article you saw?