WoodenBoat 264, September/October 2018
Table of Contents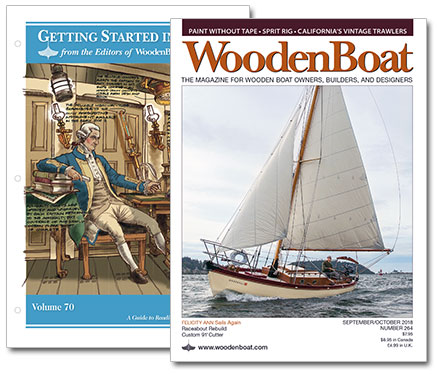 FEATURES
Relearning Old Ways — A new dugout bottom for a nine-log Chesapeake bugeye by Tom Jackson
Horizontal Sprit Rig — The case for simplicity by Reuel B. Parker
The St. Ives Jumbo — A small boat with a big name by Nic Compton
Painting SYMRA — Careful preparation and no masking tape yield a timeless finish by Mark Haley
Fishing the Channel — A day in the life of Santa Barbara's vintage trawlers by Randall Peffer
Knockabouts, Raceabouts, and THE KID — The evolution and survival of an early one-design by Matthew P. Murphy
The Comeback KID — Restoring a Raceabout by Evelyn Ansel
FELICITY ANN — Ann Davison's "small ship" reborn by Neil Rabinowitz
The Gift of SEA FEVER — How my grandfather saved my life by Peter Brown
Aboard SONNY — A custom 91′ cutter by Brooklin Boat Yard by Eric Blake
Getting Started in Boats: Telltales — Tear-out supplement by Jan Adkins
Cover: Near Port Townsend, Washington, Capt. Nahja Chimenti enjoys a solo outing in the newly restored sloop FELICITY ANN. In 1952, Ann Davison sailed the 23-footer across the Atlantic, becoming the first woman to make that trip alone. Photograph by Neil Rabinowitz.
PURCHASE THIS ISSUE from the WoodenBoat Store
Looking for a particular article you saw?