WoodenBoat 262, May/June 2018
Table of Contents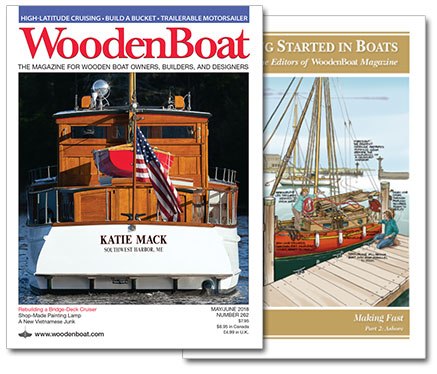 FEATURES
EGRET — The transformative refit of a Chesapeake deadrise by Bernard H. Gustin
A Shop-Made Painting Lamp — Surface reflection with LED lighting by Harry Bryan
Rebirth of a Legacy — A Vietnamese junk carries tradition into the future by Ken Preston
The Motorsailer RED — Designed with Northwest and Alaska cruising in mind by Todd Miller
Timeless Tumlare, Indeed — The world-renowned racer-cruiser enters its ninth decade by Nigel Sharp
Restoring KATIE MACK — A bridge-deck cruiser for the golden years by Matthew P. Murphy
ELSKOV — Reflections on a high-latitude cruiser by Finley Perry
Build a Wooden Bucket — L.F. Herreshoff's classic, brought to life by Tyler Fields
GAMBOLIER's Tender — Saved by her charms by Russ Manheimer
Getting Started in Boats: Making Fast, Part 2: Ashore — Tear-out supplement by Jan Adkins
Cover: The 46′ bridge-deck cruiser KATIE MACK was recently relaunched after being rebuilt by Six River Marine of North Yarmouth, Maine. Her owners live aboard during the summer and cruise the New England Coast. Photograph by Alison Langley.
---
PURCHASE THIS ISSUE from the WoodenBoat Store
Looking for a particular article you saw?