WoodenBoat 265, November/December 2018
Table of Contents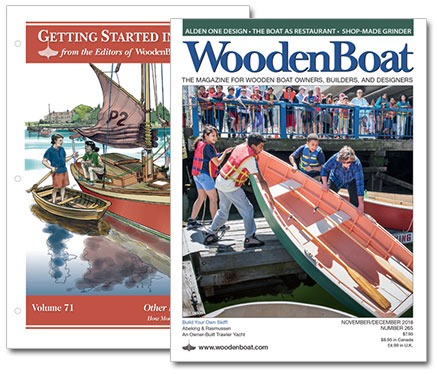 FEATURES
Periwinkle Junior — A simple skiff and an excellent first boat, Part 1 by John Rowse
Blue River Table — Fine dining on the River Fal by Nic Compton
Building TARDIGRADE — "A touchable dream" by Gregory Roscoe
Sakonnet One Designs — The community built around a beloved fleet by Mara Lozier Shore
Restoring BACHELOR BUTTON — The overhaul of a Sakonnet One Design by Evelyn Ansel
The Abeking & Rasmussen Legacy — A somewhat-random sample by Matthew P. Murphy
Henry Rasmussen — The origins and American connections of Abeking & Rasmussen by Detlef Jens
Aboard WESTER TILL — A postwar cruising yawl from Abeking & Rasmussen by Tyler Fields
A Shop-Made Cordless Tool Dresser — Accurately restore bevels on chisels and plane irons by Harry Bryan
Getting Started in Boats: Other People's Boats — Tear-out supplement by WoodenBoat editors and Jan Adkins
Cover: Nat Benjamin's Periwinkle Junior design is an excellent first boat, one that student boatbuilders at Community Boat Building in Boston, Massachusetts, regularly build to learn practical math and teamwork while having fun in boats. Photograph by Carol Crawford.
PURCHASE THIS ISSUE from the WoodenBoat Store
Looking for a particular article you saw?