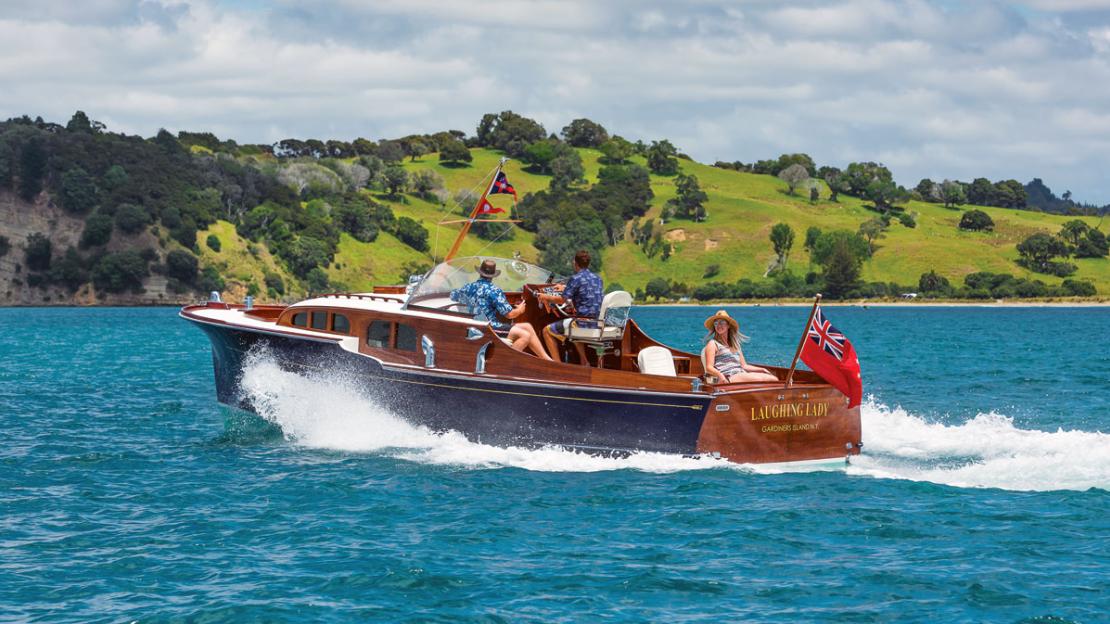 The 33' power cruiser LAUGHING LADY was built by Luders Marine Construction in Connecticut in 1949. Her restoration was begun in San Diego and recently completed in Auckland, New Zealand.
LAUGHING LADY is a 33' power cruiser built by Luders Marine Construction of Stamford, Connecticut, during that yard's heady post–World War II years of yacht building. Luders, in the previous decade, had been focused exclusively on military contracts—mostly submarine chasers, but also yard tugs, lifeboats, and target boats.
She was built as a sportfishing boat for Mrs. Winthrop Bailey—a wealthy socialite who later sold the boat to a Robert David Lion Gardiner, a New York stockbroker who owned Gardiners Island off the eastern tip of Long Island; he commuted from there in LAUGHING LADY to Greenport, where he would catch the train for a quick trip into midtown Manhattan. He also used LAUGHING LADY to ferry guests between Gardiners Island and the Hamptons.
When Gardiner died in 2004, his estate sold the boat to a distant relative in California. But the cross-country road trip was catastrophic for LAUGHING LADY; she arrived with a broken back and one of her engines hanging from the transom. It fell to Doug Jones, who then was running Traditional Boat Works in San Diego, to rebuild her, and the job progressed steadily until the 2008 global financial crisis put the brakes on it. The yard acquired the boat in lieu of unpaid bills, and there she lay, gathering dust, for many years, until she was spotted by James Dreyer, a classic-boat enthusiast from New Zealand.
ACCESS TO EXPERIENCE
Subscribe Today
Subscribe by October 14th and your subscription will start with the November/December 2023 (No. 295) of WoodenBoat.
1 YEAR SUBSCRIPTION (6 ISSUES)
PRINT $39.95
DIGITAL $28.00
PRINT+DIGITAL $42.95
Subscribe
To read articles from previous issues, you can purchase the issue at The WoodenBoat Store link below.