IDA, a triple-planked 1890s cutter, is being restored in New Zealand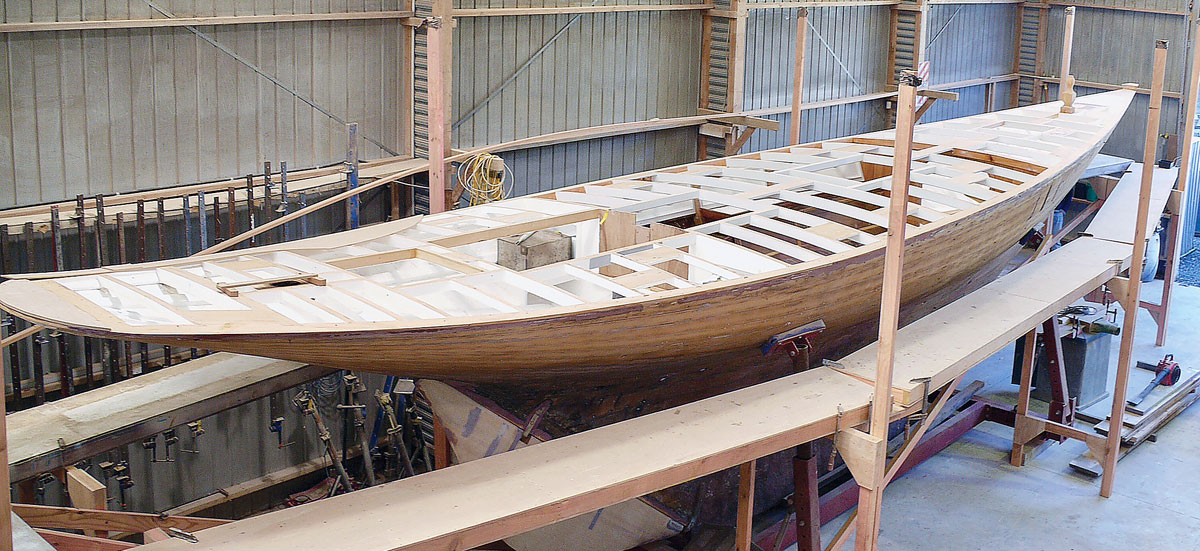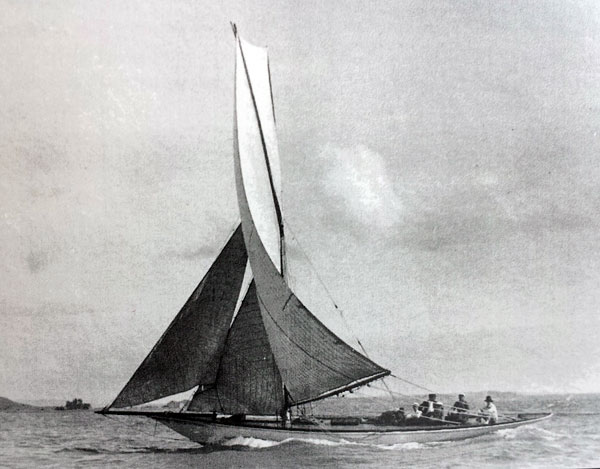 For a classic boat devotee, few moments are more heartbreaking than an encounter with a famous and once-beautiful old racing yacht found abandoned to the elements and in the terminal stages of her long and illustrious life. I shudder at the specter: gray skeletal timbers, rubbish-strewn bilges, and the hideous accretions that mock those once-lovely lines. With eyes averted, I invariably pass by with a profound sense of sadness. This does not happen in New Zealand. There, blessed with a sunny optimism coupled with a tenacious can-do spirit, the Kiwis have developed the happy knack of seeing not ghastly liabilities in decrepit old boats but invaluable maritime heritage assets, well worth the time, money, and effort to restore. The passion for saving New Zealand's unique yachts built of kauri wood, especially the multi-skinned monocoque vessels of the 19th and 20th centuries, has resulted in heroic rescue missions and the restoration of many of the country's most important historic boats.
On the North Island in 2002, a small group of wooden-boat aficionados came together to create the nonprofit Classic Yacht Charitable Trust (CYCT), a public interest and educational body focusing on the restoration and repair of New Zealand's once-famous but long-neglected racing yachts. They found them literally wasting away in bays, mangrove swamps, and locked sheds around the coast. Backed by enthusiastic community and corporate support, the trust has gone from strength to strength and now, after almost two decades of impressive results, finds itself the custodian of five gaff-topsail cutters and has been involved in restoring five other yachts (and even recovering an 1865 schooner from Muriwai Beach). The yachts make a splendid sight racing on Auckland's windy Waitemata Harbour, at wooden boat festivals, and under sail each year in the much-anticipated, 160-year-old Mahurangi Regatta.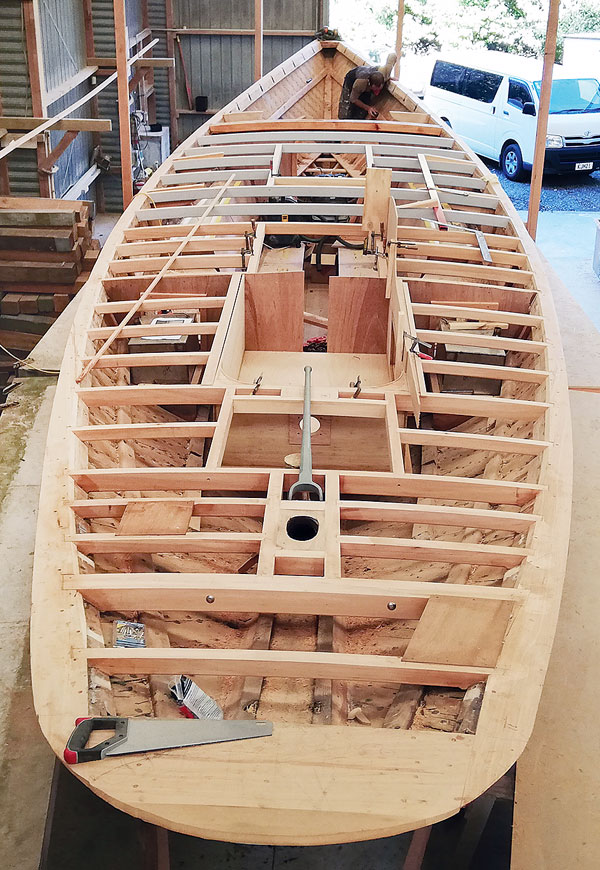 Not content with its success over the past two decades, the CYCT has turned its attention toward Australia, where, in the booming second half of the 19th century, Auckland's two great wooden boat building dynasties, the Logan and the Bailey families, exported some of their fastest racing yachts. The latest to be recovered is the important Five-Rater IDA, designed by Charles Bailey and built in ultra-lightweight, triple-planked kauri (Agathis australis) by his sons Charles and Walter in 1895. IDA was built 45′ LOA, with a waterline length of 30′ and an extraordinary sparred length of 58′; her beam was 8′, and she drew 6′6″. She became a champion in Auckland racing under the ownership of Charles Primrose Murdoch, the first commodore of the Royal New Zealand Yacht Squadron (RNZYS). Murdoch had her tuned to perfection and raced with conspicuous success from 1901 to 1907. But under subsequent owners she gradually became less and less competitive, and in the 1980s she crossed the Tasman Sea under mysterious circumstances and fetched up on Sydney Harbour.
When IDA eventually turned up in a North Sydney boatyard in August 2018, she was in an appalling state. But when word reached the CYCT in Auckland, both its chairman, John Street, and the veteran wooden boat builder Wayne Olsen immediately flew across the Tasman to inspect her. It was love at first sight for Street, a retired Auckland ship's chandler whose lifelong passion for maritime history has guided the trust in all its restoration projects. But for Olsen, a highly experienced wooden boat building specialist, a renowned fine craftsman, and a no-nonsense straight-talker, the sight of the decrepit IDA suspended in slings made him shake his head. Although her original sweeping sheer was still fair, with none of the usual signs of hogging, and the splined external planking looked all right, Olsen knew the real horror story would be revealed belowdecks. He climbed aboard and gingerly probed the rotten deck, which was full of holes and covered only by tattered canvas.
Olsen is a big, powerful man and not afraid of squeezing into tight spaces. But when he peered down IDA's companionway and into the stygian gloom of her saloon it was, he says, "like looking into a jumbo dumpster." The boat was absolutely chock-a-block with decades of accumulated rubbish. "I have never seen anything like it," he said. "It was a pigsty, just disgusting. The saloon was littered with empty beer bottles and there was crap piled up from the cabin sole to the deck-head. She had four anchors on board and four sets of rusty old chain and rope. The head had 30 turns of chain wrapped around the toilet bowl. It had been there so long that the chain was rusted solid." He returned to the ground, and in front of the owners gave Street his blunt professional recommendation in just a few terse words: "Don't buy it," he said. "The inner planking is rotted, and, that being the case, the middle planking is probably rotted as well. From what I can see, it's a mess." Acting on this candid assessment, Street wisely agreed not to buy the boat. But, as we all know, in wooden boat matters a passionate heart very often overrules a cool head.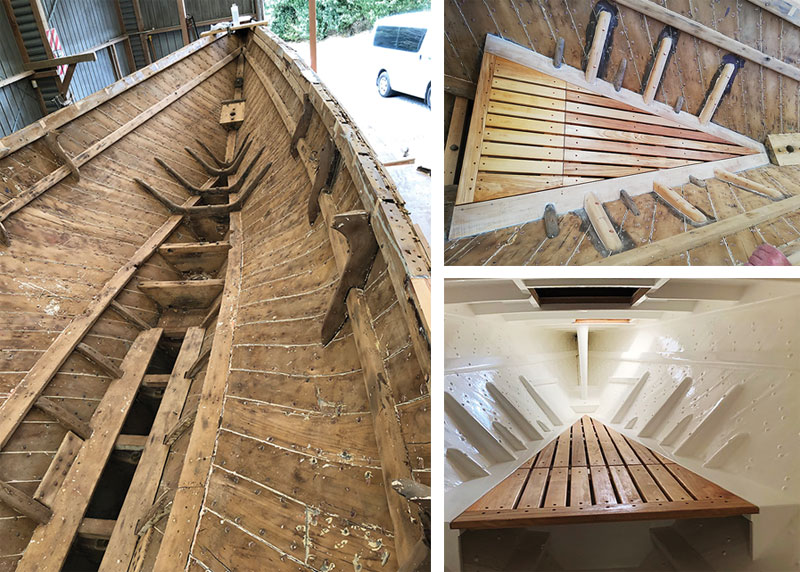 "I've done all of John's boatbuilding work over the past 30-odd years," Olsen said, "and we have a very frank and honest relationship. We flew home on the Saturday, and on the Sunday John called me to announce he had just undertaken to purchase the boat for the scrap value of her lead—provided I agreed to do the restoration." The 59-year-old Olsen, who has been hard at work since he started his boatbuilding apprenticeship as a 14-year-old, had recently closed his business and was looking forward to going fishing. Explaining the sudden about-face, he said: "John just could not bring himself to say no, because if he had that almost certainly would have meant the destruction of IDA. She would have been cut up and burned, for sure. She had been for sale for a long time. The Aussies had shown no interest in rescuing an old New Zealand boat, so John felt it was up to him. He had to rescue her. And he was right. I'm happy to concede that now. When he called and asked me to do the work, I couldn't say no. I have the greatest respect and admiration for John. He is a visionary, someone who can look at an old boat and see what others cannot see."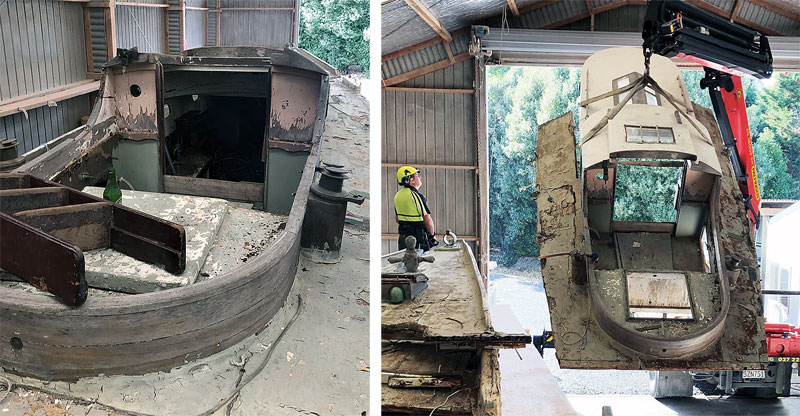 As incredible as it now seems, IDA was allowed to be shipped from Sydney to Auckland with all the rubbish still inside her hull. Despite an agreement with the boatyard that she would be cleaned out, nothing had been touched. Olsen lost three weeks trying to clear the hull but found himself busy going nowhere. Eventually, he became so frustrated that he took a chainsaw to the rotten 1970s plywood deck, cut it clean off, and brought in a truck-mounted crane and the biggest dumpster he could hire. Once the rubbish was removed, he had the hull fine-grit sandblasted inside and out. After all the many accumulated layers of paint were stripped away and he could see bare timber, his worst fears were realized. "I found a great many rotten planks up forward," he said, "around the companionway and all the way down the turn of the bilge to the lead."

About a third of the innermost layer of planking was completely rotted, and rot was also present behind those areas in the middle layer. These double-diagonal internal planking layers, each of ⅜″ kauri, set on opposing diagnonals, carry both tensile and compressive forces without the need for extensive internal load-bearing framing. Together with the ⅝″-thick outer planking set longitudinally, they hold the key to the extraordinary strength of the lightweight monocoque construction that has made these New Zealand kauri boats so famous. Olsen epoxy-glued replacement planking in place and fastened it through the frames with copper rivets.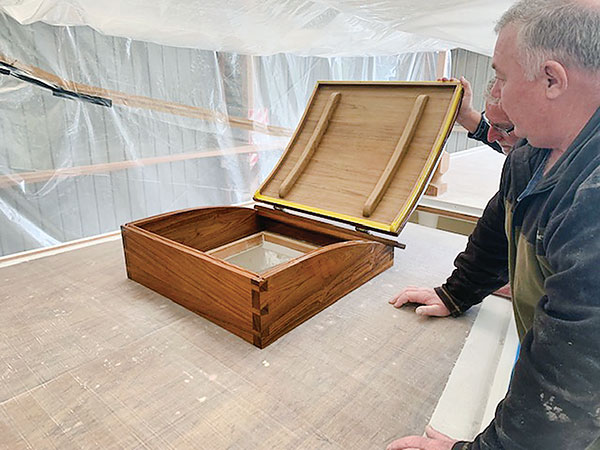 All 14 floor timbers in way of the ballast keel, originally fashioned from grown pohutakawa (Metrosideros excelsa), were completely rotten. "They were a black mess with the consistency of papier-mâché," he said. "I could easily pull them apart with my bare hands." Olsen made a completely new set of laminated kauri floors and included an additional three up forward to help strengthen the hull.
The original transom, elaborately decorated with carving, was so weak that it literally fell off. "You often see these old boats with bobtailed transoms," Olsen said, meaning the stern had been shortened. "That's because the rot gets into the end-grain, and people solve that problem by just lopping the back end off."
Olsen pointed out that although the old triple-skinned boats had no internal frames, most of them did have substantial fore-and-aft stringers to help stiffen the hull. Olsen left IDA's stringers intact, but he departed from traditional 19th-century construction by inserting a stout bulkhead cum ring-frame in way of the mast. "I am a firm believer in minimizing maintenance headaches down the track," he said. "That's why I like to build extra strength into the old boats. I have now restored six of them, and they have all been strengthened with stringers, splined, and 'glassed. The purists hate me for doing that. They expect me to keep every stick of original timber, but I firmly believe that if timber is not sound, then you must get rid of it and replace it with structurally sound timbers of the same species." IDA was expected to be under sail by early 2020, in her 125th year.

Bruce Stannard is a regular contributor to WoodenBoat.
For additional information and updated photographs and videos, see www.classicyachtcharitabletrust.org.nz.