A 13′ (4 m) gaff-rigged sloop micro-cruiser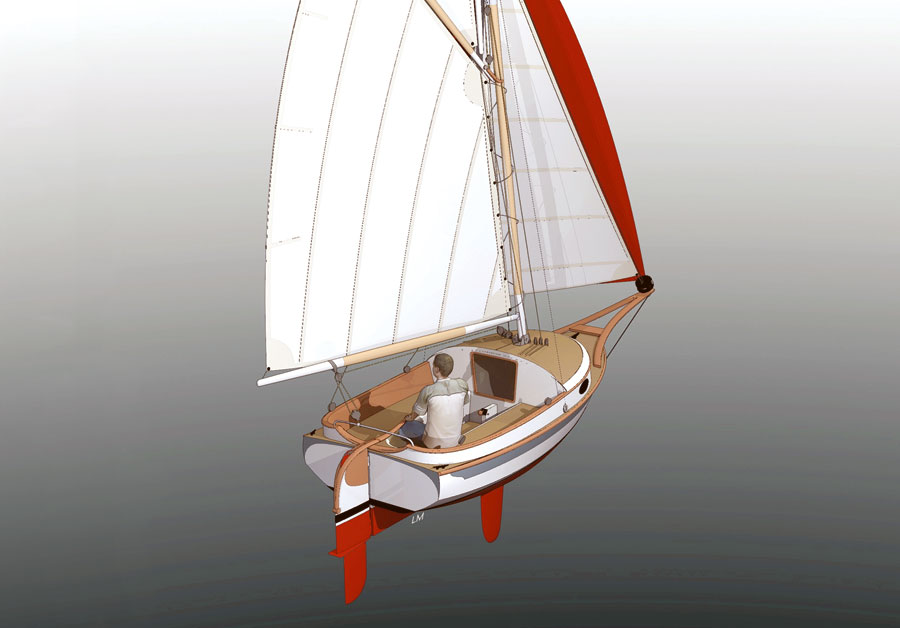 From WoodenBoat magazine No. 258, September/October 2017: LAURENTIA is a 13′ micro-cruiser meant for outings on northern lakes. She takes inspiration from two New England vernacular workboats: the dory and the catboat. As with a dory, stability improves as the boat heels, and as it's immersed. She's a small boat in which crew weight and location will greatly influence this. Wide beam in the upper portions, and the dry volume of the cabin and the enclosed cockpit seats, mean that even in a 90-degree knockdown the companionway will remain clear of the water.
Sail controls lead to the cockpit for easy handling and reefing. The first step to shortening sail is to lower the flipping topsail, which reduces area and rig height immediately. The next reef will be in the powerful mainsail, and the jib can be rolled up partially to balance this.
Particulars:
LOD: 13′1/2″ (3.98m)
LWL: 12′11″ (3.94m)
Beam: 6′6″ (1.98m)
Draft: 11′3/8″ (0.29m)
Displacement (half-load): 1,480 lbs (671 kg)
Trailering weight: 1,000 lbs (454 kg)
Ballast: 350 lbs (159 kg)
Working sail area: 188 sq ft (17.47 m)
Light-wind sail area: 340 sq ft (31.59 m)
Displ/length ratio: 313
Ballast/displ ratio: 0.24
Prismatic coefficient: 0.60
Working sail area/displacement ratio: 22.8
Auxiliary power: 2.5-hp Lehr propane-fueled outboard motor
---
Design Sketchbook appears in every issue of WoodenBoat. McGowan takes readers' ideas of their ideal boats and designs a vessel to those specifications. This is 3-D concept drawing to supplement the installment found in WoodenBoat issue 258, September/October 2017. See the article for lines drawings and more details. Do you have a boat concept you'd like to see Laurie McGowan develop? If so, send it to Sketchbook, WoodenBoat Publications, P.O. Box 78, Brooklin, ME 04616, or email it to sketchbook@woodenboat.com. Your letter should be no longer than 500 words.
Laurie McGowan is a Nova Scotia–based boat designer with a diverse on- and below-water work history. He specializes in energy-efficient commercial and pleasure boats. More of his work may be found at mcgowanmarinedesign.com.