Keeping up with a treasured 48′6″ Dawn power cruiser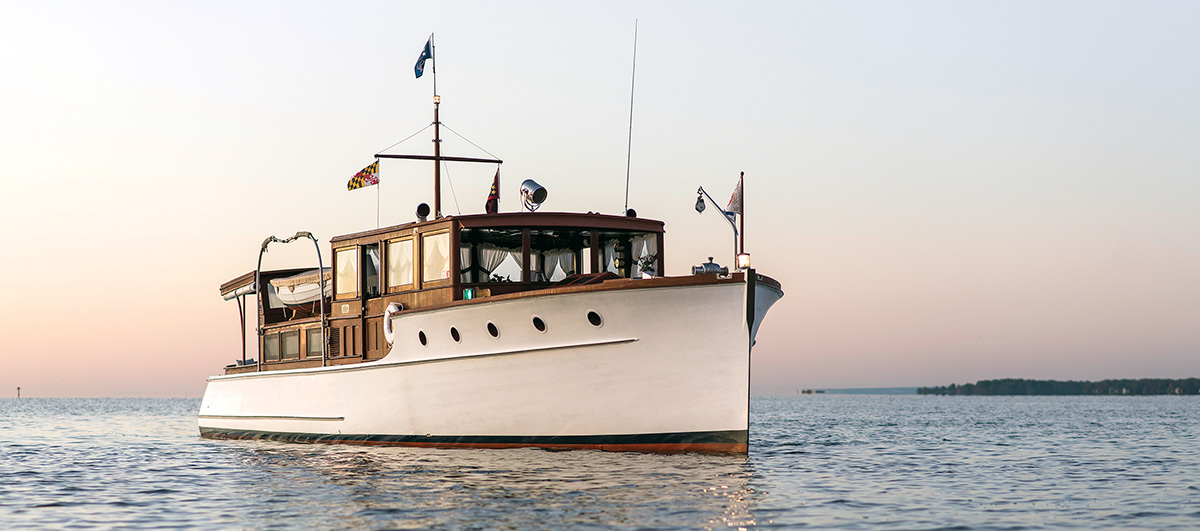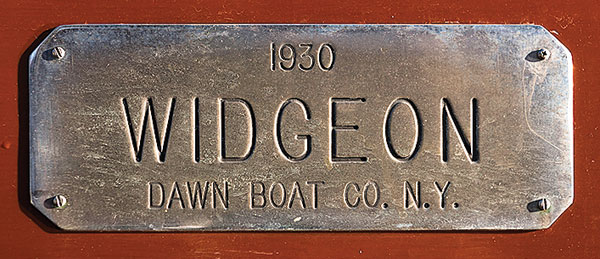 Maryland's coast is lined with complex, sharp pockets of Chesapeake water that make up its magnetically beautiful estuaries. Thickly settled neighborhoods attest to the magnetism, and docks jut out from nearly every waterfront property there. One house in a quiet cove in Edgewater has a family jewel perched at the end of its dock. WIDGEON, a 48′6″ Dawn power cruiser, is turning 90 this year.
The first thing that owner Joseph F. Murray will tell you about this boat is that five generations of his family have enjoyed Dawns. His approach to caring for the large motoryacht, though he admits freely to the impetus of nostalgia, has been practical, thorough, and focused after purchasing her back in 1980. When he found her, she had been painted white from cabintop to waterline, and it was taking the work of three bilge pumps to keep her afloat.
Romanticism made him buy the boat: He stepped aboard and was instantly transported to his grandfather's 48′6″ Dawn, THREE SEAS, because the layouts were nearly identical. It had been a long time. His grandfather bought that boat in 1942 and sold it in 1958 due to declining health. WIDGEON brought him back to that time…chilling a bottle of Coke on the block ice in the icebox, and catching flak for it from Grandpa after it left an indentation…being on vacation in Port Jefferson, snug in a bunk and peeking out of a porthole when he was supposed to be asleep…polishing 4′-long bronze shift levers and coiling docklines. Looking around at the state of WIDGEON, he knew it would be a lot of work to reach his goal of restoring her as faithfully as possible to her original condition, and he'd have to do most of it himself.
But here we are, 40 years and three major refits later, and Joe is still polishing, coiling, and reveling.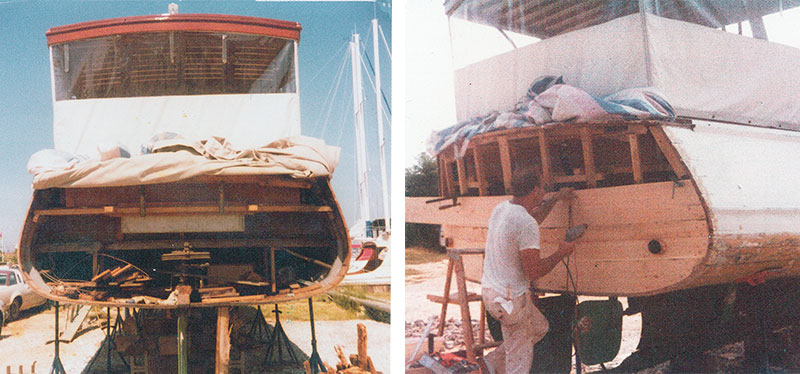 The Dawn Boat and Shipbuilding Corporation (see WB No. 151) was founded in 1906 and operated out of Clason Point in The Bronx, New York. Today, there's no trace left of the yard on the property. At one point, the company was commissioned by the government to build tugs and launches for both the U.S. Navy and Army, but Dawn was best known for well-appointed, commuter-style motorboats that carried well-to-do owners between their homes and jobs linked by the East River, Hudson River, and Long Island Sound before there were bridges and highways there.
Dawn did some innovative things, possibly to set themselves apart from other boatyards producing commuter yachts. Motor Boat magazine reported in February 1922 that the company was producing boats with gas-electric propulsion to improve fuel consumption and that they had been exhibiting boats with balsa-wood filler between the floors for flotation. In addition to producing designs that were luxuriously comfortable for passengers, they were engineering for safety, too. Their generator sets and electric motors were housed in watertight compartments so that if a Dawn were submerged, it could continue to safety under its own power.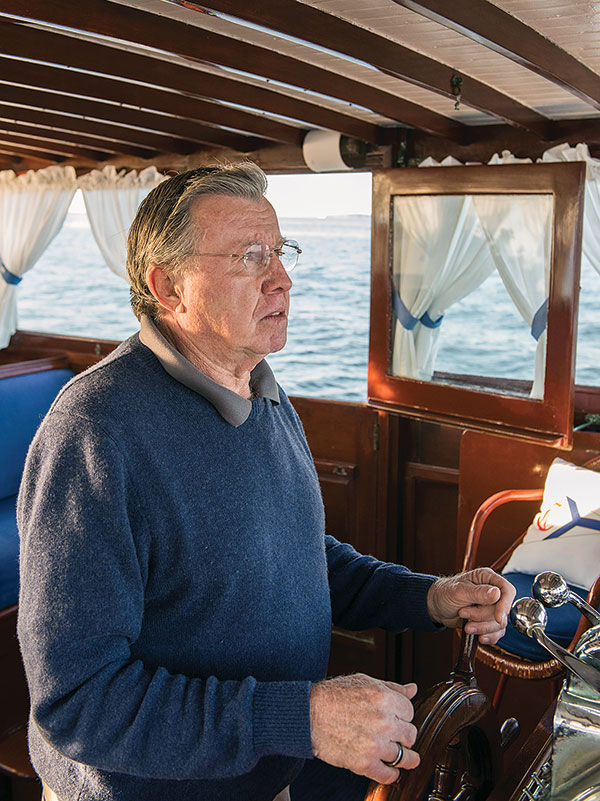 Dawn built yachts sized 38′ to 60′, and the boats in the 45′–48′ range were the most popular. In 1947 the owners sold the yard to the Wheeler Boat Company, and in 1963 a fire took most of the records, plans, and whatever was left of Dawn Boat and Shipbuilding Corporation. One can glean tidbits of interesting information about the yard in Motor Boat, Yachting, and other writing from the time, but there isn't much material to speak for Dawn and its pursuits, except for the remaining boats.
WIDGEON (originally ALADA, ex-TIDLER II, ex-VALDA, ex-KARLOTA, ex-MOMO IV, ex-SUZANNE, ex-QUESTER II, ex-CAPRICORN) was built in 1930, in the yard's heyday, of cedar planking on oak frames with a superstructure of Honduras mahogany. She was originally gasoline-powered by twin, 150-hp Sterling Petrels, which could bring her to about 22 mph. Joe is most proud of how much of her original material he's been able to save and maintain, and the fruit of that labor is not only a boat with rewarding attributes but actual awards. WIDGEON has garnered, between 1981 and 2011, many trophies from the Classic Yacht Club of America; the Antique & Classic Boat Society competition in St. Michaels, Maryland; and the Tom's River Seaport Society Wooden Boat Festival. But she wasn't always so fetching.
It's as though they took a spray gun to her exterior. The whole thing was white, and she was about ready to sink," Joe says of WIDGEON's condition when he found her in 1980 in the Sassafras River, where she was being used, essentially, as a floating summer home. He envisioned stripping the paint off the Honduras mahogany cabinsides and recaulking to silence the streams of bilgewater coming from the pumps. Even so, "I was able to see past her cosmetic appearance," he says, noting that very little of her layout had changed through her 11 owners, "and the good news was the interior only needed touch-up and varnishing."
By the time Joe owned her, WIDGEON had been well traveled, having cruised as far north as the Great Lakes and as far south as Florida. While assessing the condition of her transom, he and his great friend George Kramer (who would be at Joe's right hand throughout the first wave of work) marveled that, had she not sold, her owners would have gone to Florida again with her spongy, rotted transom and cracked frames. During this first wave of restoration, they replaced that transom, parts of the stem, and a bit of planking. They shored up cracked frames with stainless-steel straps—something that would need correction later. They also refastened the entire hull.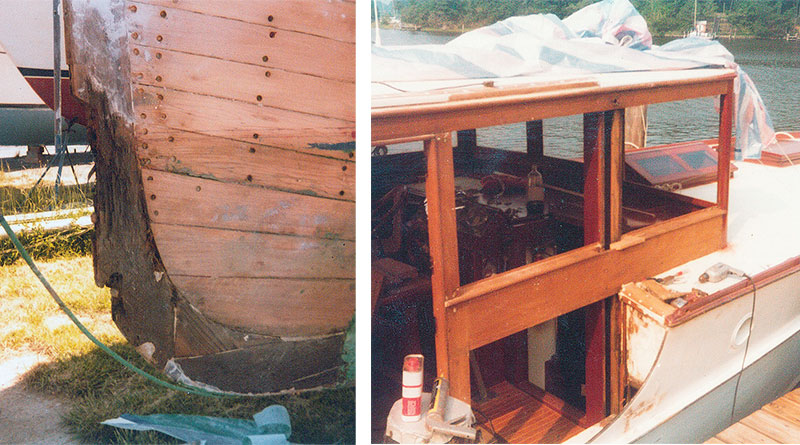 Joe took a focused approach to restoring WIDGEON, striking a balance between budget and experience (he had done some house carpentry and knew his way around woodworking tools, but not necessarily boats) while keeping as much original material as possible. This last value probably had the most impact on his decision-making, most notably when it came to the pieces he replaced in that painted cabinhouse. Some of the Honduras mahogany was rotted and needed replacing, and what could be kept had absorbed the white paint deeply into its grain. Given that the original mahogany was so much older than the replacement material—possibly from hundreds-of-years-old trees whose lumber could have been dried for 50 years, and then 50 years passed since installation—Joe heavily stained both the new and old pieces to get a consistent color throughout the exterior brightwork.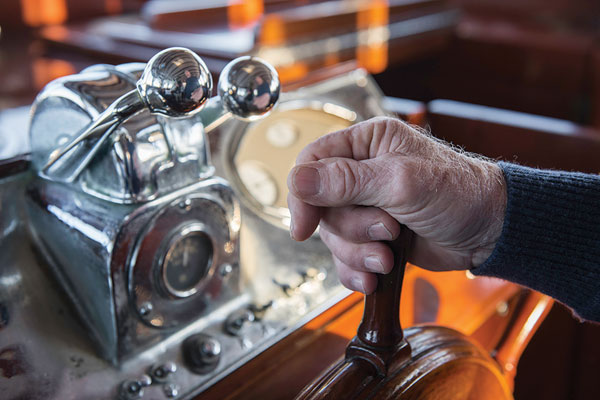 Joe started a second wave of refitting when he had WIDGEON repowered in 1990 with two, four-cylinder Cummins diesel 150 Turbos. At 2,600 rpm, she cruises at about 14 knots and consumes 8 to 10 gallons of fuel per hour. His aim was to incorporate the new alarms, gauges, and instruments that came with the new engines while using the original controls, which he didn't want simply as eye candy. The mechanics said it wouldn't be possible to use the old gear shifters because the electronic switches on the new ones moved through 2″ to do their work, and the old ones swung through 1′ in each direction. "I found a guy, an old-timer," Joe says. "Overnight he made a gadget so when these guys move a foot, the new electric controls move just a little bit." The modern accoutrements are hidden: the device for the levers is under the floorboards, and the new instruments and panels for the engines were installed into what had been a wet locker.
During the repowering, her Monel fuel tanks were inspected and reinstalled, the engineroom was sound-proofed, and her 32-volt electrical system was converted to 12-volt system complete with a new panel and wiring.
The final and most invasive restoration push came in 1994, when aft frames that Joe had sistered with stainless-steel straps on each side had deteriorated due to oxidization, seriously compromising the boat's structure. WIDGEON's hull had to be caulked every time the boat was hauled, and Joe also inspected and replaced butt blocks when needed. Paint cracks in the topside seams were a continuous problem. Joe consulted with his friend Ed Cutts, Sr. at Cutts & Case Shipyard in Oxford, Maryland, and the decision was made to give WIDGEON the Cutts Method treatment on her hull. In addition to installing Kevlar cords in routed channels in her planking, the yard removed all the butt blocks and added enough material to scarf all the joints.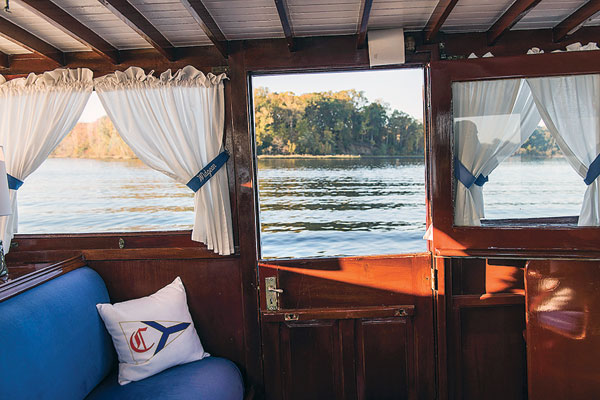 While they were working with the planking, Ed convinced Joe that it was a good time to address WIDGEON's three bronze rudders. The center rudder was larger than the starboard and port ones—all three were controlled in chorus from the helm. Ed thought Joe should remove the two smaller rudders; Joe thought that might make the boat less maneuverable. But they did remove them, and she was faster as a result.
The yard also reefed the seams, filled them with epoxy mixed with structural filler, and put a coating of epoxy on the interior and exterior of the hull. It was a huge change, but her original wood remained. It changed everything for WIDGEON and her upkeep. Joe says he simply sands the topsides, scuffs the bottom, puts on annual maintenance coats of paint, and the hull is good to go for another summer of knocking about the Chesapeake.
I visited aboard WIDGEON in October 2018, and it was a joy to hear Joe's stories and to have a look around her interior, filled with family treasure, creature comforts, and small paintings that Joe himself has painted through the years. Sure, there are now cleverly hidden air-conditioning ducts as well as a microwave oven and a modern refrigerator in the galley, but to stand at the helm is to stand in a place removed from time. There were two modern Cummins engines under my feet, but I wouldn't have known that if Joe hadn't told me. He can spend time on deck with his family, steering from outside the wheelhouse thanks to a remote-controlled autopilot, but nothing about her configuration on that deck has changed since 1930.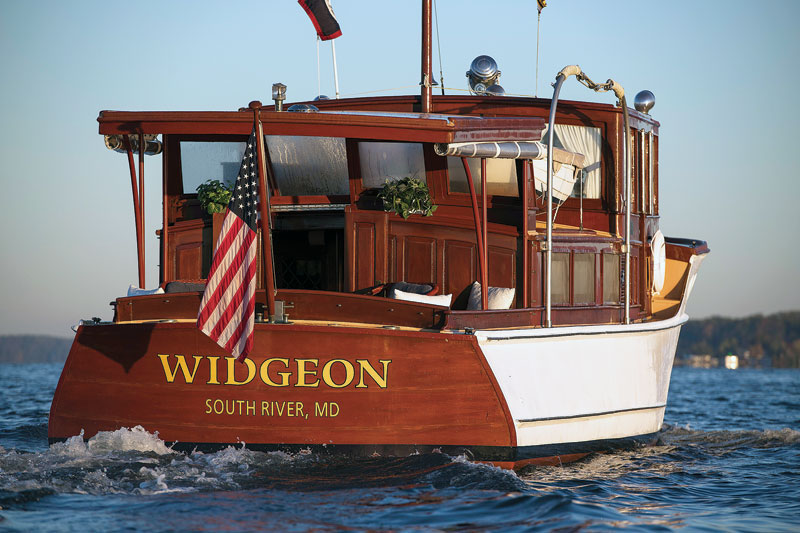 "When we go into a marina, we're usually the only wood boat," says Joe, who takes her all around the Chesapeake and has gone as far north as the Manasquan River in New Jersey. "People look at her, give thumbs up, and I love to show people around and talk about her history."
Joe figures WIDGEON carries about 95 percent of her original wood. The sailing dinghy on deck is not original to the boat, but it has been with the mothership for 60 or 70 years, and Joe maintains that little Abeking & Rasmussen–built gem, too.
"This boat is more than a boat to me; it's a part of my family," Joe says. "Unfortunately a day is coming when this is going to end. I don't want it to go. I fear that she will not be maintained as a classic should be. I've seen so many boats in our club just gone after a few years because they don't take care of them. I truly believe that anyone who wants a classic boat needs to know that they need loving care."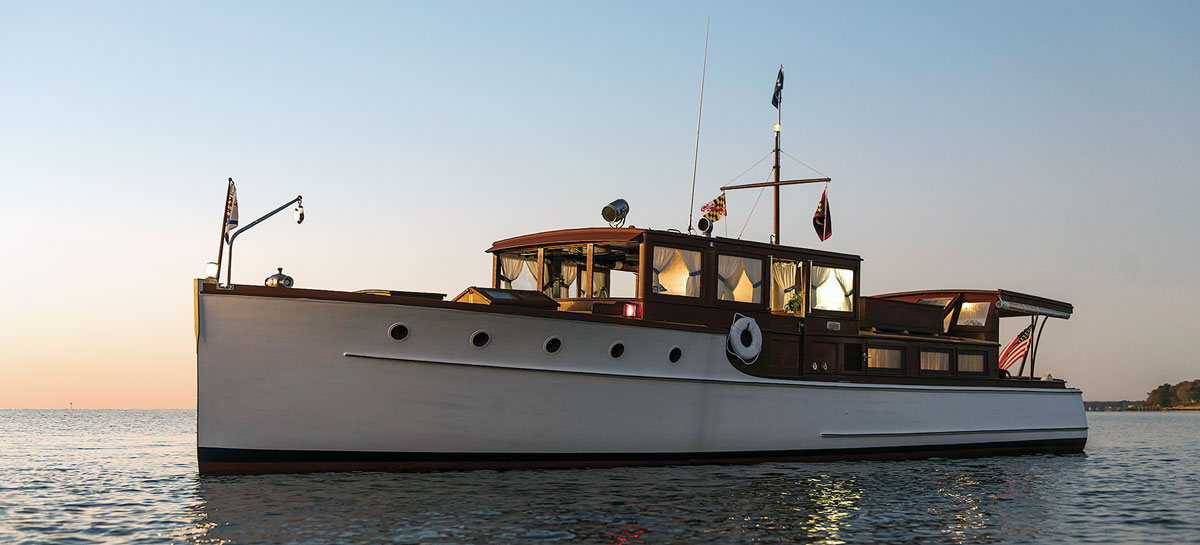 Joe had recently undergone back surgery when I visited, but twice since then and despite more health complications, he's covered WIDGEON at the end of the season, diligently keeping an eye on her at her berth until it's time to do the spring fit-out.
"It's an enjoyable thing," Joe says of maintenance and of the long, winding road to a restored WIDGEON. "If it's not enjoyable you wouldn't do it—and, well, you can't explain that to people. It's been an adventure, I will say."

Anne Bryant is WoodenBoat's associate editor.