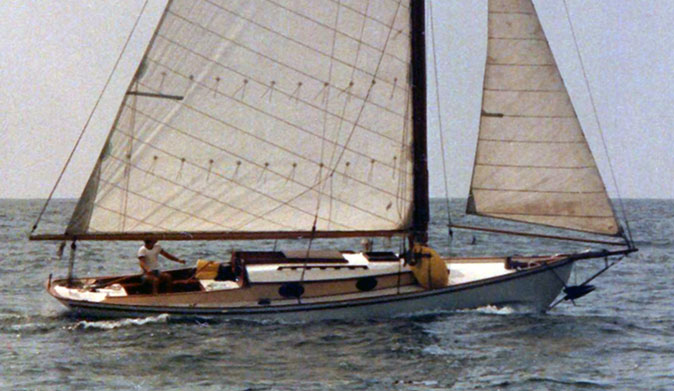 In mid-July of 1981, I sailed into New York Harbor in FISHERS HORNPIPE, my first cruising sailboat (see Blog #31). I had an interview with David Beggs, in charge of restoration work on the ships in the South Street Seaport Museum, and landed a summer job as a restoration shipwright. I worked mostly on AMBROSE, the museum's light ship, and on the LETTIE G. HOWARD, a Gulf of Mexico "Grand Banks" fishing schooner. I tied the HORNPIPE up to Pier 17, in lower Manhattan, and had an all-around amazing summer.
I got in the habit of having lunch in a Fulton Street Fish Market dive called Chapter Eleven. I could go there dressed in dirty work clothes, covered with sawdust, and no-one cared. One day I noticed a stack of white oak planks on the floor, and asked the cook what they were for. He told me that the restaurant's owner was restoring an old sailboat out on City Island, and the oak was for frames.
Shortly thereafter I met Tony Bianco, who drove me out to see his project, with the possibility of giving him some advice on what to do next (he was stuck). He had been working on her for seven years, and figured he was losing ground! The boat turned out to be a John G. Alden Malabar Junior, built in the Blaisdell Yard in Bath, Maine, around 1928. She was a Marconi sloop, with an outrageous rig (I initially told Tony that he had the wrong mast). Searching through the Alden book, years later, I think she was based on #271 (there were numerous Malabar Junior designs). The sail plan, rigging, cabin windows and dimensions match closely.
Specifications for the Alden Malabar Junior IMAGINE:
LOA: 30′
LWL: 23′ 3″
BEAM: 9′ 8 ½″
DRAFT: 5′ ½″
DISPLACEMENT: 12,683lbs
BALLAST KEEL: 4,800lbs
SAIL AREA: 572sq ft
When I finished my summer job at South Street, I sailed FISHERS HORNPIPE to anchor off City Island, and went to work on the Malabar Junior for Tony. She was a basket case, and only a man who dearly loved old things, was not afraid of major projects, and had a keen eye for beauty would attempt saving her. Tony and I saw eye to eye on all of this. The boat was in Sonny's Boat Club, an amazing collection of nautical junk (er—memorabilia), on the northwest corner of City Island, and I rowed to work each morning in my dory GANDY DANCER.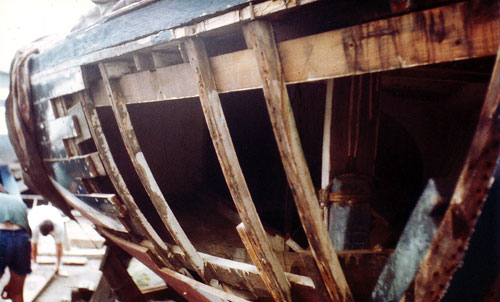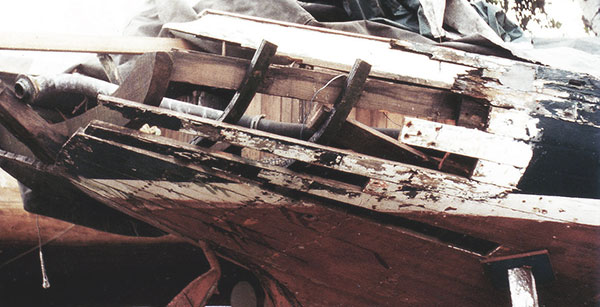 I had two bright young men with me—first mate Paul Newman, who had been sailing with me since Costa Rica, and his best friend Eliot Greenspan, who had joined us in Key West. I had been teaching them boat carpentry, and the three of us dove into Tony's project. During that fall, after a major clean-up and re-organization (the most critical first steps in any restoration), we replaced some frames, re-planked the hull, and built a new deck, using fabric/epoxy covered marine plywood over sawn oak beams. Tony found an 85-year-old retired caulker from Barbados to caulk the hull, and he did a beautiful job.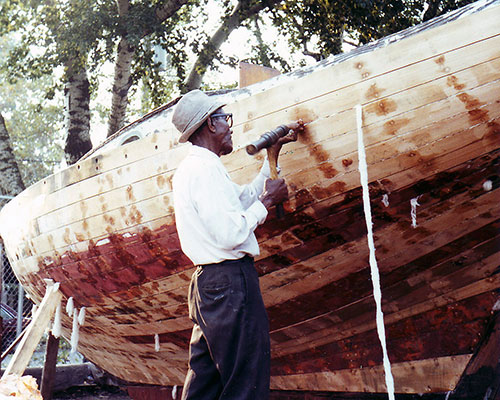 After caulking, we paid the seams, applied red lead primer below the waterline, and buttoned up the project up for the coming winter. We left Tony with a long list of work instructions to follow, and sailed the HORNPIPE to Maine, where Eliot told me, walking through the autumn leaves, that we would soon have to buy boots (we all wore nothing but sandals). On that note, we turned tail and headed back down into the Caribbean, sailing as far south as Grenada (near South America).
I sailed back to the northeast USA two years later, in July of 1983, having haphazardly stayed in touch with Tony via letters. The amount of work remaining on the Malabar Junior was daunting, even though Tony and his friends had been plugging away on her in their spare time. Eliot was back in college, and Paul had left in late 1982 to return to his family in New York, but I had a dynamic young Cuban woman as first mate named Teresa Rodriguez, and Paul and Eliot visited us on occasion.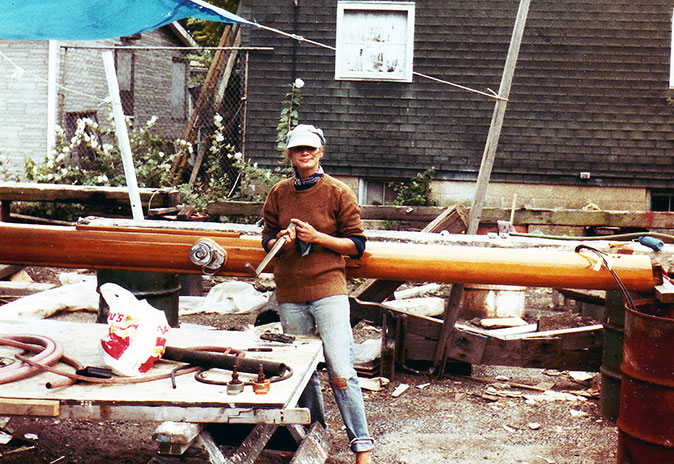 We tackled the spars, interior, and the ancient Hercules gasoline engine, which a friend of Tony's had unsuccessfully attempted to rebuild. I rebuilt it again, and almost destroyed it by starting it without adding oil! I won't even tell you what Tony had to say about that…. We painted the hull, decks and cabin. We made new toe rails, rubrails, hand rails, and I made new rail caps from Honduras mahogany. We refurbished deck hardware, mast hardware, winches, etc. We installed hatches and doors, and roughed in the interior. We were able to save all spars, though they took weeks of work: sanding, epoxy sealing and many coats of varnish. Some of the wire rope rigging had been replaced shortly before the vessel was abandoned (years earlier), and I saved what I could, and replaced what was bad or missing, like the twin running backstays. I replaced all the running rigging with 3-strand Dacron rope. The engine went in, and the mast went up on the same day, using the yard's crane. I installed batteries, boxes, and re-wired the boat. I installed new bilge pumps (electric and manual), instruments, panels, and engine controls.
The existing sails were serviceable, with a nearly new mains'l, and we bought a used jib tops'l for the outer forestay. On September 7th, 1983, we launched her with a bouquet of flowers, and put her on her mooring. She was a very beautiful sight!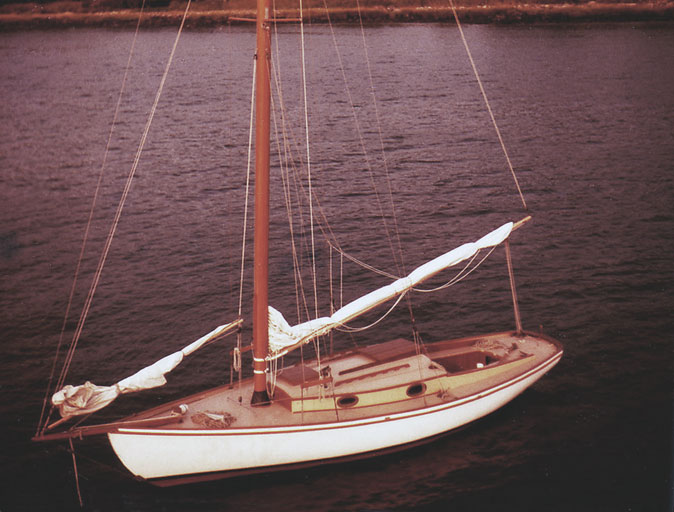 Tony had a name for the boat, but when John Lennon was assassinated, he changed his choice to IMAGINE, and that is what he named her—really a perfect name.
* * * * *
I sold FISHERS HORNPIPE the following year (1984), and returned to Florida to build SARAH, followed by my second cruising sailboat TERESA in 1985 (Blog #32). I wrote an article about IMAGINE's restoration, which appeared in WoodenBoat Magazine #65. I took both IMAGINE and TERESA to the 1985 Wooden Boat Show in Newport, Rhode Island, to drum up business in yacht design, custom boatbuilding and high-end restoration work… and nothing happened. Except I lost a lot of money!
Then, in 1989, I received a call from Tony telling me that IMAGINE had been wrecked during an early fall gale. He had her salvaged, put her on a trailer, and sent her to me in Port Salerno, Florida, where I was ensconced in a small boatyard, designing a new sportfishing powerboat for Armor Craft.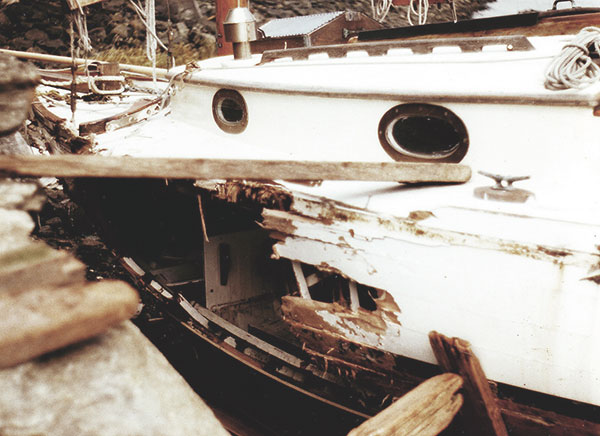 The hull was badly wracked during her days of pounding on the rocks, and all her caulking had started. The interior had been partly submerged, including the engine. She was in very bad shape… a basket case all over again. Luckily, she was insured… unluckily, the insurance money would not even begin to cover what needed to be done.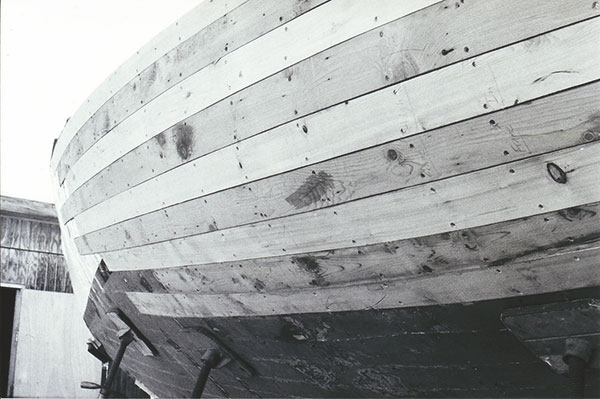 Nevertheless, I launched into another major restoration, electing to re-plank the hull using cold-molded wood and epoxy, after first replacing many broken frames and carvel planks. I built a steam box (see Blog #16), replaced the frames, and re-planked much of her port side, including the deck, which had been destroyed right to the cabin side. I had my third "wife" Beth Stevens with me, an excellent boat worker, and my boatbuilding partner Bill Smith commuted from Ft. Pierce to work with us.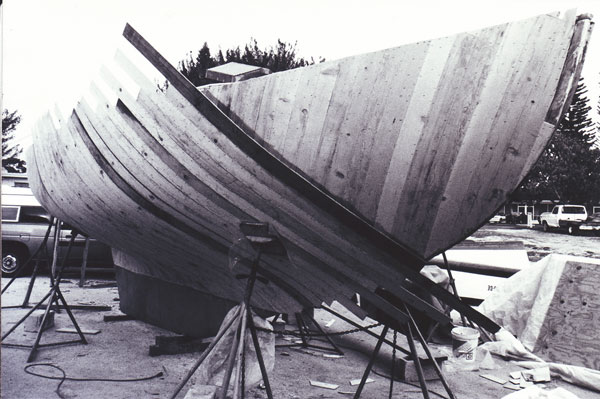 The project was a major one, involving extensive structural and cosmetic repairs, encapsulating the cast iron keel in fiberglass, fabric/epoxy covering hull and decks (I used 4.2 oz Xynole-polyester cloth), re-painting, and creating a "dry bilge" necessary with cold-molding the hull. We had to scrap the old Hercules engine, and because there was no money to replace it, IMAGINE became a true sailboat.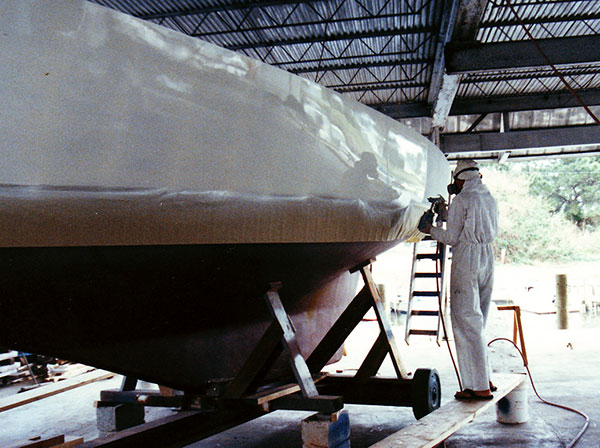 Then the money ran out. IMAGINE was far from finished, and Tony signed her title over to me, with a note that simply said: "Let her follow you around for a while." We finished enough work to launch, and Beth and I, with her youngest of three sons, moved on board. We sailed IMAGINE to Key West, having several dangerous misadventures on the way (I will never have another engineless boat!). We were absolutely broke, having spent our pay trying to finish the project, and Tere came from Miami to loan us enough money to buy food! I then sold my 19' sharpie GATO NEGRO for money to rent a slip in Key West (Stock Island)
We put IMAGINE in a slip in Safe Harbor Marina, and lived on board. I went to Maine for the summer, while Beth continued to live on board the cramped 30′ sloop with all three of her sons (she is a tough cookie!).
In 1990, I got a commission to design and build a 45′ junk-rigged scow schooner for a client in eastern Long Island, and I leased space in Peninsular Marina Boatyard (Stock Island) for the construction. Beth and I renovated a modest space in Safe Harbor Marina, for both an office and apartment, I put together a work force of my veteran boatbuilders, and we started construction that winter.
One of my co-workers, Captain Ryan Guirlinger, fell in love with IMAGINE, and I sold her to him for a fraction of what Tony and I had invested in her—the used wooden boat market was beyond dead. Ryan got into financial trouble the following year, and sold her to Abe, another young man with stars in his eyes. An Alden surveyor looked at her in 1996, and told us that she was in the best condition of any surviving Malabar Junior… but not for long. Hurricane Georges devastated the Florida Keys on September 25th, 1998 (see Blog #19), and ripped IMAGINE from her three moorings behind Wisteria Island, smashing her to splinters on Woman Key, on the edge of the Gulf Stream. She was gone.